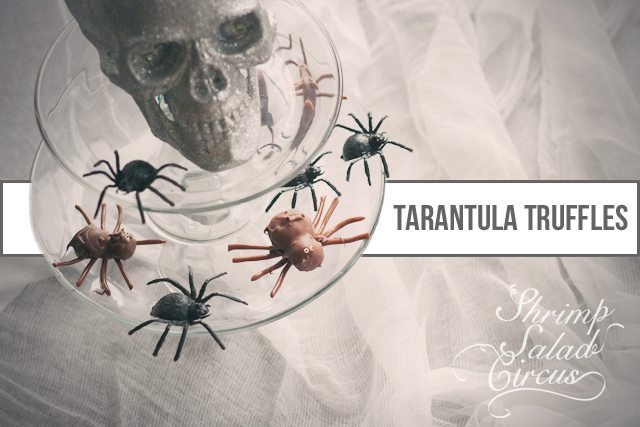 Now that October has arrived, I've gotten to go crazy and put up all our Halloween decorations, and it's been fantastic! I have costumes and parties on the brain, so today's tutorial seems just perfect! I originally wrote this for
Crafts Unleashed
, and I'm excited to share it with you guys over here.
These little Halloween tarantula truffles are a variation on your typical cake pop or cake ball because I made them with brownies instead of cake, though you can still do it with cake, of course. Either way, you've got to try these for a Halloween party – or even to bring into your kids' classroom for the big day!
Tarantula Brownie Cake Balls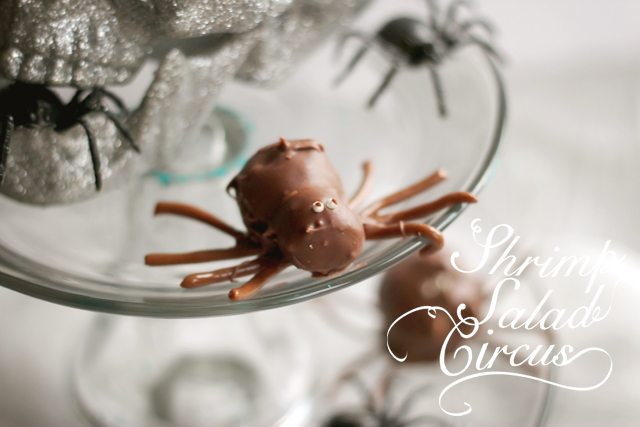 What You Need
Dipping Tools Set
Brownie or Cake Mix
Tub of Frosting
Tootsie Rolls
*This is totally optional but insanely helpful. I have bad luck with candy melts in the microwave…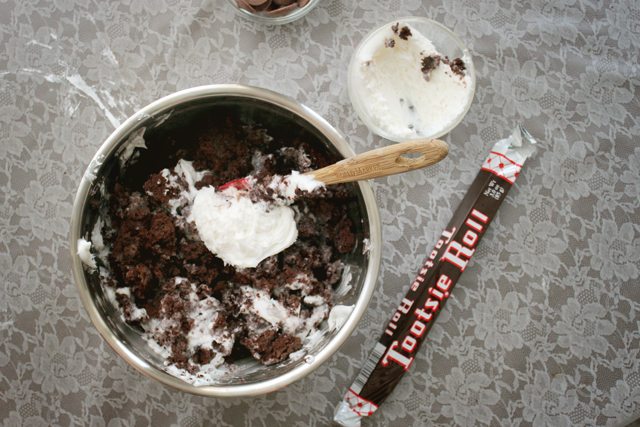 1.   Bake your brownies (or cake) according to the directions on the box. Set it aside to cool. Once it's completely cooled, break it up into pieces, and mix it in with a container of frosting. If you're using a chocolate melter like I did, go ahead and drop your candy melts into it, and turn it on because it'll take about 15-20 minutes to melt all the way.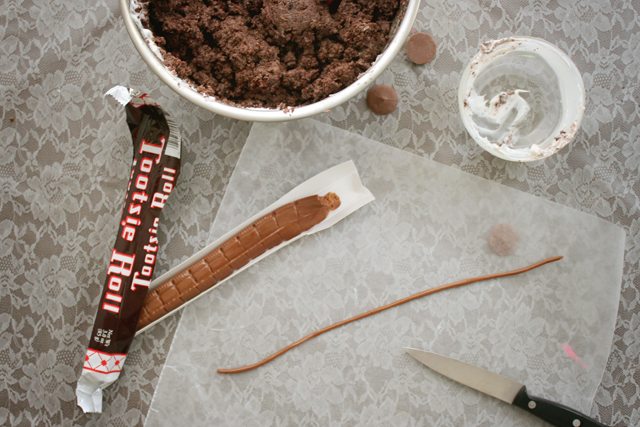 2.   Roll a Tootsie Roll into long, skinny pieces. These will be the spider's legs.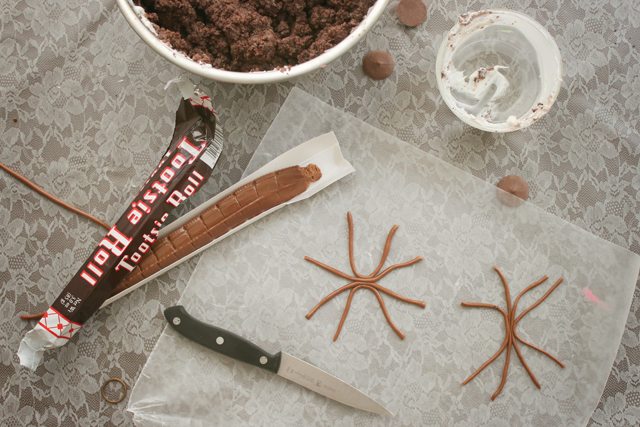 3.   Cut one roll into four equal pieces, and stick them together like I did in the picture. Make sure the Tootsie Roll is really stuck together in the middle!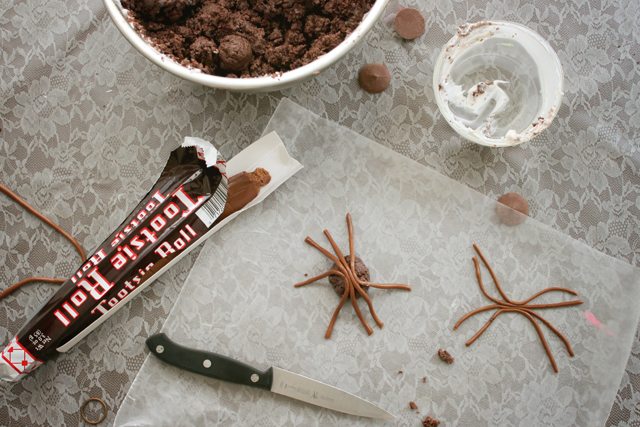 4.   Now roll a scoop of your cake mixture into a ball a little less than an inch in diameter. You can set it onto the 'legs' to see if it's a good size. Trim the legs down if you need to. If you want to make a more realistic* tarantula, make another ball about a third of the size of the first one, and glue it onto the big ball with a dab of melted chocolate.
*This is approximately where I got all crazy freak-show and tried to add fangs and stuff. Really though, how realistic do you want an edible tarantula to be? Don't add fur or anything, okay?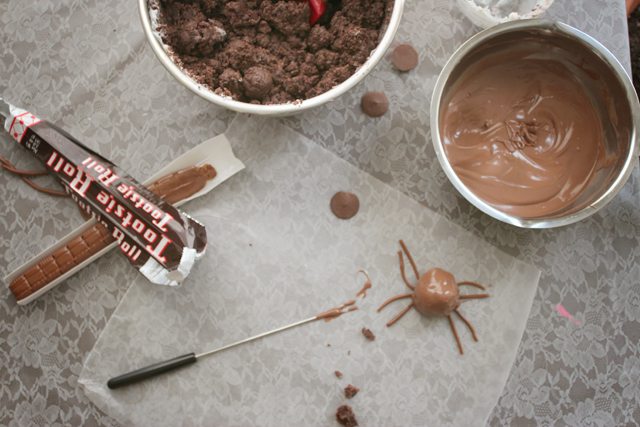 5.   Line a cookie sheet with wax paper, and place your sets of legs at even intervals. Stir the melted chocolate to make sure there are no clumps. Drop your cake ball into the melted chocolate, and roll it until it's coated. Scoop it out, and drop it onto the middle of a set of legs.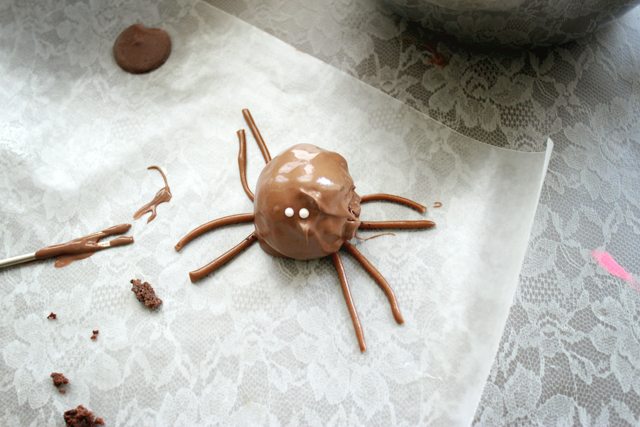 6.   Carefully set two pearl sprinkles onto the face to give your spider eyes. I just dotted on a tiny bit of the chocolate with a fork tine to put pupils on the eyes. Keep everything on a cookie sheet covered with wax paper, and then throw the whole thing in the freezer for a few minute to set the chocolate.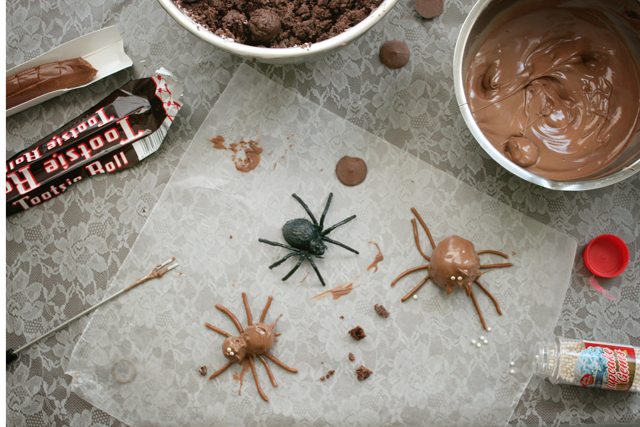 Just for comparison, here's a shot of a fat, cute tarantula and his marginally more anatomically-correct little amigo.