This is a sponsored post written by me on behalf of Holiday Inn Express. All opinions are 100% mine.

Andrei and I recently got to visit Denver for our dear friends' wedding, and I'm already dying to go back. Since we were busy (in the best possible way) with wedding festivities for most of the trip, we didn't really do much exploring until our last day in town.
It was a bit of a whirlwind, so I thought I'd put together a little travel guide for anyone else looking to kill a half-day or day in the city.
This list is by no means exhaustive, nor is it even necessarily the best things to see, eat, and do. It's just what I enjoyed in the little while I was there. So please, by all means, leave your own suggestions in the comments!
Denver Travel Guide
What to See and Do
Art Museums – Denver has seven different arts districts, so there's no shortage of entertainment on that front. If you visit the Denver Art Museum, just be sure to leave your sticker on this light pole, mmkay?

Coors Field – Even if you don't catch a game, Coors Field, home of the Colorado Rockies, is worth a stroll-by. They have tours Monday, Wednesday, Friday, and Saturday during the off season and Monday through Saturday during the season. Tickets are just ten bucks for adults.

Wander Around – Walk around downtown and take in all the architecture and sights! Union Station is beautiful, and you can wander from there to the 16th Street Mall to Coors Field and more!
Where to Stay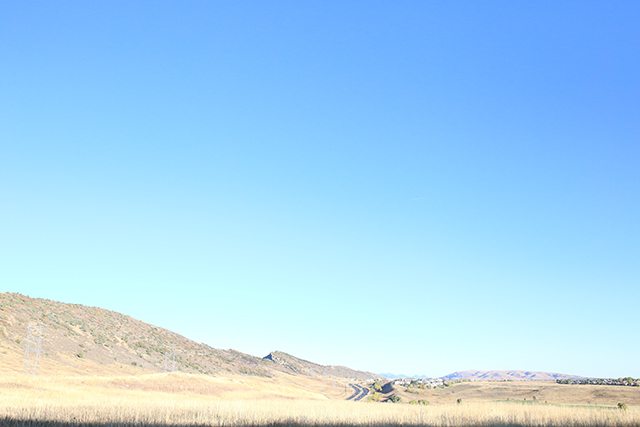 Holiday Inn Express – Andrei and I stayed at a Holiday Inn Express near the wedding venue, and the view from our window was insanely beautiful! Holiday Inn Express has long been my go-to for domestic travel a lot of the time because I know what to expect: cozy, clean, kind, etc.
They're speaking my language even more than usual right now, with Snoozapalooza. They're doing late breakfast right now, so the morning before we flew home, I grabbed about 30 different things (hello, magic pancake machine!) and hauled it all back to the room to have cozy, barefoot breakfast.
They're doing late checkout through December 18, too, so you can hang around till noon instead of having to fly out of bed in a tizzy.
P.S. The hot tub was open late at ours, so we actually got to enjoy that amenity, too! Don't you feel like the pool and jacuzzi always close super early at hotels?!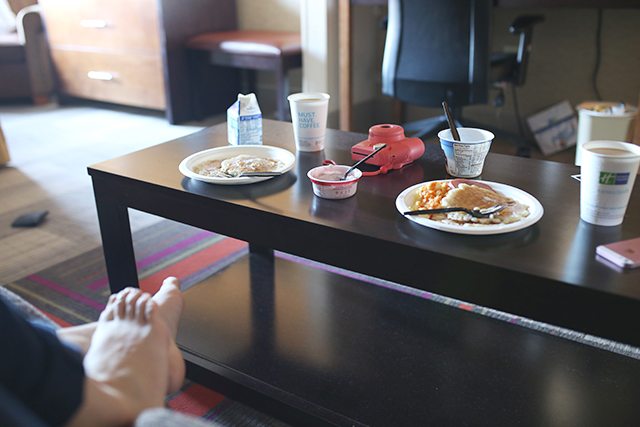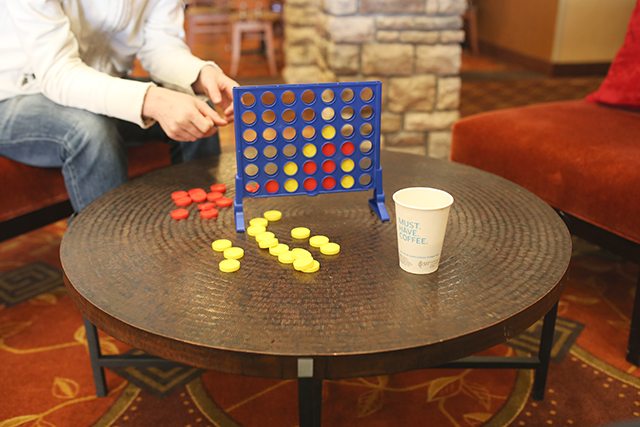 Where to Shop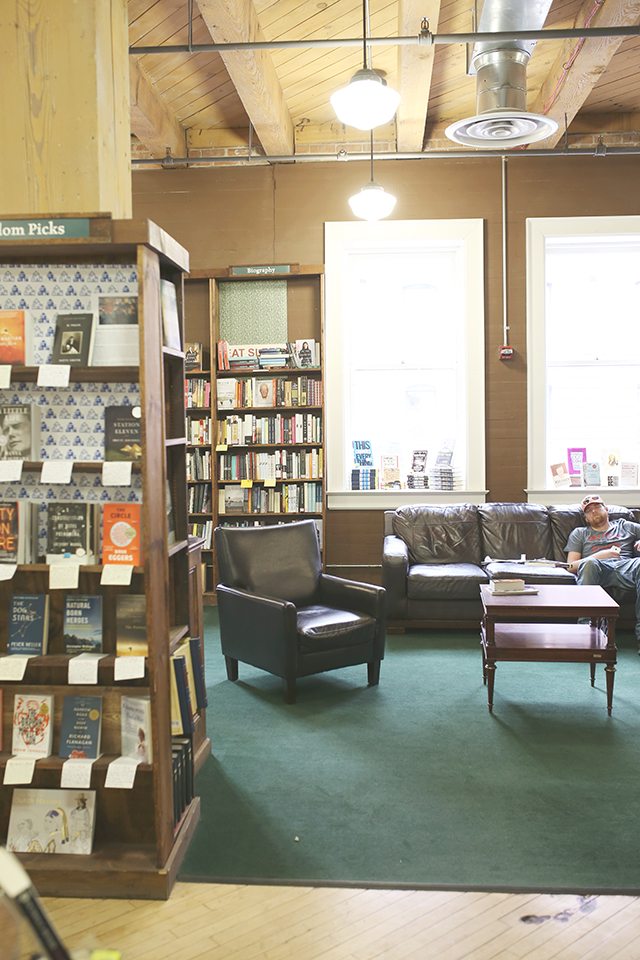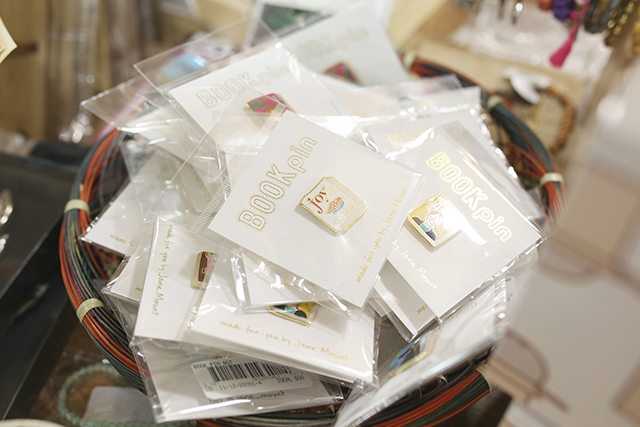 16th Street Mall – Contrary to its name, this isn't a mall in the traditional sense. It's a one-mile retail and restaurant zone with lots of cute little parklets (yes, that's a word) and artsy spaces. It's super walkable and pedestrian-friendly, so it's a great way to exercise away all your food tourism. 😉
Tattered Cover Bookstore – The Tattered Cover is one of those places  you wander into and then don't want to wander back out of. Every corner was perfectly cozy, stuffed to the brim with books, and felt like you curl up and while away a day. Plus, the selection of odds and ends to shop from was on-point, like the adorable resin book pins pictured above!
Where to Eat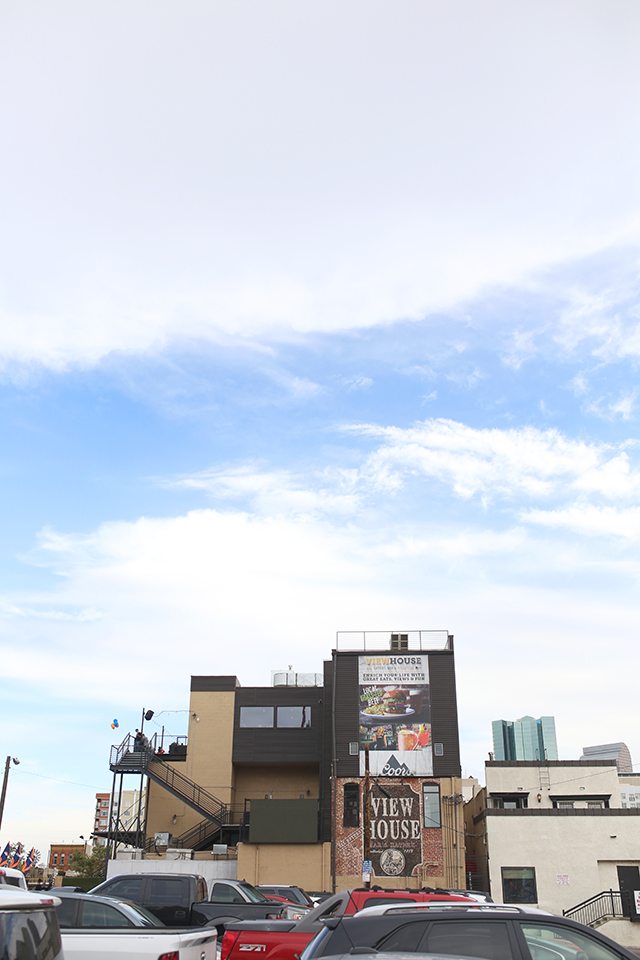 ViewHouse – ViewHouse is not only the perfect place to catch a game, but it's also home to one epic brunch extravaganza. I don't eat seafood, but Andrei may have pretty much eaten his weight in crab, shrimp, and all sorts of other sea creaturey goodness. I, on the other hand, had then whip me up some veggie rolls and then finished stuffing my face on fresh-pressed juices and more dessert than I could shake a fork at.
Denver Beer Trail – The Denver Beer Trail is a 27-brewery guide to drinking your way through downtown, but don't miss out on the more than 100 brewpubs, breweries, and tap rooms dotting the city and its surroundings. And make sure to get a ride home!
Getting Around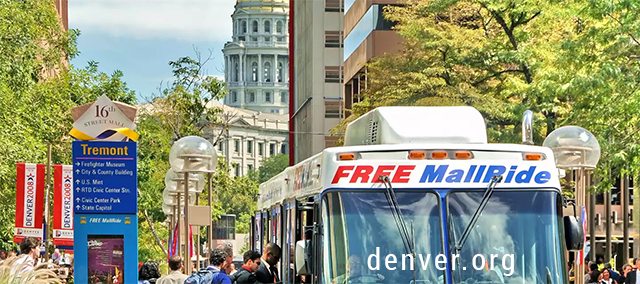 Light Rail – The Light Rail and buses are, like any big city, readily available and easy to navigate.
16th Street MallRide – There's a free shuttle running the full length of the 16th Street Mall in both directions from 5 a.m. until after 1 a.m.
Uber or Lyft – Because we were going back and forth to wedding events that weren't in the middle of downtown and not always Light Rail accessible, we ended up taking Uber or Lyft a lot of the time. Try to time trips around Rockies games to avoid mega-high surge pricing. Ask me how I know…