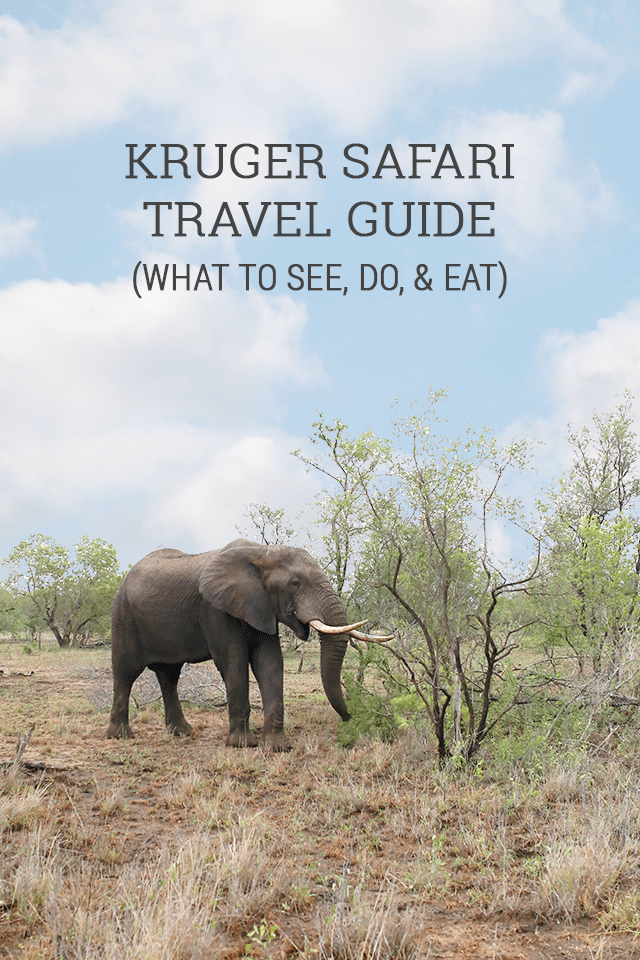 I've already shared some of my Africa trip with you guys, and today I'm excited to show you a few more pictures and some of my recommendations to help you if you're ever planning your own trip. This time, we're looking at Kruger National Park and what to see and do and where to stay while you're on safari in South Africa.
I'm going to flip it around and start with lodging this time before I flood you with tons of animals. Spoiler alert: I'm no National Geographic wildlife photographer… 😉
Where to Stay & Eat
The safari experience is significantly different than other travel experiences for lots of reasons, but for the purposes of this post, a main one is the fact that you're going to be sleeping, eating, and doing all your activities through the same place. You're not going to be in a town where you can wake up in the morning and walk to breakfast at a nearby restaurant; go on a tour with a local tour provider; and then finish the day off with drinks at a local bar. Instead, safari lodges have everything down to a fine art, from their talented on-site chefs to the sundowner drinks at the end of your safari.
That said, where to stay, eat, and "do" are all the same for the purposes of this post. 🙂 Read on for our two different safari lodges in the Kruger area, depending on what sort of experience you want.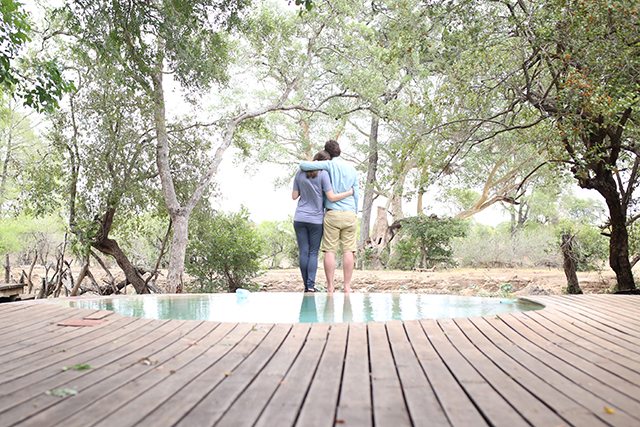 Tintswalo Safari Lodge – I'm a little bit devastated that I don't get to live here. The Tintswalo Safari lodge was one of those places that doesn't even seem real. Everything was just beautiful and thisclose to being too perfect! This is a high, high-end lodging and activity experience, and if you can budget it, it's worth every penny!
Here we are (pictured above) standing at the private dip pool off the deck of our individual lodge. And pardon the door frames in the photo below, but we were trying to be sneaky to avoid scaring away the tiny little bushbok antelope drinking from our pool. Because holy cow. It's hard to see, but he scooted down on his tiny little knees to get a drink eek!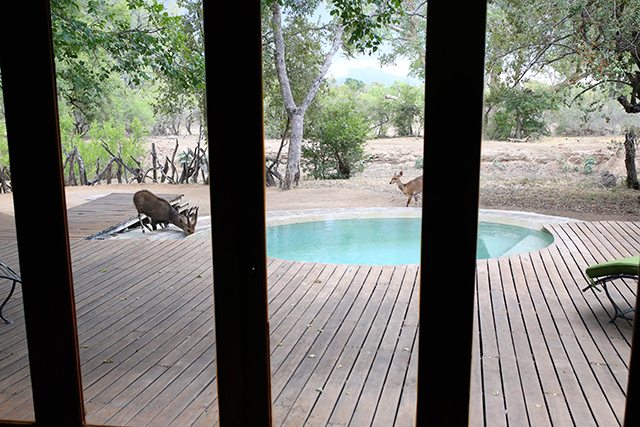 Why would you ever want to come home when you could be sipping wine on the deck of your own private pool?!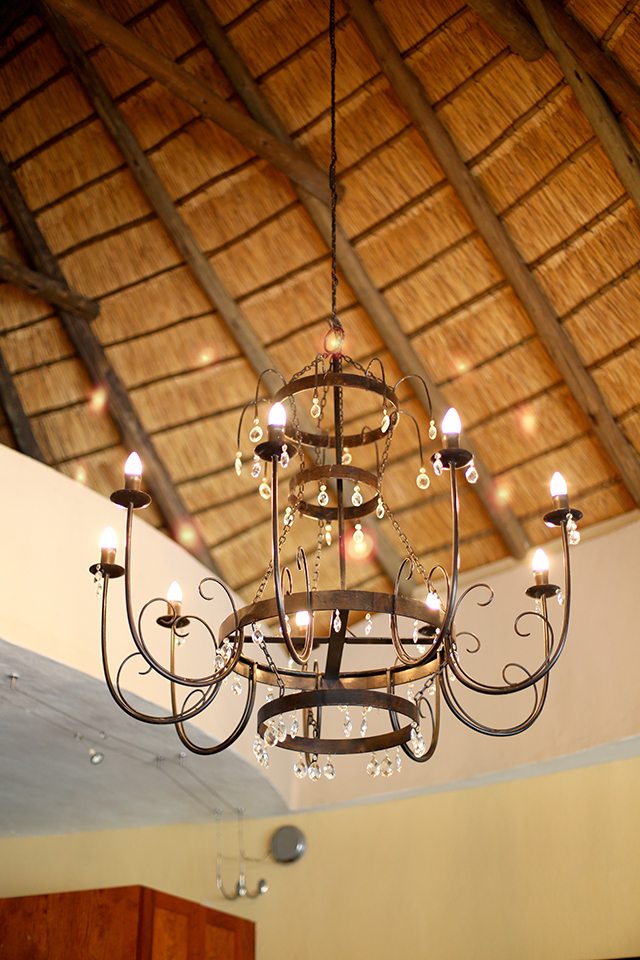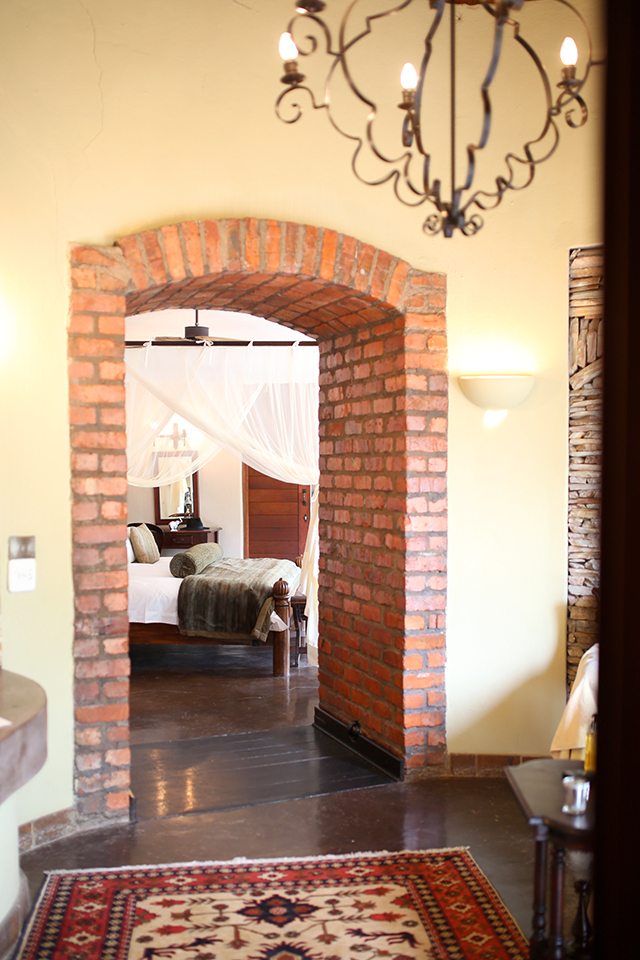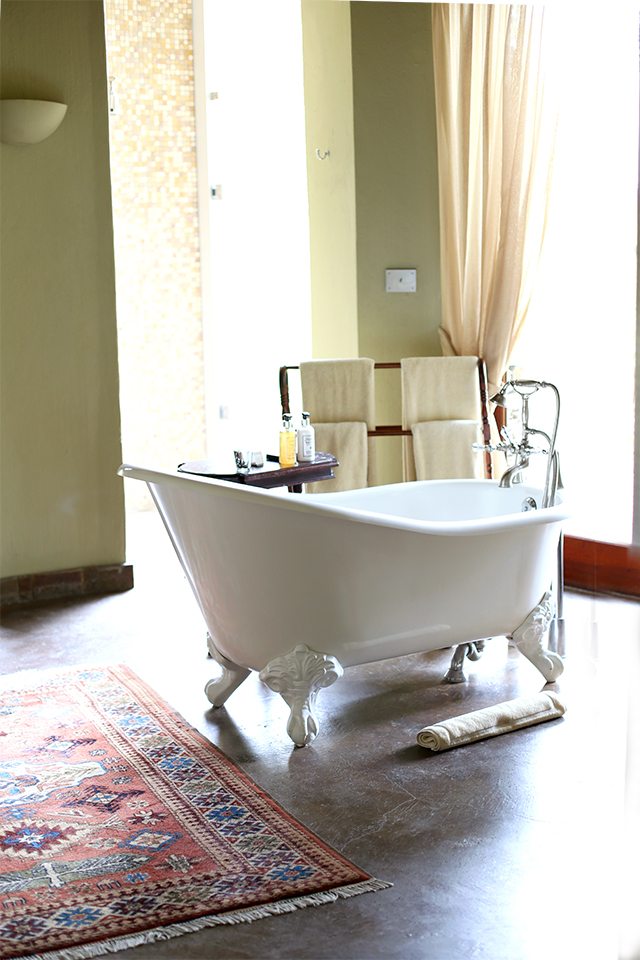 The lodges are beautifully-appointed and come in a variety of sizes and layouts. This place would be perfect for a romantic couples' escape or honeymoon, but it would be just as wonderful for a little family getaway or girls' retreat because some of the lodges can hold quite a few people!
Each of the lodges is completely separate from the others, and you take a beautifully tree-lined path to get from your suite to the main lodge for meals and safari meet-up. We spotted this little hornbill a few times en route to our activities!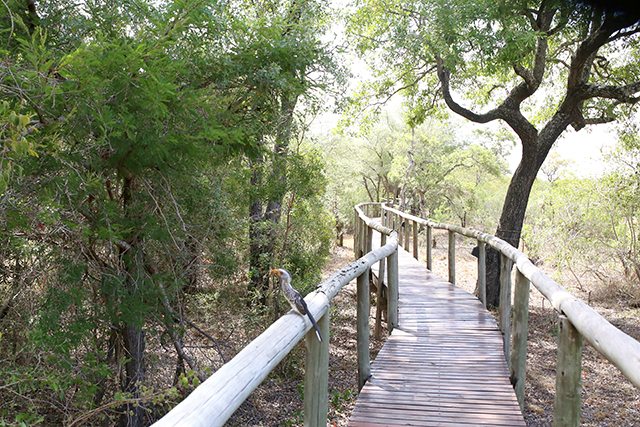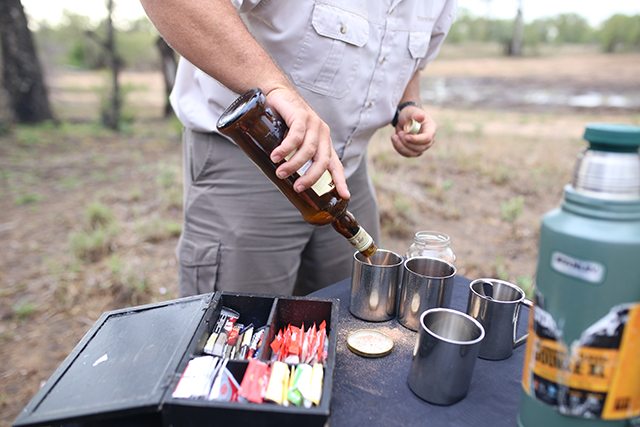 Breakfast, lunch, and dinner are served at the main lodge overlooking the reserve, and you can see all sorts of animals right there from the deck as you savor whatever the chef is serving up that day. I think our favorite thing, though, was the little safari breaks for a drink! Our ranger and guide pulled a little table right from the 4×4 safari vehicle and served up coffeechocorulas (Amarula liqueur, strong coffee, and chocolate cocoa mix — talk about a wakeup call!) right there in the bush!
And can we please just talk about this picture? I swear Andrei looks like an advertisement for the best coffee ever made. I love it! lol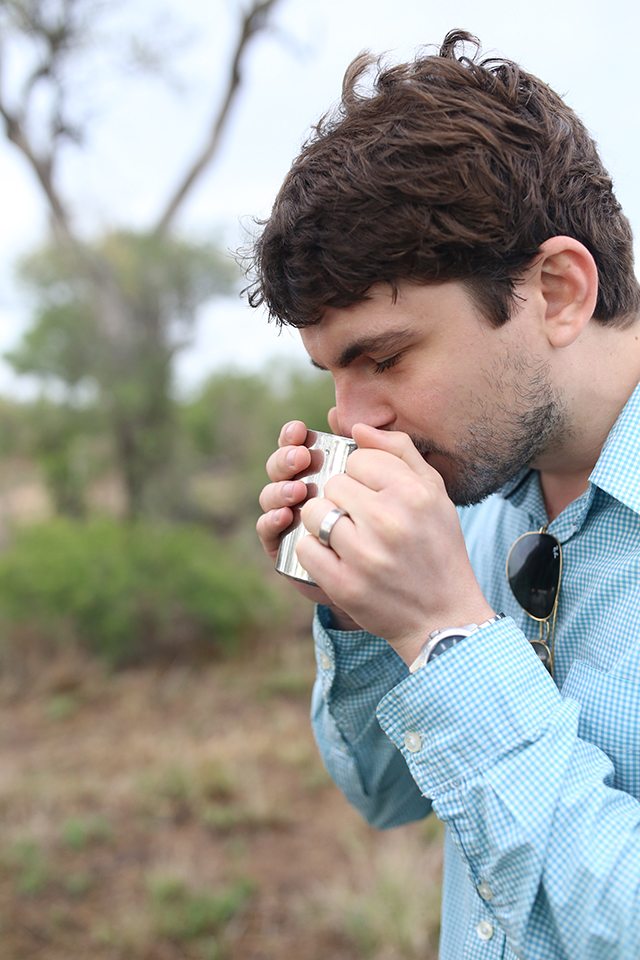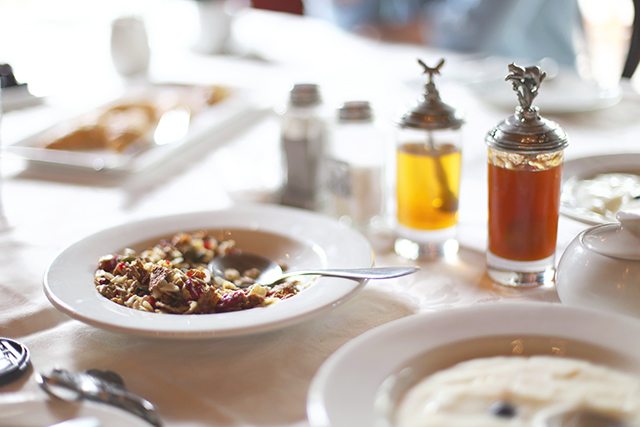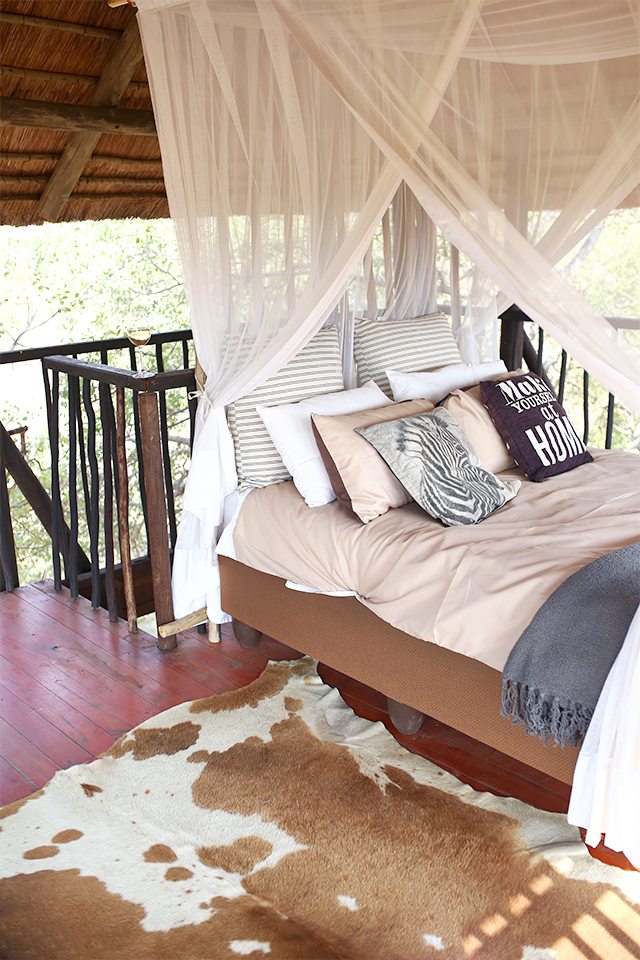 Africa on Foot – This place is a much different experience than one of the glam lodges we stayed in at Tintswalo, but it's different in all the absolutely most fantastic ways!!! High-end and luxurious pampering is nice on vacation (and whenever else you can manage it, right?!), but Africa on Foot definitely felt more "our speed" overall.
Everybody still gets their own separate, beautiful little lodge, but the whole experience is a bit more rustic. You can book the tree house (picture above and below this text) at no additional charge, and you get to sleep in the open air with such an incredible sunrise view! We actually had a little pack of hyenas hanging out around the foot of the tree house during the night, which was a pretty incredible experience!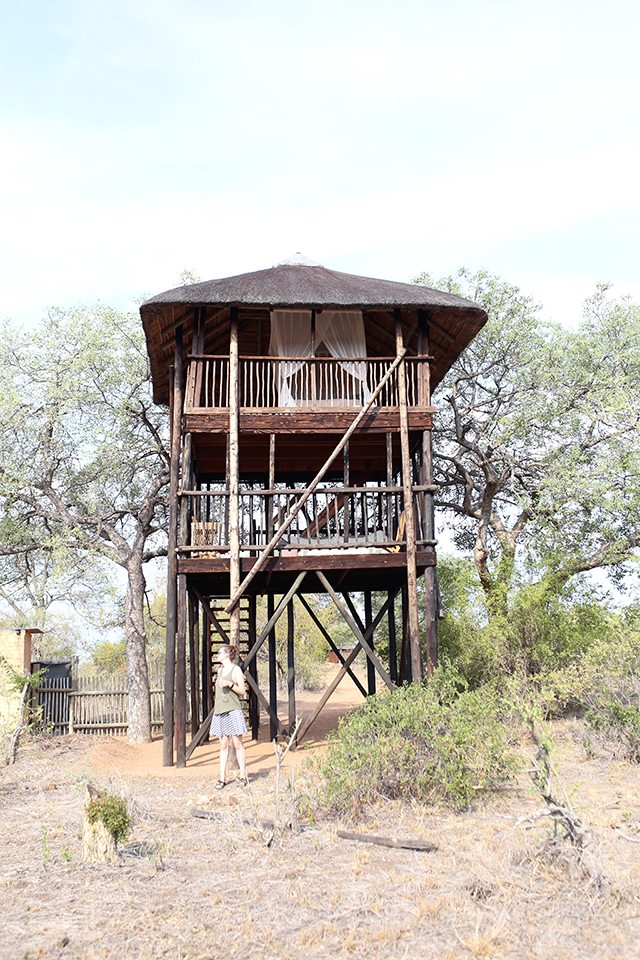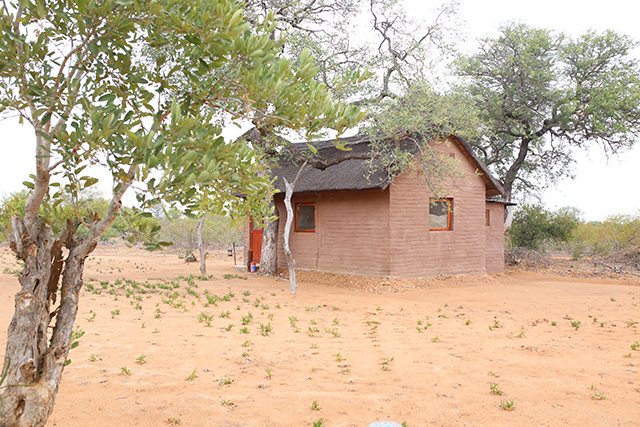 The individual chalets have room enough for six people along with beautiful showers with piping hot water, though honestly I preferred a cool shower after the heat of the day on safari. There's a fabulous swimming pool off to the side of the main lodge, and the rangers were telling us about how elephants come up all the time to drink out of it. I think I would have died. Can you even imaging that you're just off having a dip in the pool, and an elephant walks up to join you?!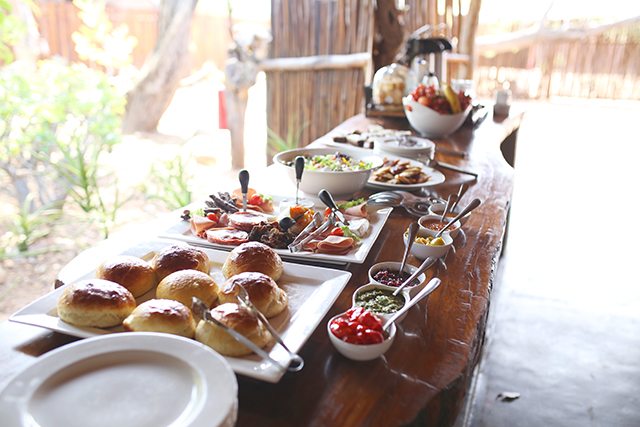 We had beautiful, absolutely delicious family-style breakfasts, lunches, and dinner around a long table in the main lodge and then gathered 'round the fire pit in the evenings for a cold beer or glass of wine to rehash the day's sightings.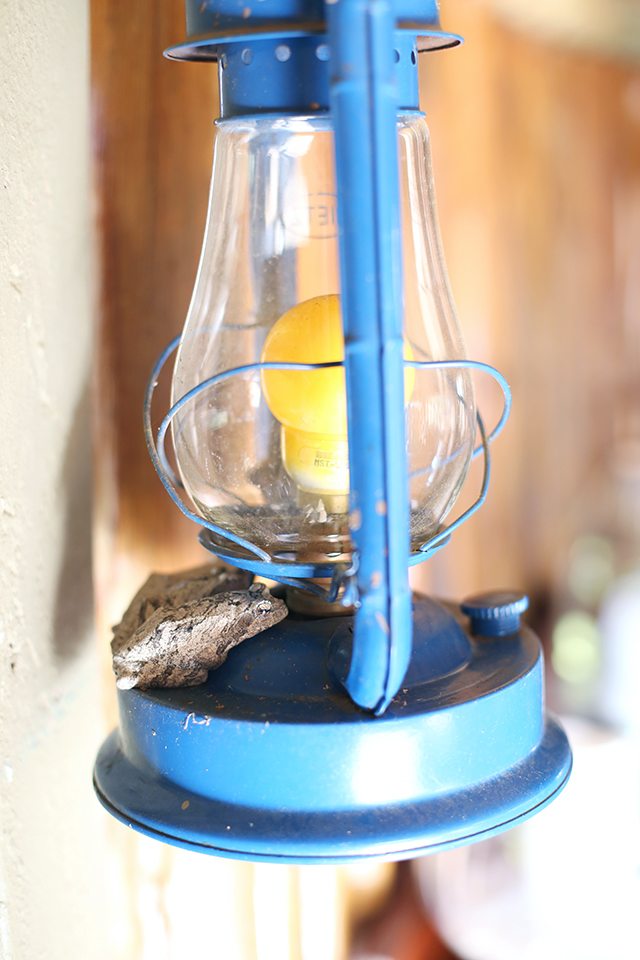 What to See & Do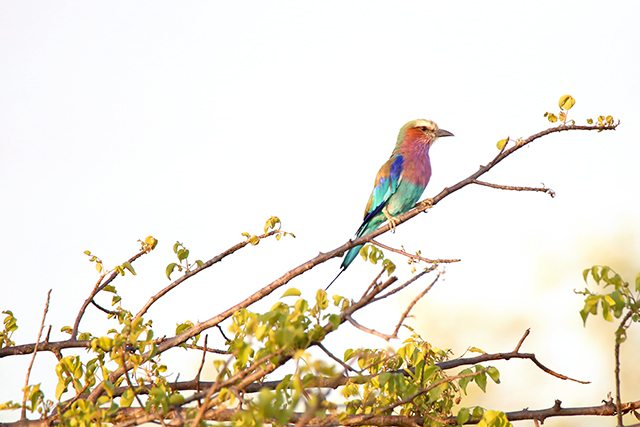 One of my favorite experiences from our trip were the walking safaris at Africa on Foot. Most places only let you do a driving safari, which is still absolutely amazing, but there's something so neat about being able to wander around amidst the animal tracks and really get into the adventure.
While on a morning walk with our guide Enoch (who's AMAZING, by the way), we tracked a family of rhinos for more than half an hour. Andrei and I couldn't see anything at all and had no clue what he was following, but somehow he just knew from his years of experience that there were two adult rhinos and a baby. And lo and behold, we found them! It was a deeply humbling experience, being there so close to those incredible animals and getting to share their world for a little while.
The guides showed us how to identify different animal tracks and, yes, dung. This is a big 'ole handful of elephant poop (which totally isn't that gross to touch because they make paper out of it)…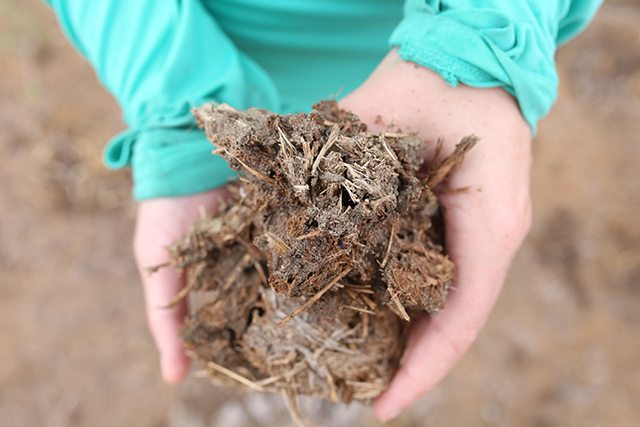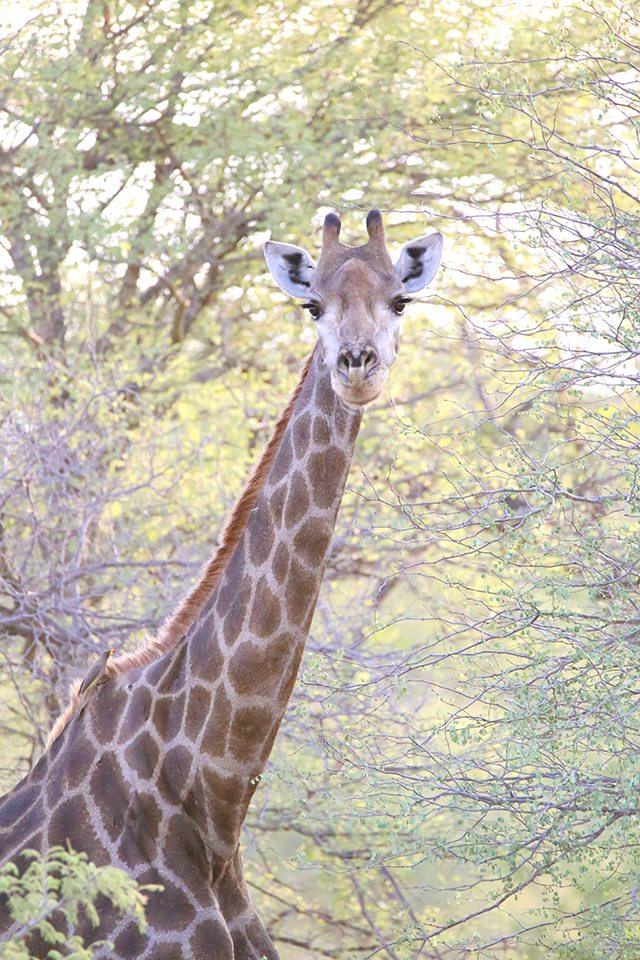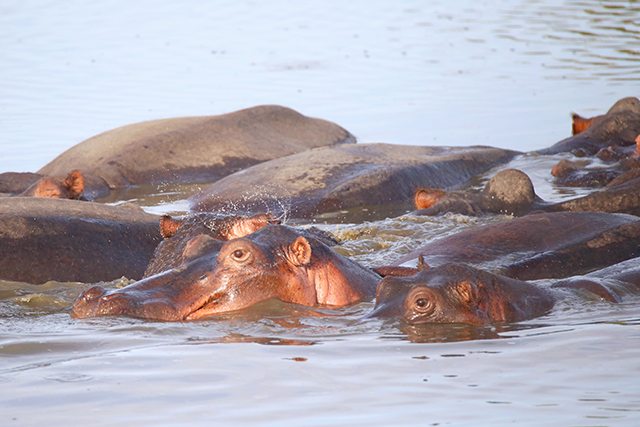 As you can see, we saw so-freaking-many animals on our various safari excursions! I started talking shop (read: photography nerd) with my new buddy Greg, one of our rangers at Africa on Foot, and he let me play with his fancy zoom lens on one of our drives, so I was able to get pictures like this, where you can literally see the droplets of water flying from the hippos' heads! Thanks for the amazing memories, Greg! 🙂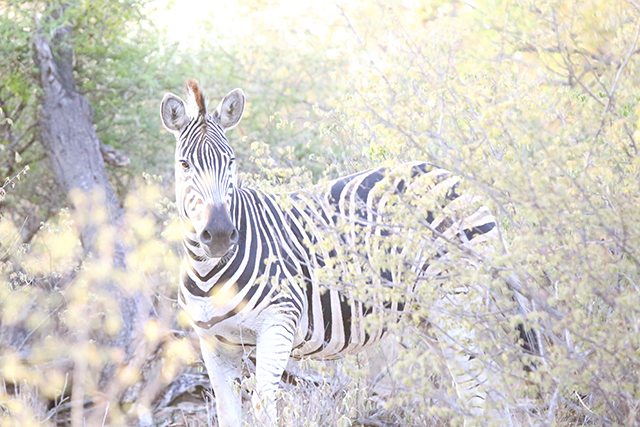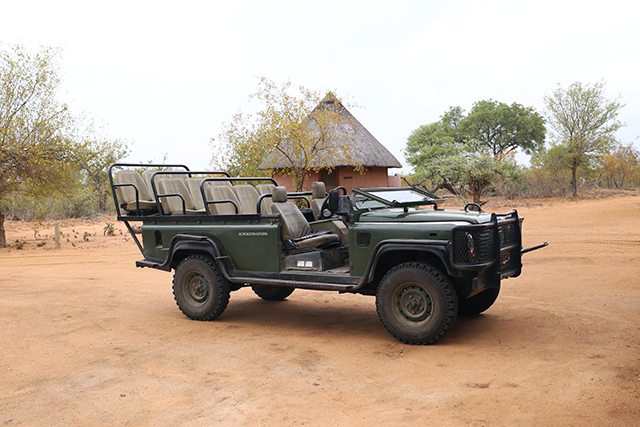 In case you were wondering, this is what we were driving around in every day. There's no top or sides, and if it rains, you throw on a big poncho. And it's the best because you feel SO close to all the animals! These things can go off-road to follow just about anything. You can see it a little better in the picture below, but there's a little chair that folds off the front bumper, and that's where the tracker sits, just hanging off there all day! That's Enoch sitting up there, by the way.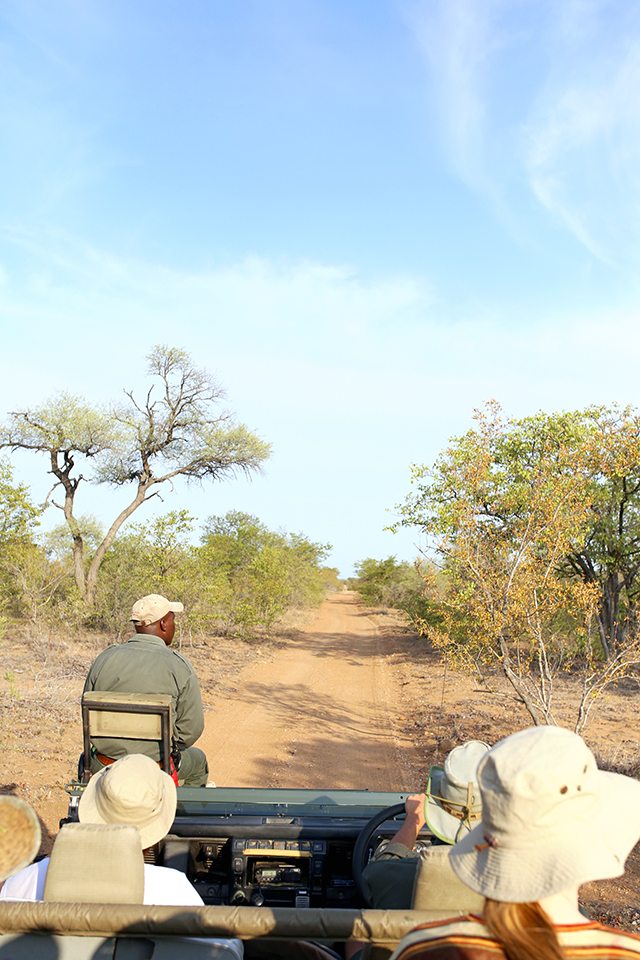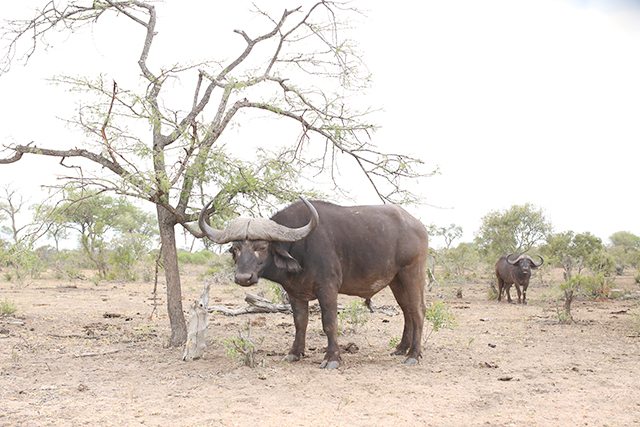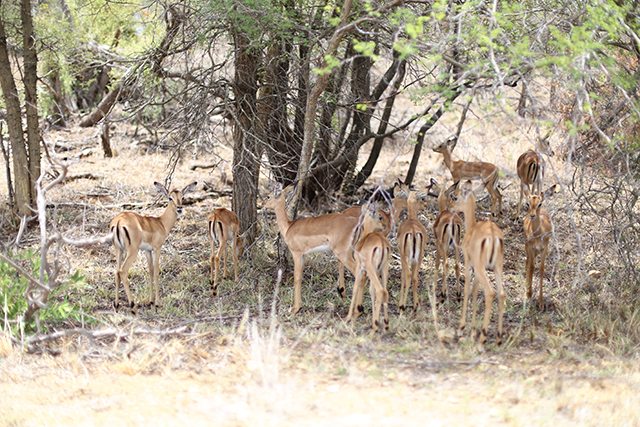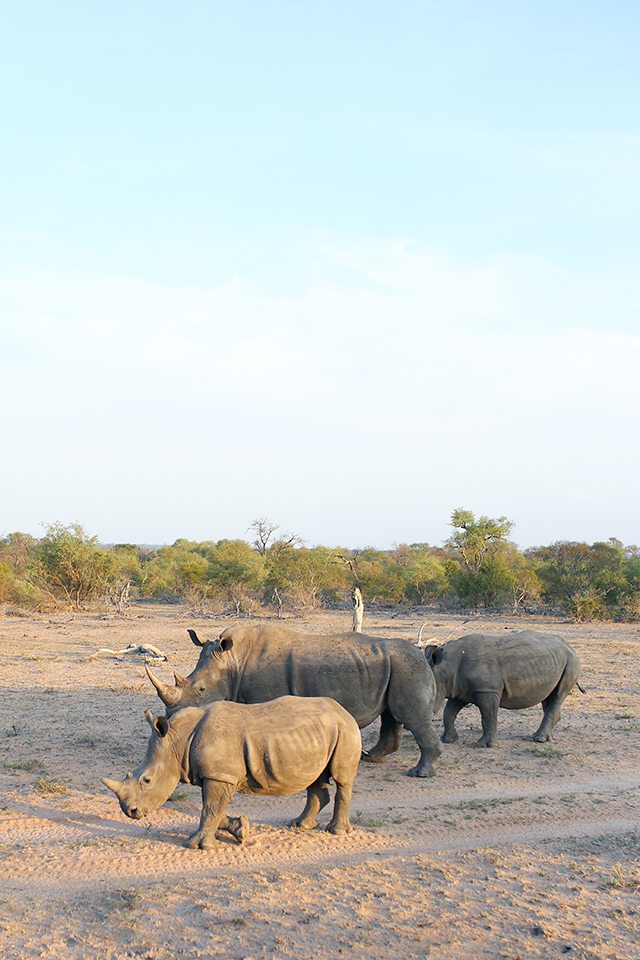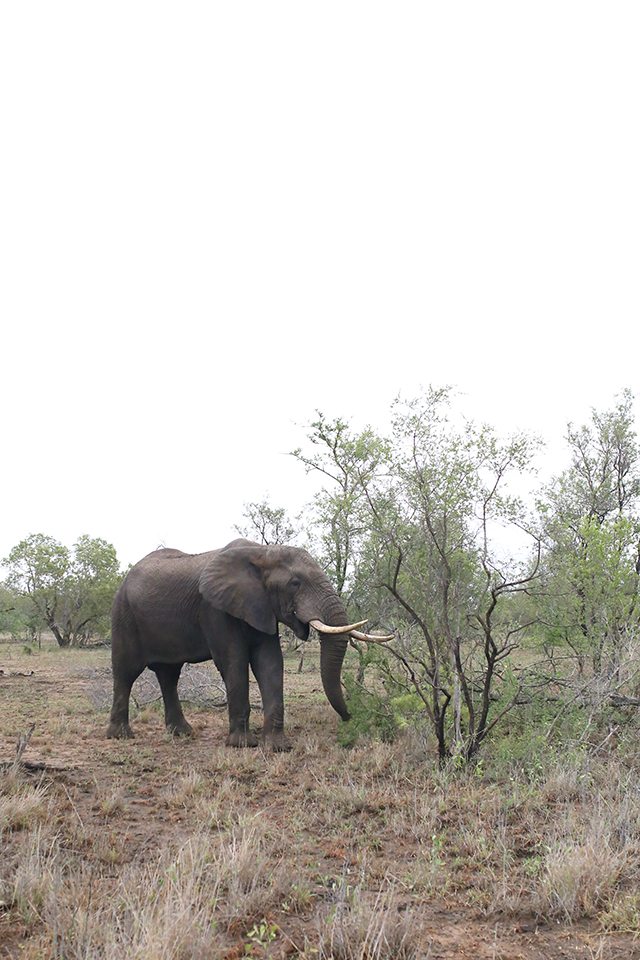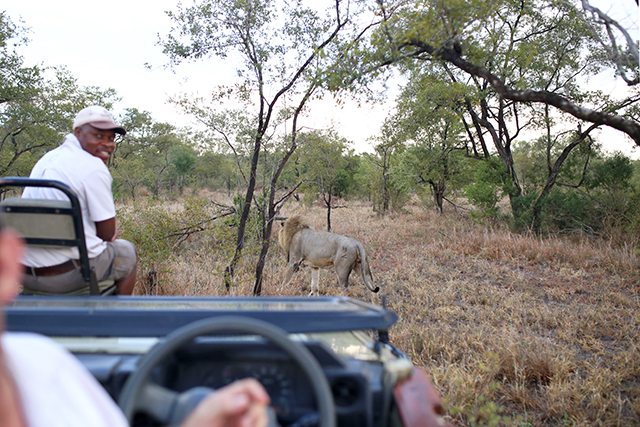 This one (above) was at Tintswalo Safari Lodge with our ranger Darren. It's not the best picture, but I wanted to include it to show you how close we were to lions! Can you believe that?! Here I am (below)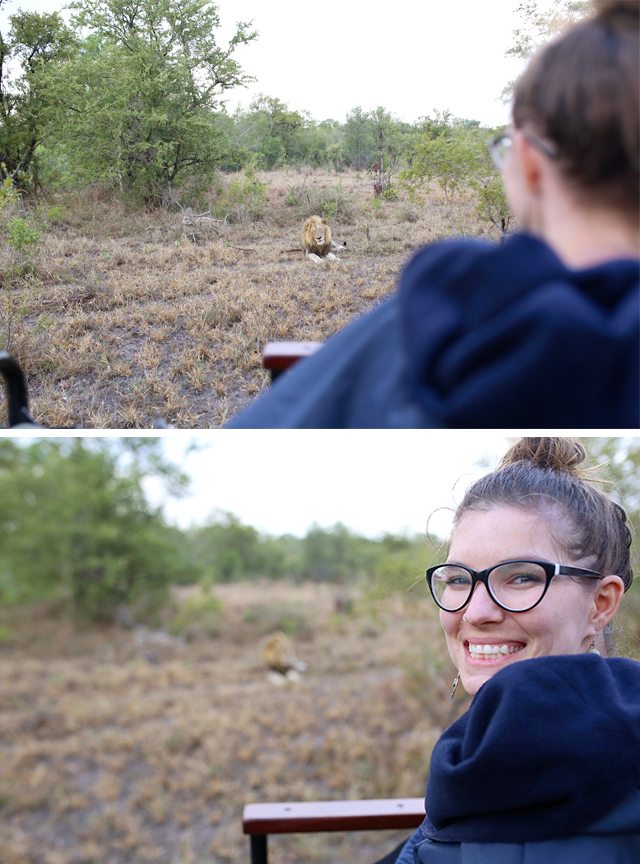 Getting There & Around
From just about anywhere, it's probably going to be most convenient and realistic for you to fly into the Kruger area. We came from Cape Town and landed at Kruger Mpumalanga International Airport at Nelspruit, but you can also fly into Hoedspruit Eastgate or Phalaborwa Airport. From there you'll have a couple hours' drive to get to Kruger and the private game reserves.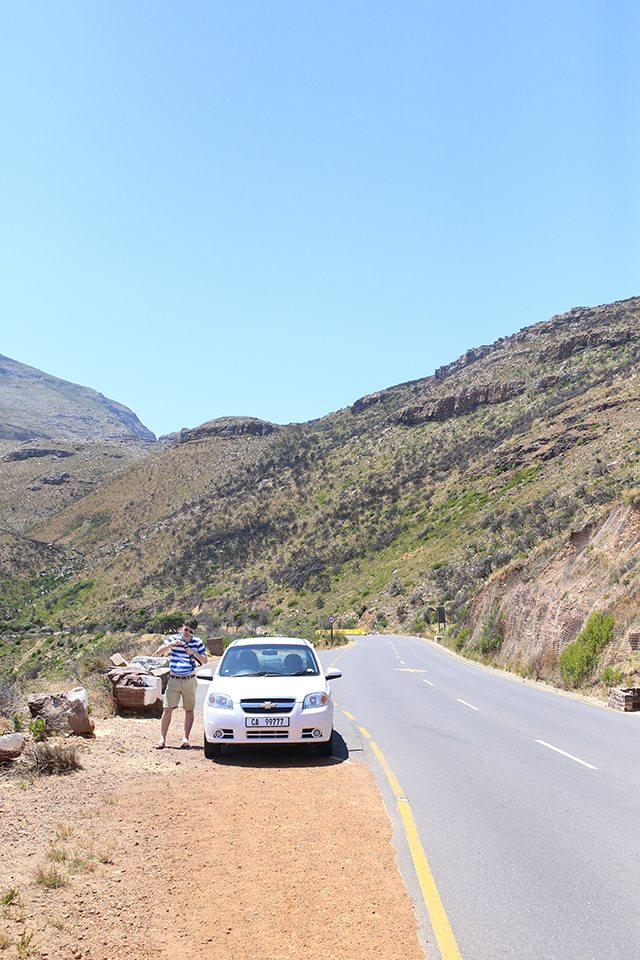 As with Cape Town, I definitely recommend renting a car. You'll have to pay entrance fees at some park and reserve gates, which is totally normal and still really affordable. We highly recommend driving through Kruger National Park yourself at a leisurely pace on your way to or from the airport. You'll be absolutely shocked at how many animals you'll see. We saw this warthog family on the side of the road at Kruger, and we actually had our only leopard sighting there!!