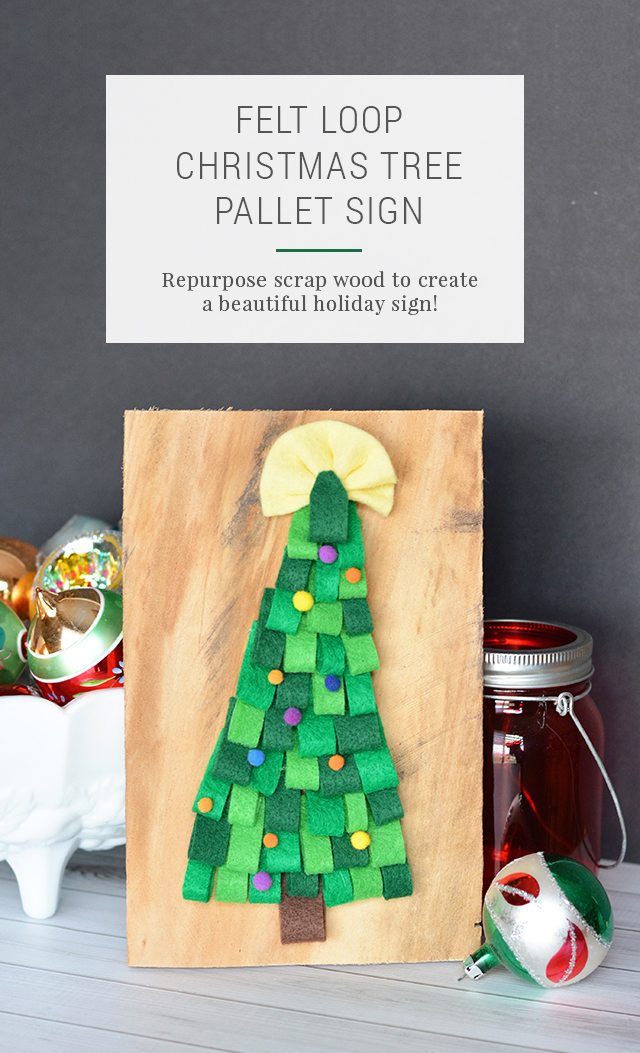 Christmas is fast-approaching (less than two weeks, you guys!!!), and I haven't even come close to finishing decorating.
How about you?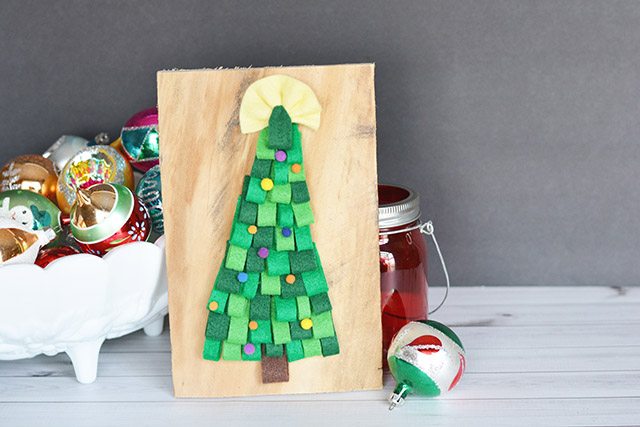 If you're as behind as I am, then this project is for you, friend.
You can make this is as rustic or polished as you want. If you don't have a piece of pallet board available, try picking up a log slice or chalkboard from the craft store for a completely different look!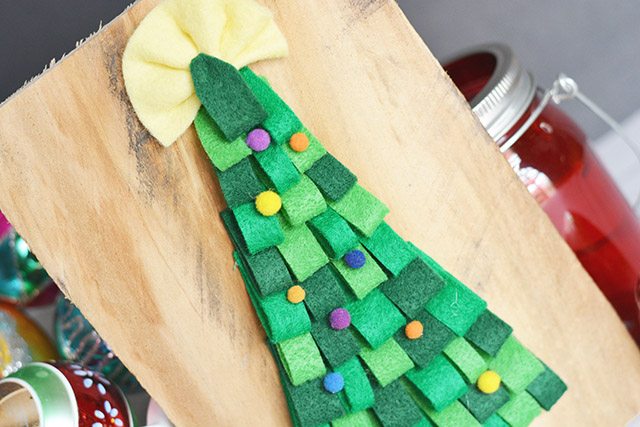 Read on for the full supply list and directions. If you make it, be sure to share pictures on Instagram with #ShrimpSaladCircus — I want to see!
Supplies
 Felt

3 shades of green cut to 9″ x 3.5″
Yellow cut to 7″ x 1″
Brown cut to 3.5″ x .5″

Small pom poms
Hot glue fun and glue sticks
Pallet wood 6″ x 9″ or similar wood plaque
Scissors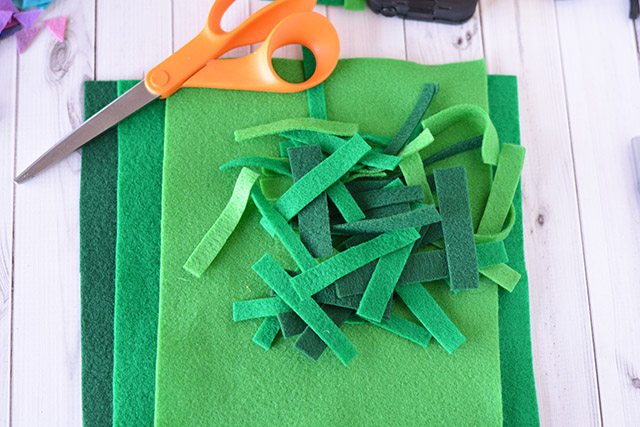 1.   Cut the felt into 3.5″ x 1/4″ pieces. I eyeballed this. I just cut with scissors and tried to keep it as straight as possible.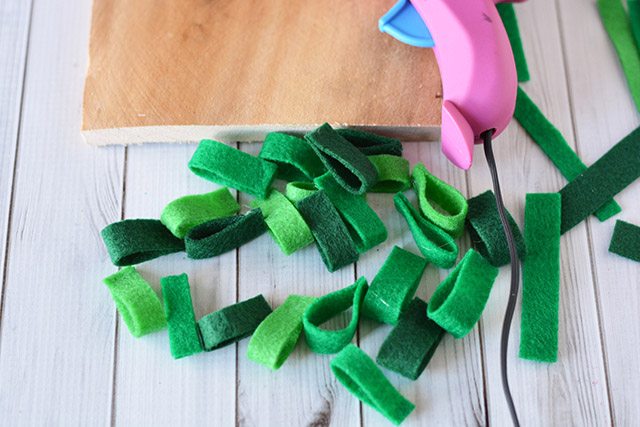 2.   Use hot glue to affix the two ends together, creating a loop.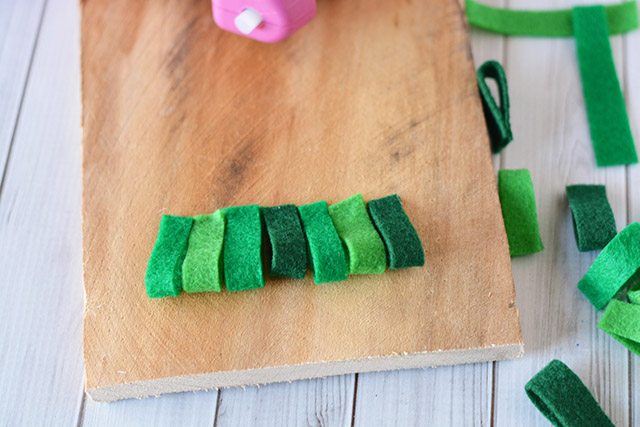 3.   Begin by placing your bottom row of the tree on the board. Set the felt onto the board, center as best as possible and then pick up each piece, one by one, and hot glue it onto the board. It's easiest to add a little glue to the felt and then affix the felt to the board. Press firmly to adhere.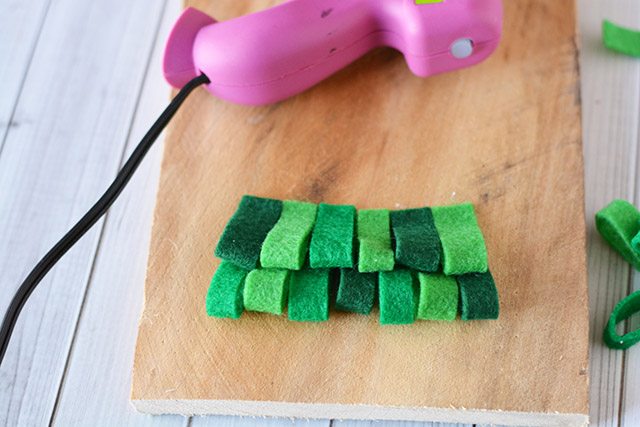 4.   Continue with the additional rows of felt loops. Overlap each row slightly. Use a random order for the colors and as you work your way up, you can use fewer loops per row and you can trim loops as necessary to make them a bit smaller to fill the row.
5.   Once you reach the top of the tree and are ready to place the last felt piece onto the board, trim the edges on an angle and set aside.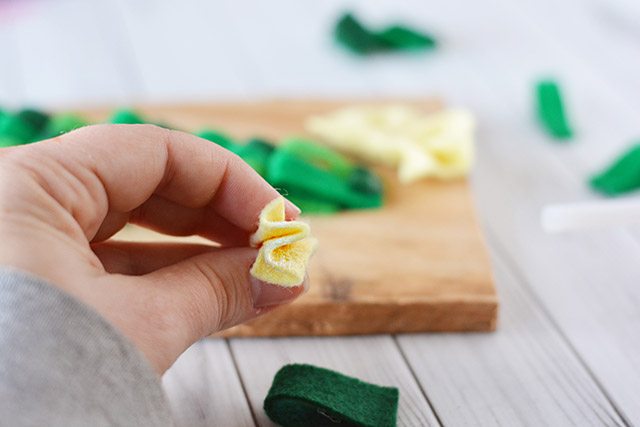 6.   Take your small piece of yellow felt and fold it into a zig zag. This is the hardest part, so go slow and be patient. You'll zig zag your felt and affix hot glue in between all the folds on one side to keep it together. Then you'll flip it over and affix hot glue in between the folds on the other side.
7.   Use a small amount of hot glue for the yellow felt. Too much and you won't be able to "move" and place your felt where you want it.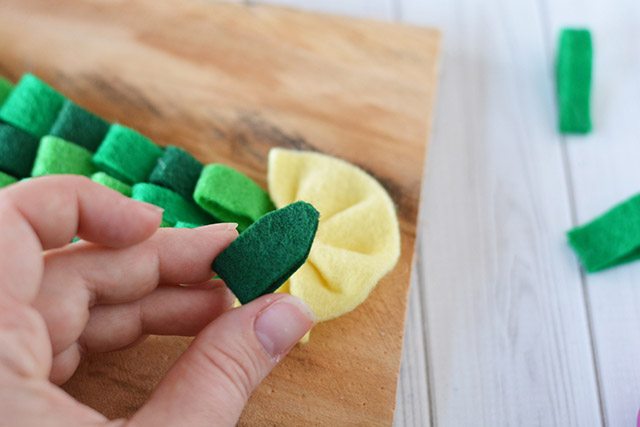 8.   Once you have a fan shape of your yellow felt, place it onto the board, at the top of the tree with hot glue.
9.   Place that final, trimmed, loop on top of the yellow and affix with hot glue.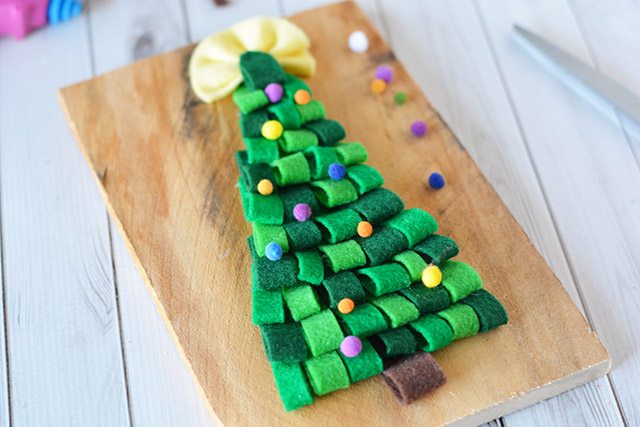 10.   Finally, add colored pom poms to the tree with hot glue.