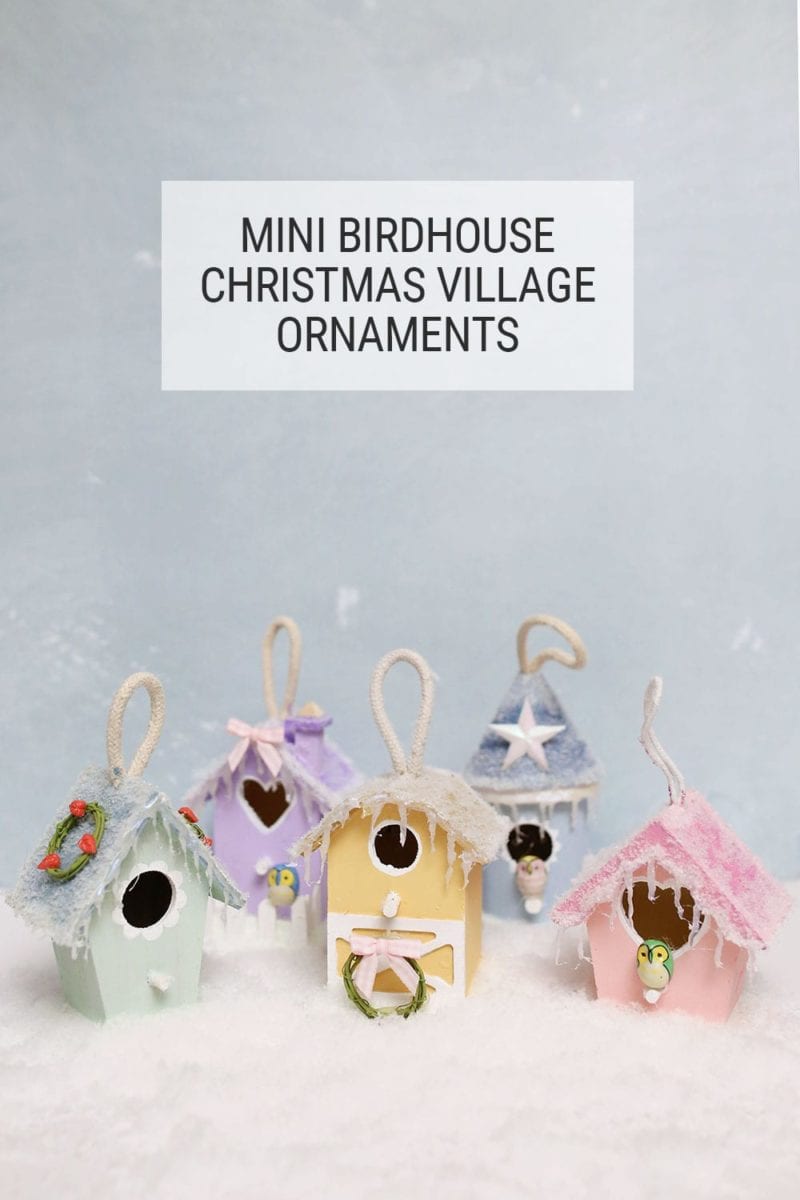 Have you seen the Christmas village Kelly from Studio DIY made last year?
I just love that project, and when I found these mini wooden birdhouses for $1 each, I instantly knew I wanted to turn them into a set of mini birdhouse Christmas village ornaments inspired by Kelly's amazing big version.
Genius, right?!
But then I'm scrolling Instagram last week and see that my blog bud Cyd from The Sweetest Occasion is also a genius — to the tune of the exact same set of birdhouses as a mini Christmas village Great minds think alike, I suppose!
It's funny how different people can come up with the same thing completely independently. And just think about how big of a role the internet and social media play in that!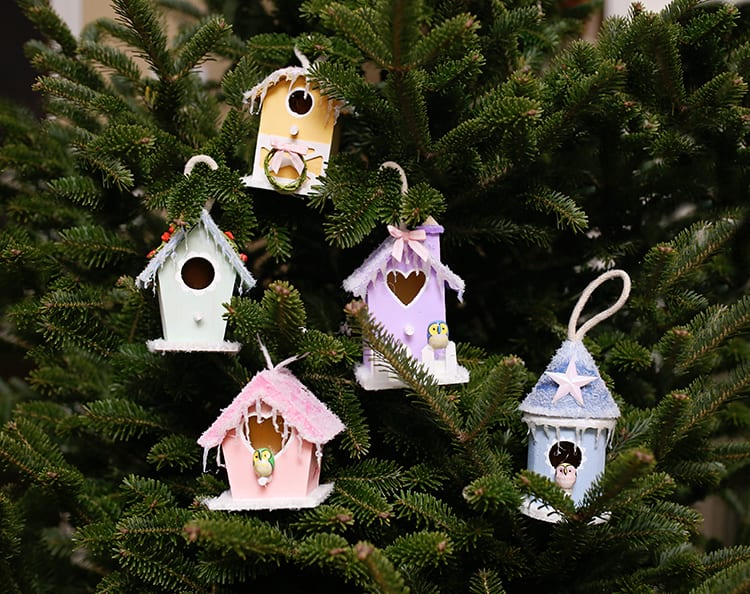 Anywho, be sure to check out Cyd's little cuties to for a different take on the same project. Hers are freaking adorable, and I just love the glitter she used for the snow!!!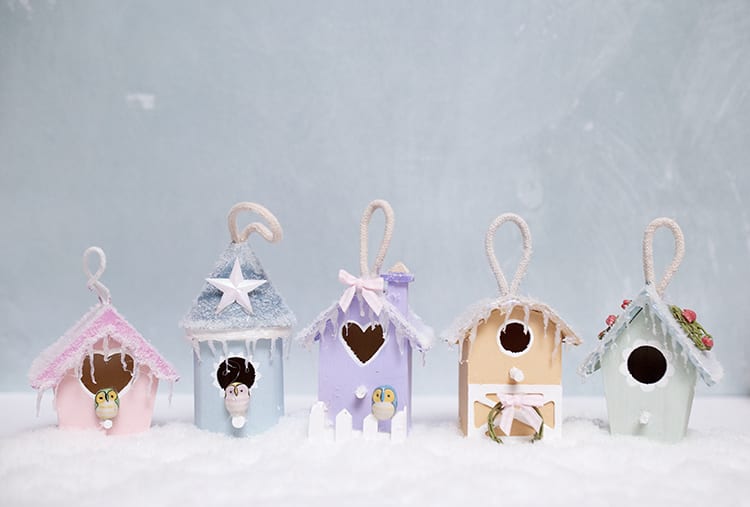 My favorite thing about the mini Christmas village is that you can set it out on display, or all the little houses can hang on the tree as Christmas ornaments!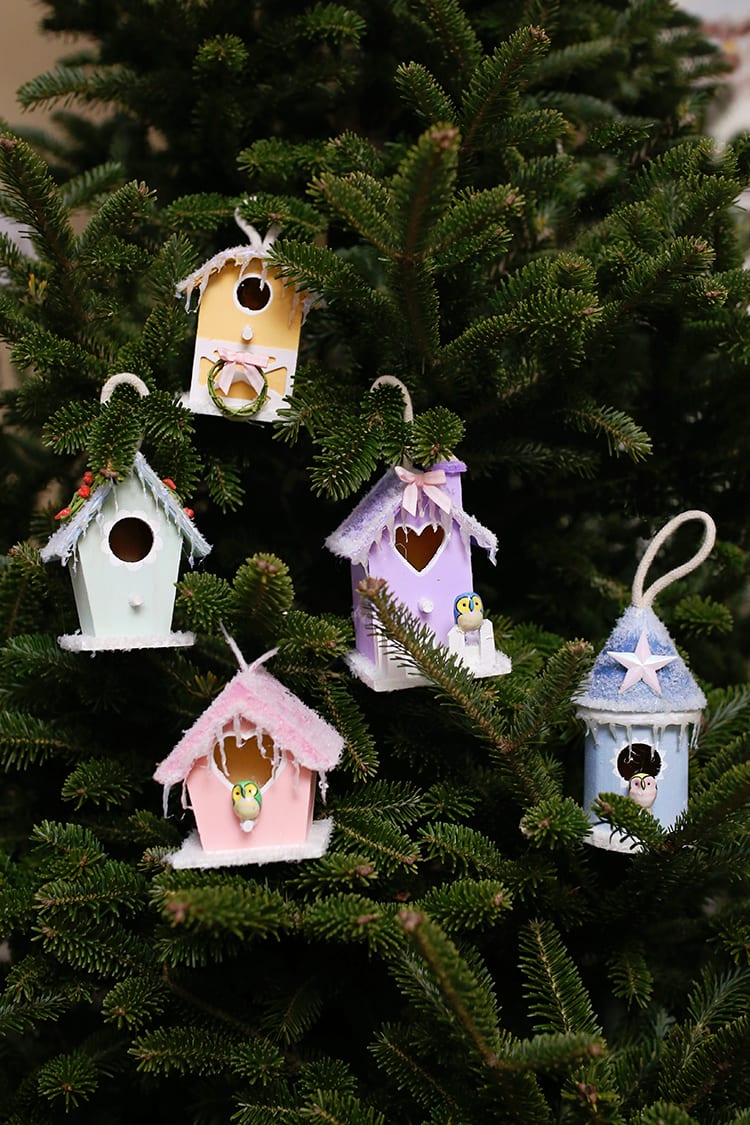 Supplies
These mini wooden birdhouses were only a buck apiece at Michaels. They have five designs, but you could make more houses for your village simply by using different paint designs and embellishments to make them look different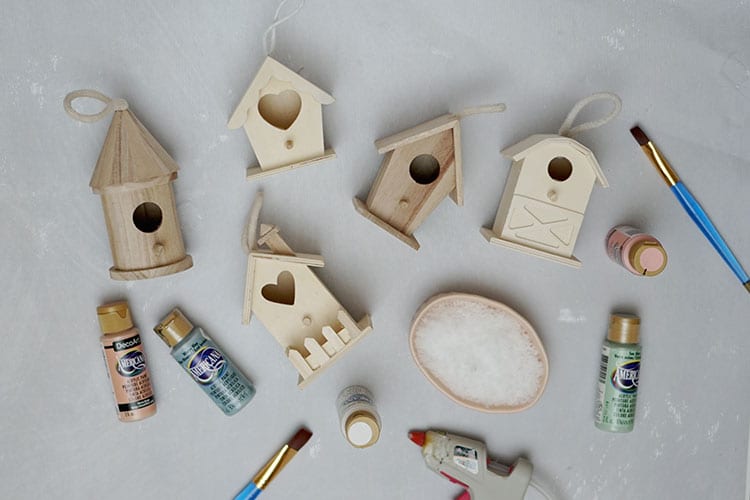 How to Make DIY Mini Birdhouse Christmas Village Ornaments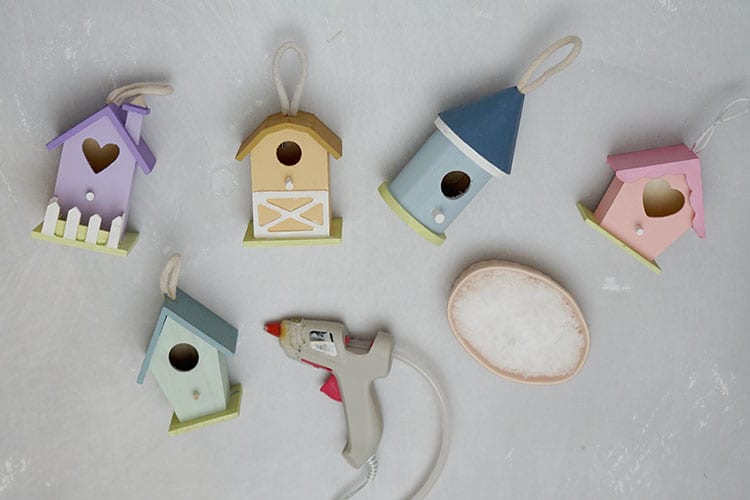 (Read on for printable instructions.)
I won't go into too much detail on instructions in this post because I basically followed Kelly's tutorial for her larger Christmas village
I'll call out any notes I have, and then I'll also walk you through how to make fake icicles for the roofs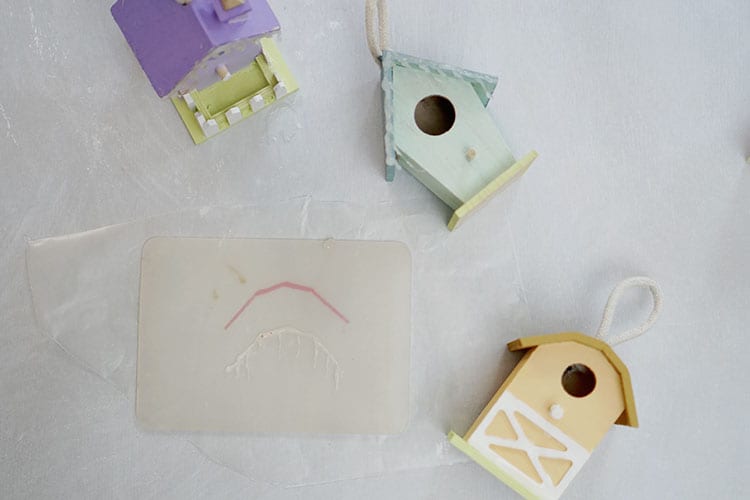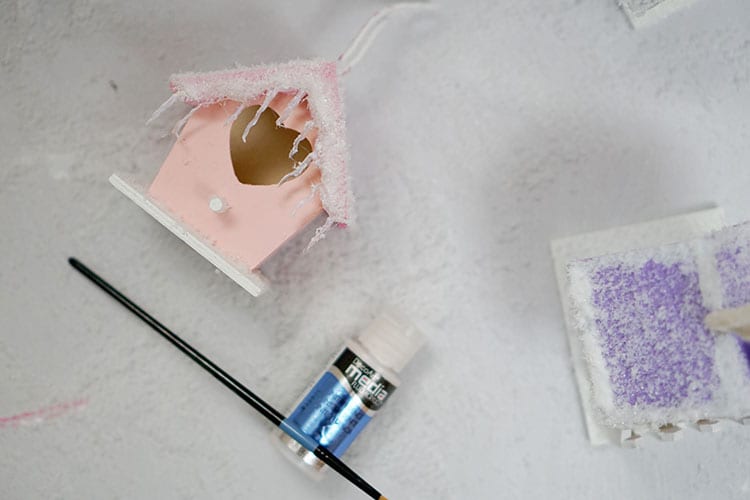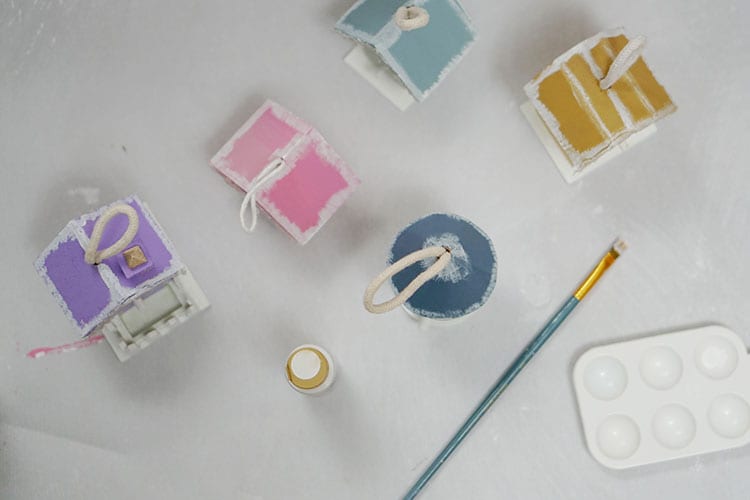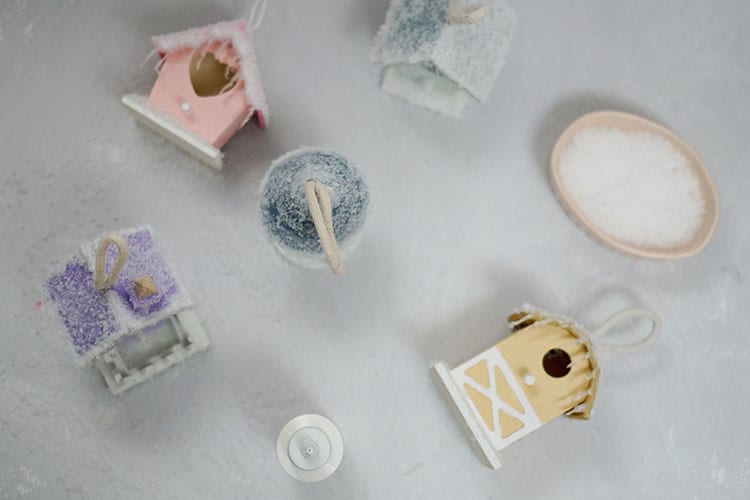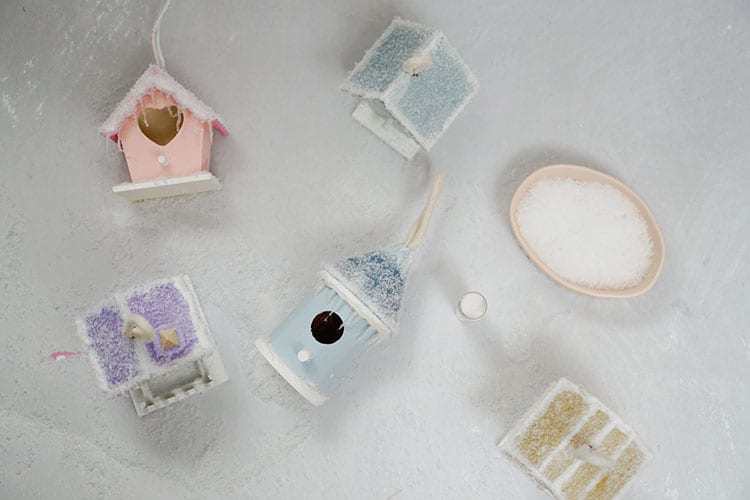 Yield: 5
DIY Mini Birdhouse Christmas Village Ornaments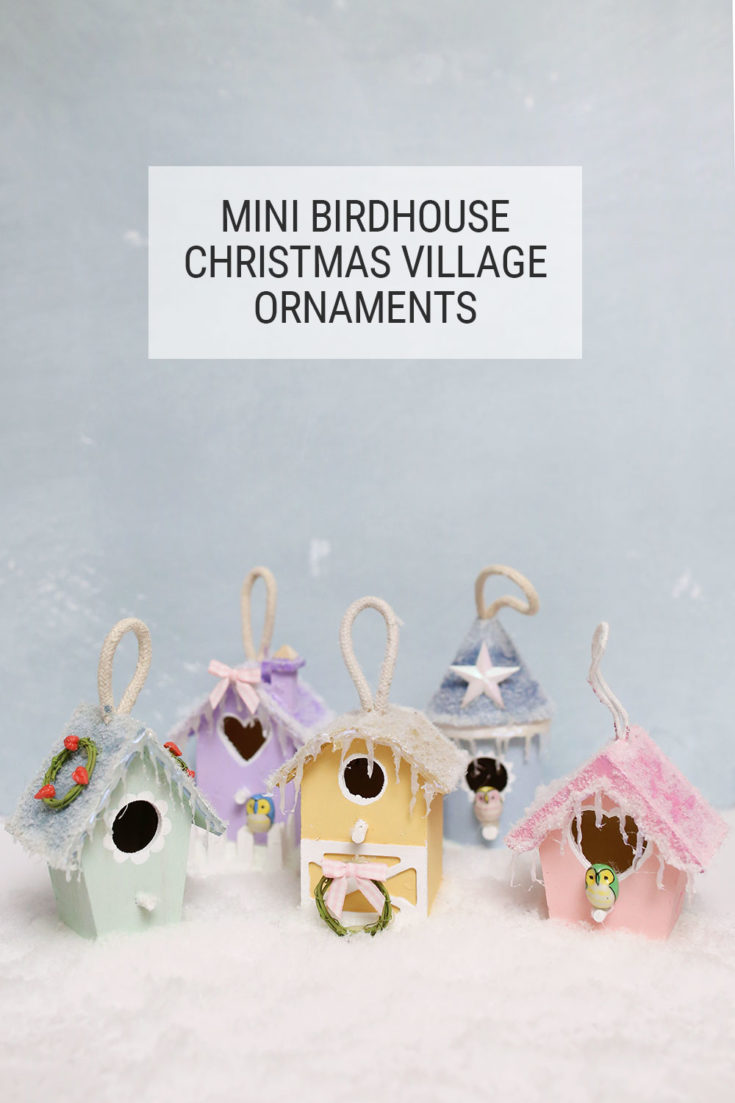 Total Time
3 hours
5 minutes
Materials
Acrylic paint
White glue
Fine white glitter
Various embellishments
Tools
Low temp hot glue gun
Scissors
Instructions
Paint the houses in whatever color palette you like. Painting will be easier if you sand first, but I got in a hurry and skipped this step.
Now, let's create the fake icicles to line the roofs of the houses. Start by cutting a piece of wax paper or tracing paper large enough to cover the front of the roof. Use a permanent marker to trace the outline of the front of the roof.
Place the outline behind a piece of clear plastic. I used a heat-proof glue gun mat, but you could also use a silicone baking sheet or maybe even plastic packaging from food or the glass from a picture frame. Just do a test bit to make sure you're able to peel dried hot glue off the surface before you start.
Use the glue gun (I recommend low-temp hot glue) to draw icicles hanging down from the outline. Squeeze out more glue at the top and less as you draw down so that they taper down to a skinny point.
Draw a fat line of hot glue across the outline over the tops of the icicles to connect them. Make sure there aren't any gaps, and set it aside to cool and harden for a few minutes.
Peel the row of icicles off the plastic. Add a thin line of hot glue to the front edge of the roof, and stick the row of icicles down firmly, holding until it's hardened on.
You don't have to do this, but I painted the icicles with a thing coat of blue iridescent interference to make them shimmer a bit like ice.
Once you finish the icicles, you can add any painted on snow. I used fake snow powder (linked under "supplies." I squeezed a thick line of glue all the way around the top and sides of each roof, and then I gently brushed it inward with a fan paintbrush. You want it to be thicker at the edges and then just barely coated in the middle, if that makes sense.
Sprinkle on the fake snow, and then immediately sprinkle on a coat of fine white glitter.
Add any embellishments you want, like bows, wreaths, little birds, etc.
Notes
If you're making these with kids, make sure an adult uses the hot glue gun.
You can find cute embellishments, like wreaths, gifts, trees, or little animals, in the miniatures section of the craft store.