I'm proud to team up with Starbucks and their Share the Cheer Sweepstakes for this sponsored post. You can always count on me for honest opinions and original content.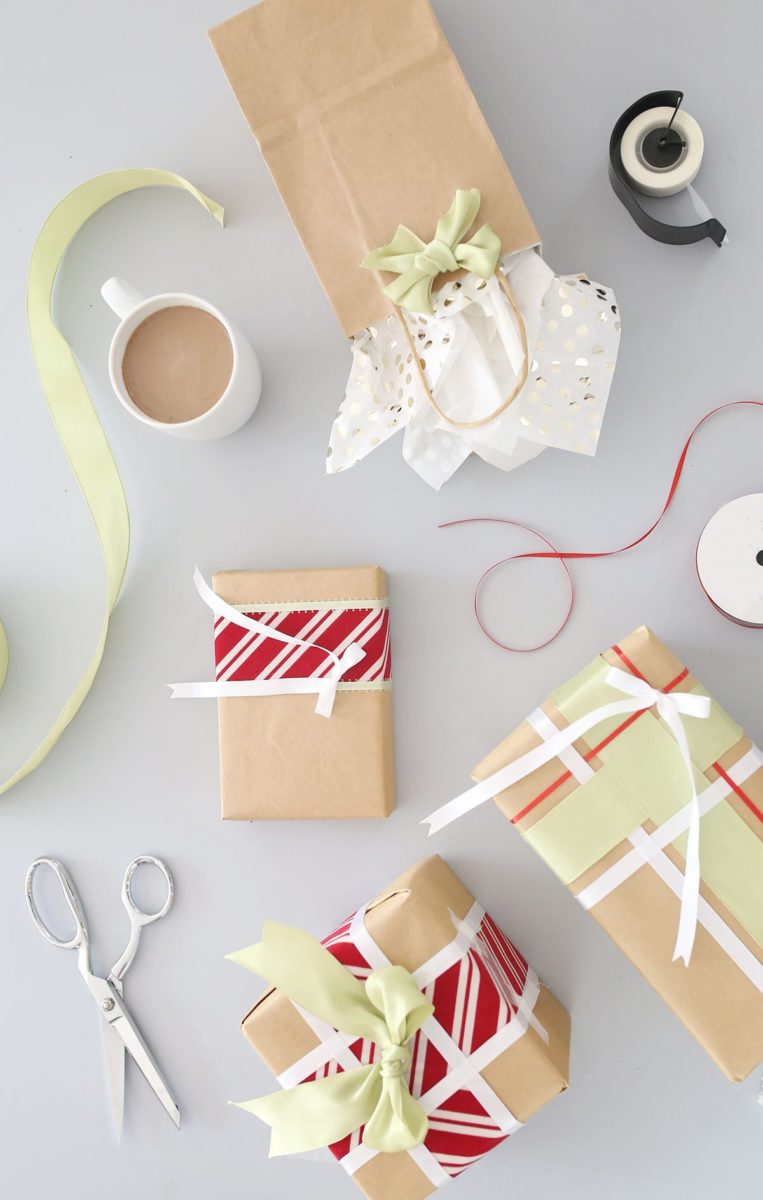 Can you believe we're only a few weeks away from Christmas? And it's going to be 2018 in less than a month. Just let that soak in for a minute, will you?!
This has been a wonderfully full year for me with the birth of our daughter. It's a milestone that has me reflecting on my own childhood and feeling way more nostalgic than usual. I've been thinking not only about my own family's traditions but Andrei's family's as well and how we're going to merge them together—and how we'll create new moments of our own!
If you caught my post last month, you already know that Starbucks asked me to share some of those moments and memories for their Share the Cheer Sweepstakes.
If you're as sentimental as I am, you'll love the Starbucks Share the Cheer Sweepstakes. It gives you a reason to create little moments of celebration and relive some of your favorite holiday memories during the busiest time of the year. You pick six holiday moments that you want to find, and those make up your own personal game board at cheer.starbucks.com. It's kind of like a scavenger hunt! Just snap a picture on your phone to add to your game board when you find your moment for a chance to win a $300 sterling silver Starbucks Card. You could get your family and friends involved to see who fills their game boards first!
NO PURCHASE NECESSARY.  A purchase will not increase your chances of winning. Starts 9/25/17 at 12:00 PM ET and ends 12/31/17 at 11:59:59 PM ET.  Open only to eligible legal residents of the 50 US/DC who are at least 18 years old at the time of entry. Click on Official Rules for instructions on how to enter without a purchase, other alternate methods of entry, entry period dates, odds of winning, prize details, restrictions, etc. Void where prohibited or restricted by law. Sponsor:  Starbucks Corporation.
I'm sharing some of my own fondest holiday moments below, but there are a ton for you to choose from when you create your own board.
My Favorite Holiday Moments
When I saw that Gifts was a moment on the game board, I had to choose it! One of my favorite things about the holidays has always been picking out the perfect gift for the people close to me. I always want to make sure it's something that'll be really special and meaningful, which often means making it myself. I might even combine something handmade with its perfect complement, like a set of hand-painted mugs  paired with Starbucks coffee.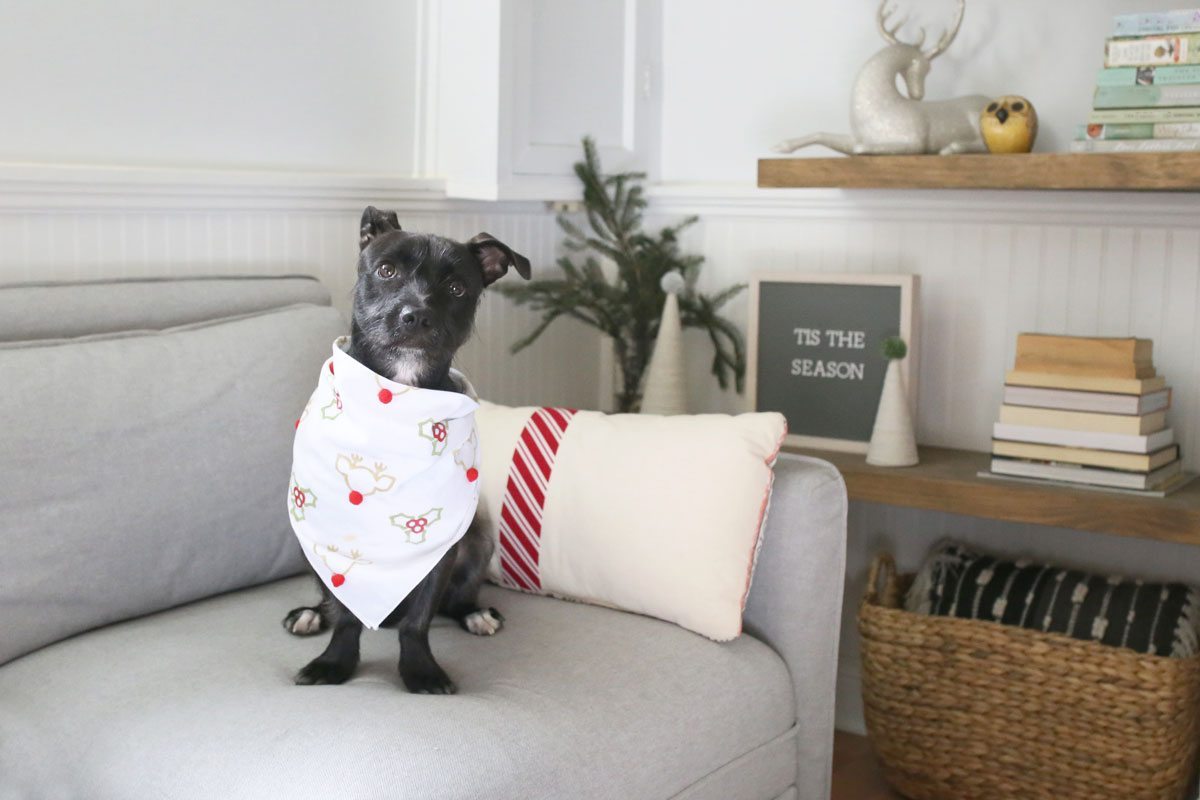 Moment: Santa Paws
Another moment I couldn't resist? Santa Paws! You guys know how much I love our pets. I've stuffed my poor cats into matching sweaters and antlers, but now that we have Pippa, they've been granted a bit of a reprieve. She's much more willing to be accessorized… 😉
I know a lot of you guys share my feelings that pets are 100% part of the family, so it only makes sense to get them in on the festivities, right?
How to Go the Extra Mile with Pretty Gift Packaging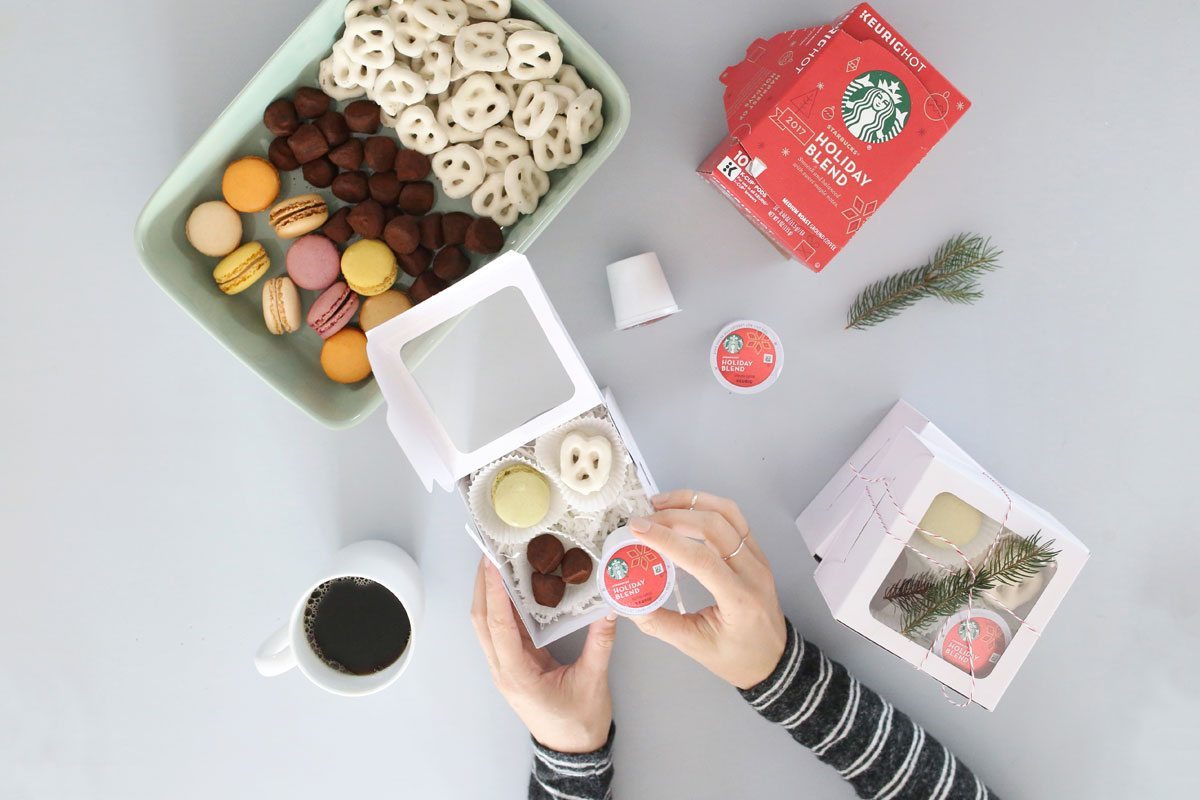 Moment: Holiday Treats
I like to do something thoughtful for neighbors and coworkers, too, because it feels so nice to be able to brighten somebody's day. And we all know the way to most people's hearts is with yummy treats!
You can create your own holiday treat boxes using cupcake bakery boxes from the craft store. Just stuff some crinkle filling into the bottom, and add treats in mini cupcake liners. Finish it off with Starbucks® Holiday Blend K-Cup® packs in one corner to create a coffee and sweets gift box!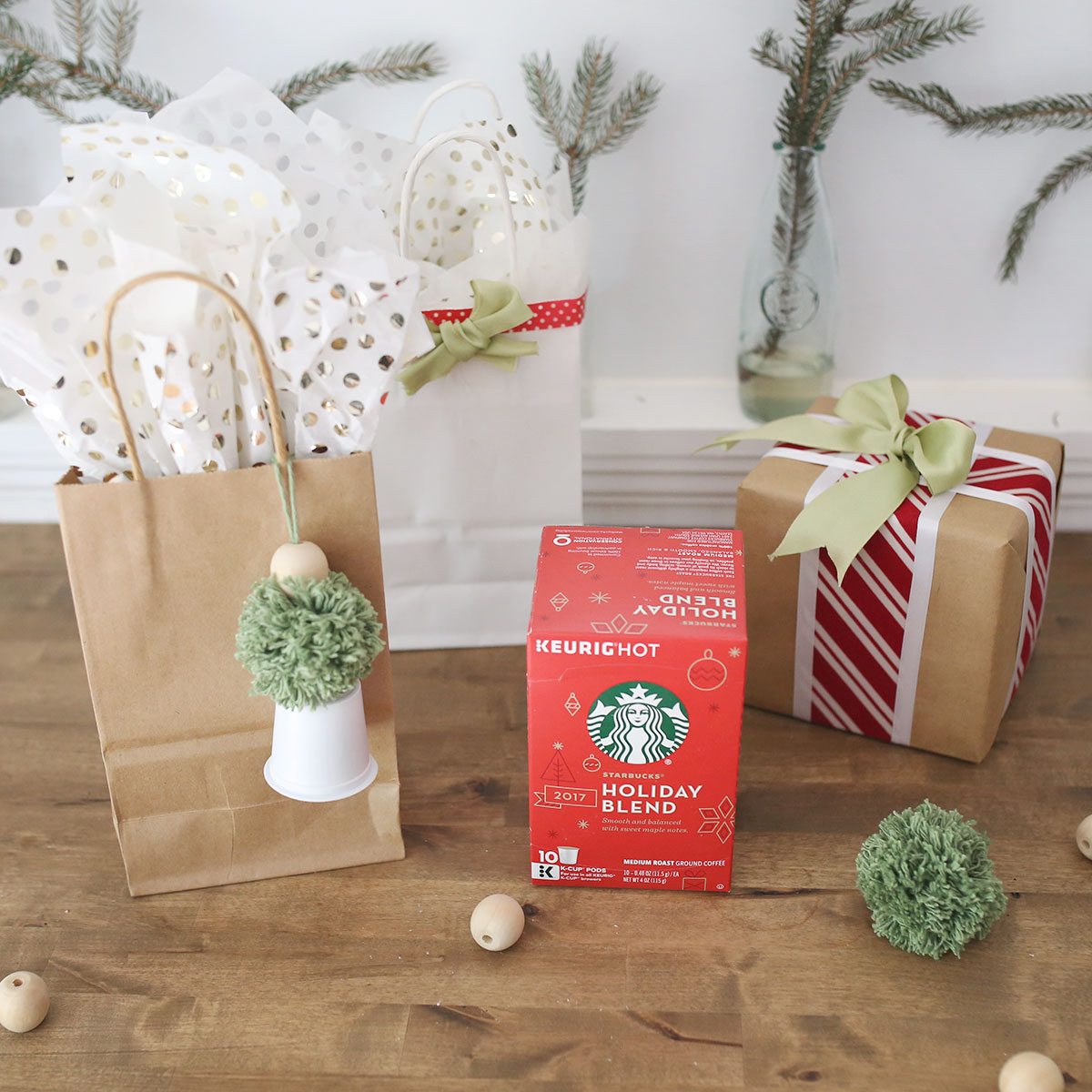 Moment: Gifts
And you don't have to stop with the gift itself… You can add the perfect finishing touch by hanging a cute little K-Cup tassel on a gift bag. You can see how I made one in the video above.
Share a picture of your own holiday gifts on your game board at cheer.starbucks.com, and if you feel like showing off to the rest of us, share the picture on Instagram, too, with the hashtag #StarbucksCheerSweepstakes.
Keurig, Keurig HOT, K-Cup and the K logo are trademarks of Keurig Green Mountain Inc., used with permission.