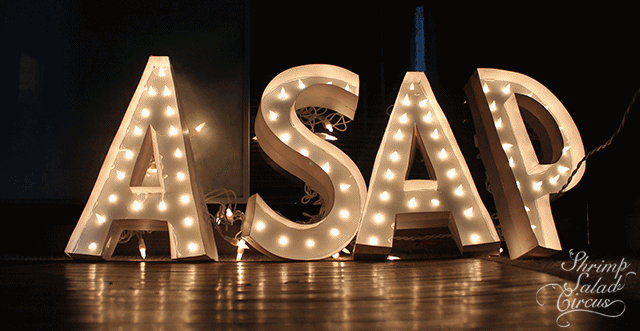 I'm planning a big art auction fundraiser shindig that's going down this Saturday. I'm doing a loose 'vintage carnival' theme, so doing big flashing letters was a must. I may have just been looking for a good excuse to make them, if I'm being perfectly honest… ;D This lighted marquee letter tutorial is an easy twist on the idea.
Read on after the jump for the full tutorial and to why this isn't like every other marquee letter project!

Materials:
High gloss spray paint
Silhouette chipboard
Posterboard
The marquee lights tutorial has been done a thousand time – I know. Buuuuut it hasn't been done like this. It's so easy with a cutting machine because you can line everything up exactly where you want and have all the holes pre-cut to the perfect size.
1.   Measure the width of the bulb portion of one of your lights. That's going to be the diameter of the circles you'll cut out later.

2.   Open Silhouette Studio Designer Edition, and set it to the chipboard settings. I wanted my letters to be really big, so I typed out the first letter and sized it to be as tall as the page. Draw lines to give you a center point to line up the holes. Draw a circle, holding shift to ensure it's a perfect circle, using the size from your measurement in Step 1. Mine were .19 inch. Now just duplicate the circle a bunch of times, and center them using the lines you drew.

3.   Using the chipboard settings, cut and repeat for each letter.

4.   Use an exacto knife to cut 2″ strips of plain posterboard.

5.   Carefully use hot glue to affix the posterboard border around each letter.

6.   Spray several coats of high-gloss spray paint to give it an enameled metal finish.

7.   Carefully poke a light through each hole, leaving a few lights in between each letter. Tape the lights in back to hold the cords down. (Mine aren't taped in the picture because I need to adjust their placement a bit, so that's why you can see some poking out.)


The Deals:
1 Silhouette CAMEO®, 1 pack of chipboard, 1 natural dust cover, 1 $25 download card: $269.99

1 Silhouette Portrait™, 1 pack of chipboard, 1 grey dust cover, 1 $25 download card: $129.99

1 pack of chipboard, 1 $25 download card: $19.99
To take advantage of this great sale, just click this link, and enter the code SHRIMP at checkout!
The sale ends on May 15.

* Disclosure – certain links within this blog may result in a commission for Shrimp Salad Circus to help me cover all the time I spend putting it together. See my disclosure statement for more information.
SUBSCRIBE NOW TO ACCESS MY FULL LIBRARY OF FREE DOWNLOADS!