Question: Have you ever thought about starting your own crafty blog? Seen something on Pinterest and thought, "I could do that better?"
Maybe you have some amazing ideas rattling around in your head just waiting to blow up the internet. I love blogging and totally think you should go for it. So I'm starting a new series called How to Start a DIY Blog. Consider me your cheerleader. 
How to Start a DIY Blog
Blogger vs WordPress
I'm going to be sharing lots of tutorials, insights, and tips, and lessons I've learned along the way, but I think the best starting point is to pick a blogging platform. There are plenty of options out there besides Blogger and WordPress, but those are the two big ones and the two I have experience with, so let's start there.
P.S. Throughout this post I'm referring to self-hosted WordPress (wordpress.org not wordpress.com).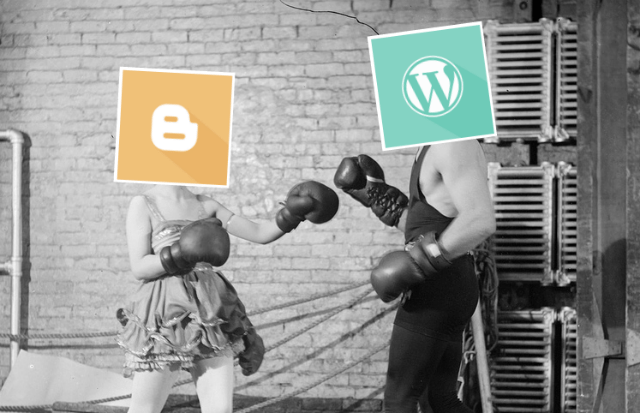 Shrimp Salad Circus is now a WordPress blog. I was on Blogger for 4.5 years and honestly wish I had switched much sooner. That said, I think that it's important to find the best platform for you and for your goals and needs as someone who might be new to blogging.
So let's explore some of what I consider to be key factors in choosing a blogging platform: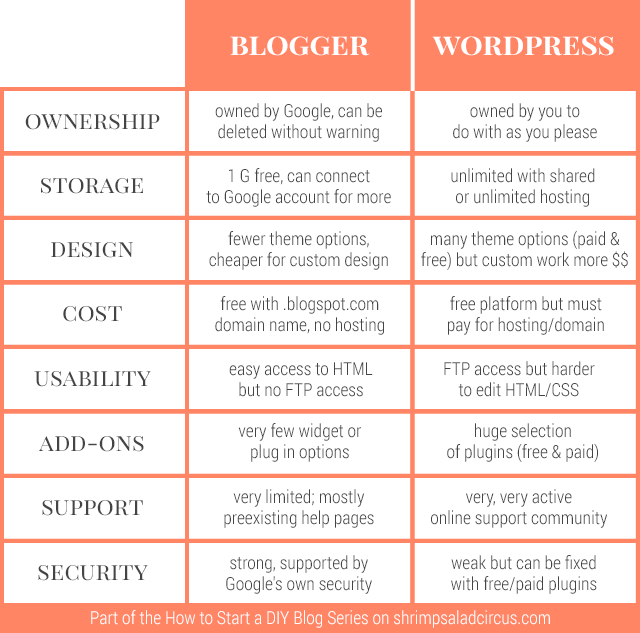 Pros & Cons of Blogger or WordPress
This is a topic I've explored a little bit in the past, back when I still on Blogger. I have a two-post series that goes into each platform a little more in-depth than you'll see here:
Why I Use WordPress
I want to provide you all the information you need to make an informed decision for yourself, but you're probably wondering what made up my mind at the end of the day, right?
Add-On Options – After years on Blogger, I got tired of seeing all the great plugins and extra functionality that I was missing out on, which was a big part of it. I love that with WordPress I can just click a button or two to install a social sharing widget or backup plugin without having to spend hours Googling code and customization. It has really saved me a ton of time.
Ownership – I was also a little bit nervous after hearing about a few different blogs that were shut down with zero notice or warning. Those women lost all their photos, posts, and months or years of really hard work. I've been blogging for about six years now, and I'd be absolutely devastated if anything happened to my posts.
Professionalism – There are beautiful, incredibly professional-looking Blogger blogs all over the place. Mine didn't look too shabby, if I do say so myself… But WordPress is just built for growth in a way that I don't feel like Blogger is. I can add contributors, customize menus with important pages, automate spam filtering, site content backup, and security, and a lot more.
Security – I'm not talking about protection from hackers here. I love Google, but they can make me really nervous sometimes. Remember when they axed Google Reader, and the whole internet mourned? Well, when I finally left Blogger, they hadn't done any significant updates in ages, which made me feel like the platform was pretty low on their list of priorities. I'd hate to have had all my eggs in that basket if they decided to shut it down one day, you know?
Feel free to let me know what questions you have, and I'll be back next week with a guide to Starting a WordPress Blog in Under an Hour!