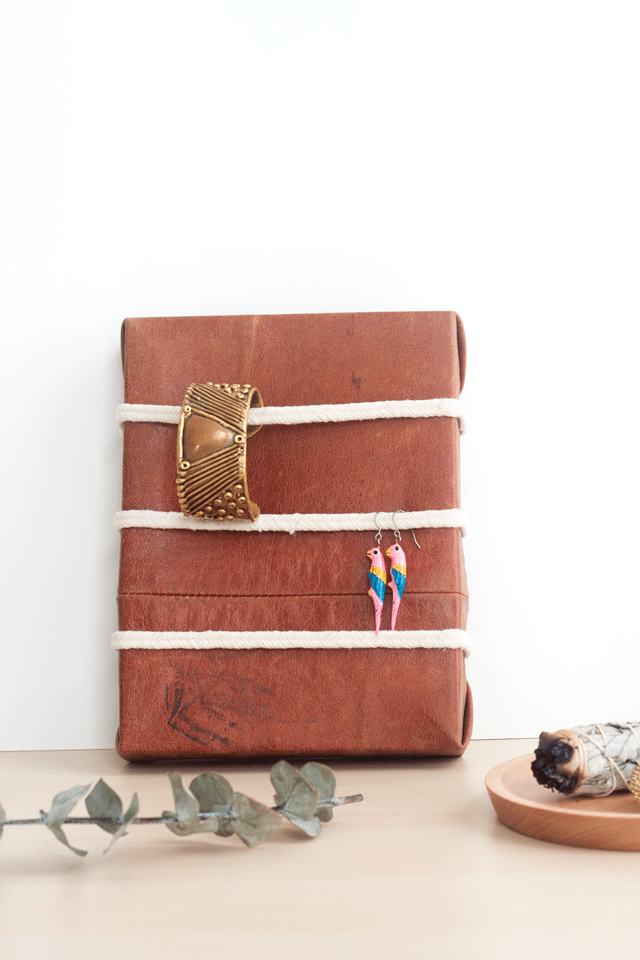 Organization for the New Year is about as original as floral for spring and plaid for fall. But hey, some cliches are there for a reason. And since it's already mid-January, I'm taking care of this little organizational project while I still have the motivation to tackle one of my resolutions. Let's be real, one might be as far as I make it!
Jewelry storage is admittedly not the area of my home that needs the most intervention, but I still wanted to make this DIY leather and rope jewelry organizer because 1) it's pretty, and 2) starting small makes me feel like I can maybe, just maybe, bring order to the rest of the house. Never underestimate a woman who is able to untangle a seemingly hopeless mess of necklaces AND whittle down her earring collection to just 12 pairs in a single afternoon.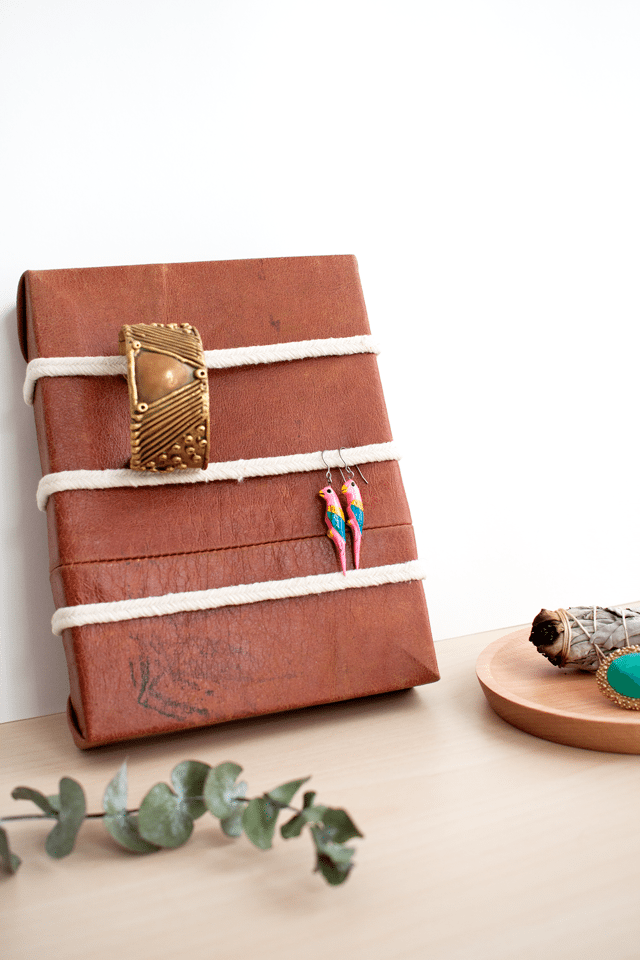 The best thing about this project is if you make it from an old leather coat or handbag and a thrifted picture frame, you can organize while also saving the world with your amazing recycling skills.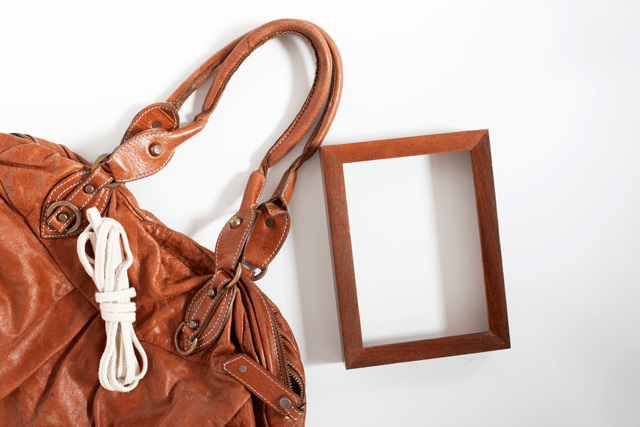 Supplies:
Old leather coat or handbag you can cut up, or leather fabric
Picture frame (check at your local thrift store!)
Cotton rope
Hammer and nails or a staple gun
Sharp scissors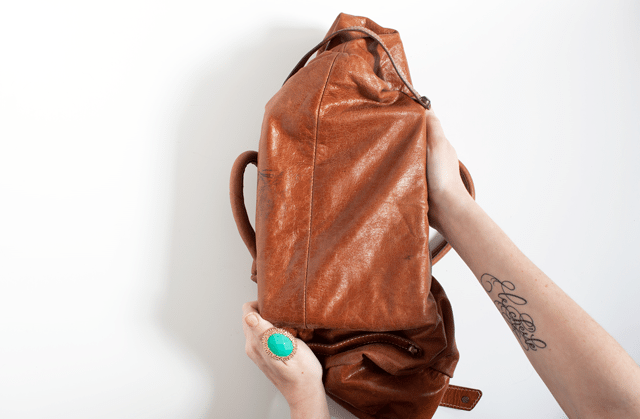 1.   If you're using recycled leather like a thrift-store purse, make sure there's enough usable fabric to wrap around the picture frame. I bought both the bag and frame at a thrift store so I stuck the frame inside the purse before buying to check.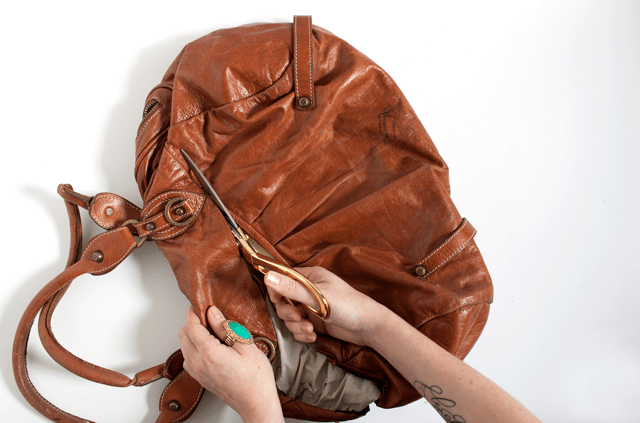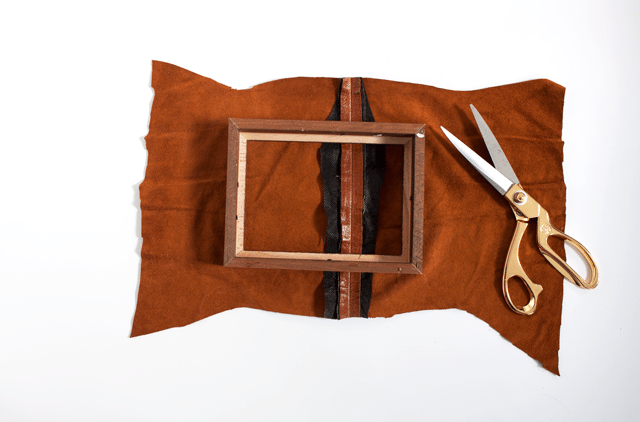 2.   Cut apart the bag or fabric to fit.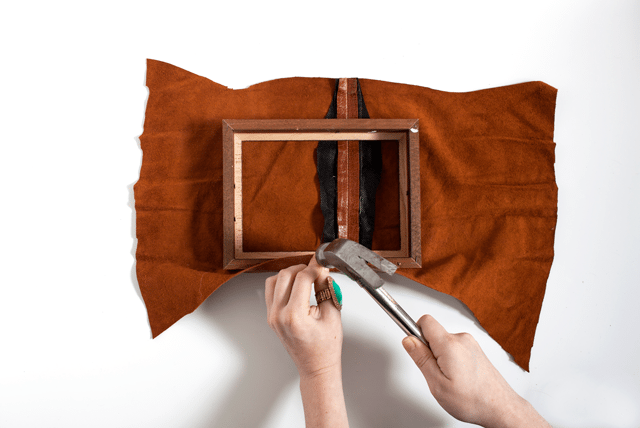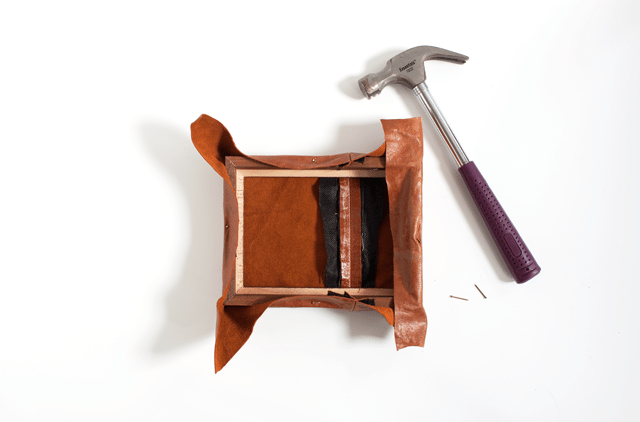 3.   Attach the fabric to the back of the frame using a staple gun, or hammer and nails if you don't have one. Start in the middle of each side of the frame and pull the leather taut so the front looks nice and unwrinkled. Trim excess fabric as you go so it's easier to work with. Leave the corners for last!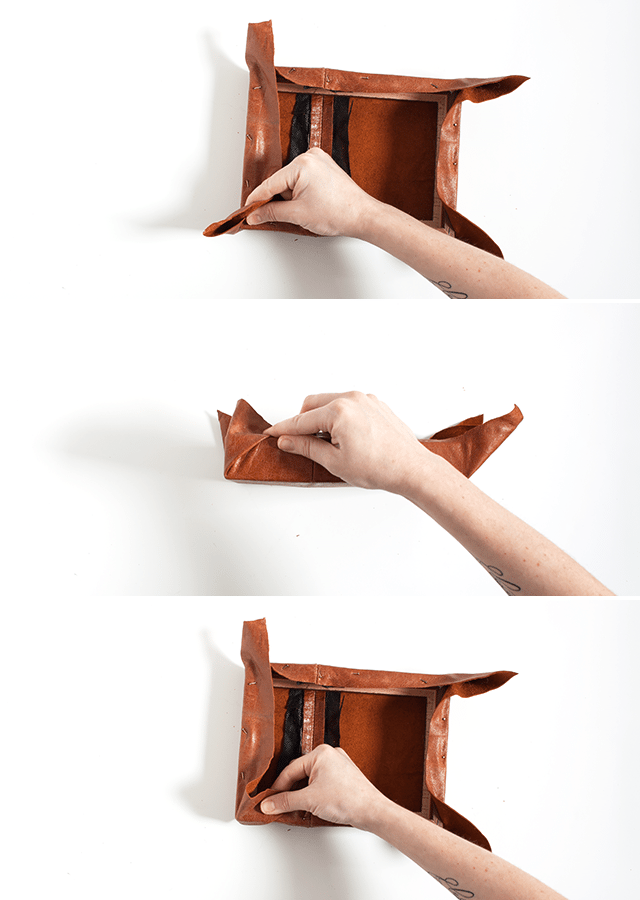 4.   To make the corners neat and professional: pinch the corner fabric together, pull the fabric you've pinched over to one side of the frame so it makes a nice "pleat," then nail the fabric onto the frame like you did with the rest. It's kind of like upholstery—in fact, I referenced a couple of upholstery tutorials like this one by The Painted Hive to figure the corners out. Know your strengths and Google the rest.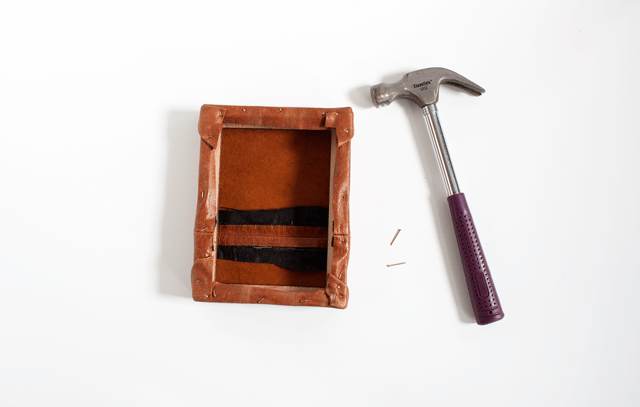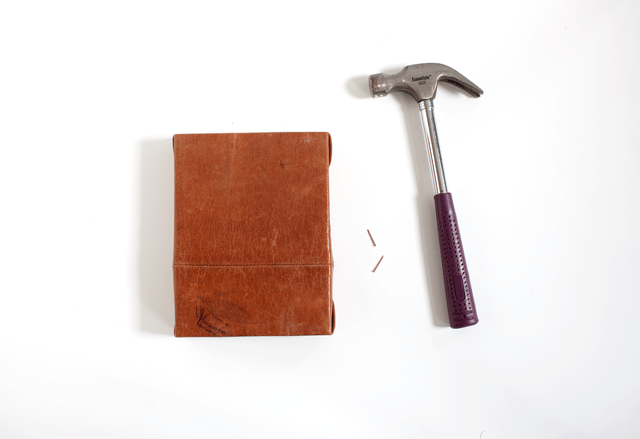 5.   Once the leather is firmly and neatly attached (just don't look too closely at all the nails I couldn't get in straight—yikes), trim all the excess fabric.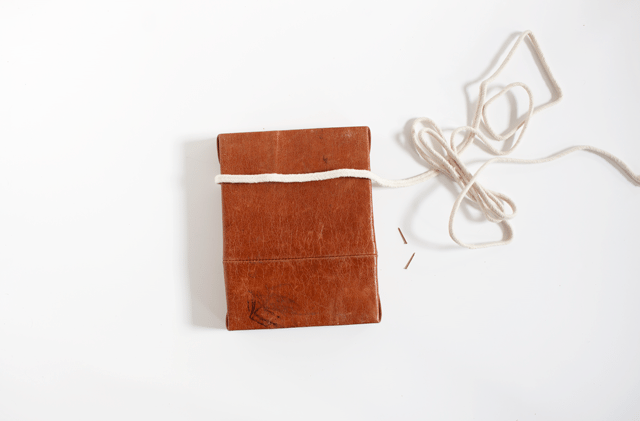 6.   Grab the cotton rope and figure out where you want to attach it on the front of the piece.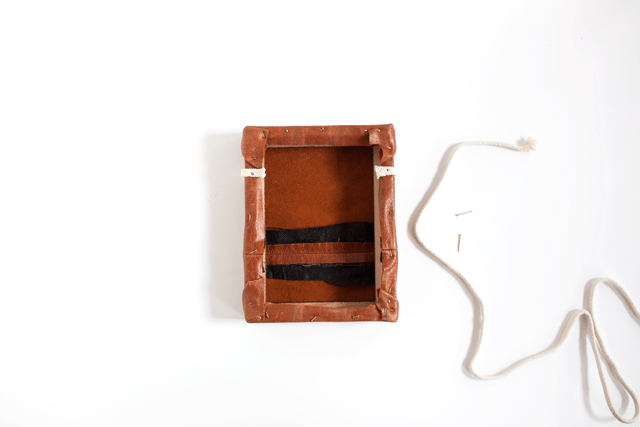 7.   Attach the first piece of rope on the back of the frame and trim the ends.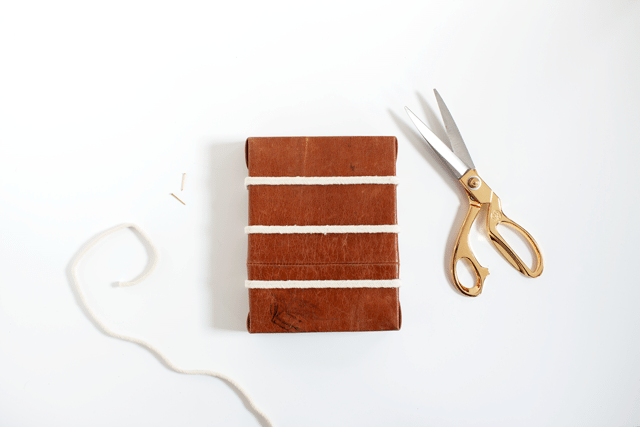 8.   Repeat with as many pieces of rope as you like. Then hang your jewelry and consider your home organized. Well, a little bit of it anyways.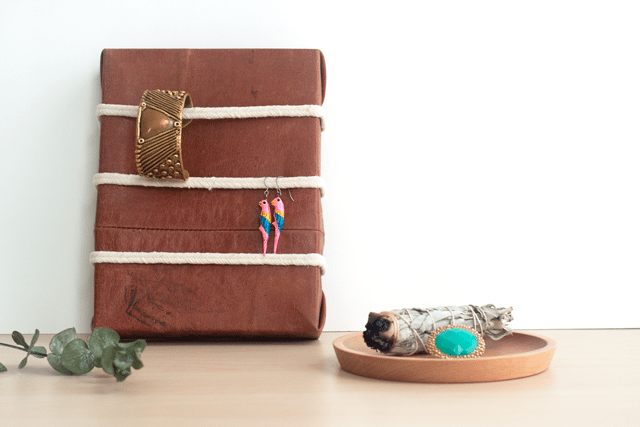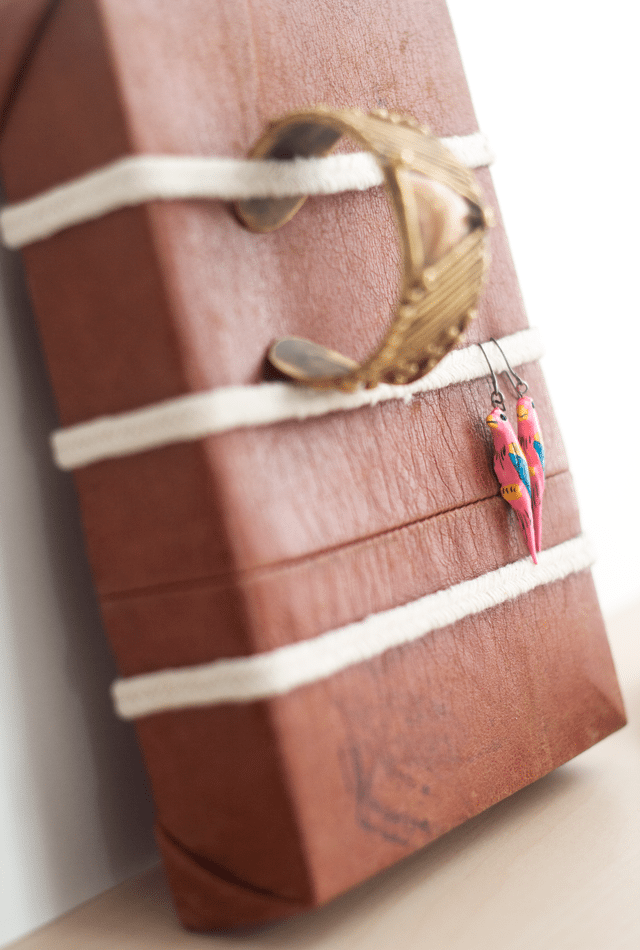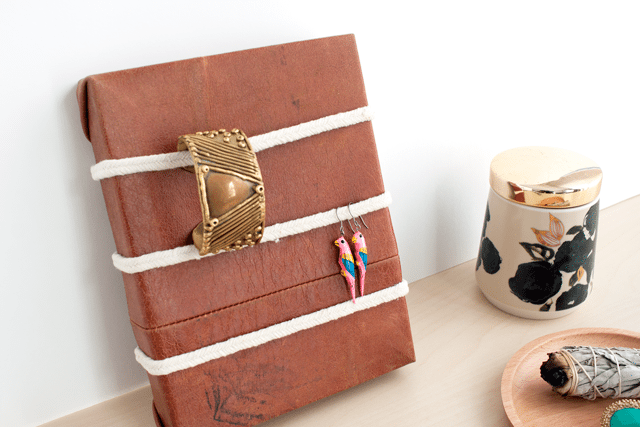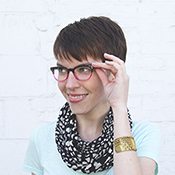 Marlene Sauer – Idle Hands Awake
Blog . Instagram . Facebook . Pinterest . Twitter
Paper-pusher by day and paper-and-everything-else-crafter by night, Marlene believes creativity is what life was made for. Her blog is a DIY blog for creatives in the making—because creativity is a skill that you can practice like any other. When not harassing the poor folks at her local craft store, you can find Marlene curled up with her three cats, a chai tea, and a library book. She also sometimes still has time for her husband, if he's holding up props during photoshoots.