Learn how to make a wreath step by step for bright, colorful door decor for Christmas or any season!

My At Home DIY Challenge crew has gotten back together for Deck the Halls to bring you all sorts of amazing holiday DIYs!
For our first project, we're making door decor, so I created this adorable tutorial for how to make a wreath step by step.
I've been blogging for more than 10 years now, which means I've done #alltheholidayprojects, probably twice. So I'm a little burned out on the typical red and green Christmas palette. This year I'm going for a bright, colorful, nontraditional color scheme for the holidays.
I love this DIY wreath because it's super easy and beginner-friendly, but it has so much beautiful color and texture!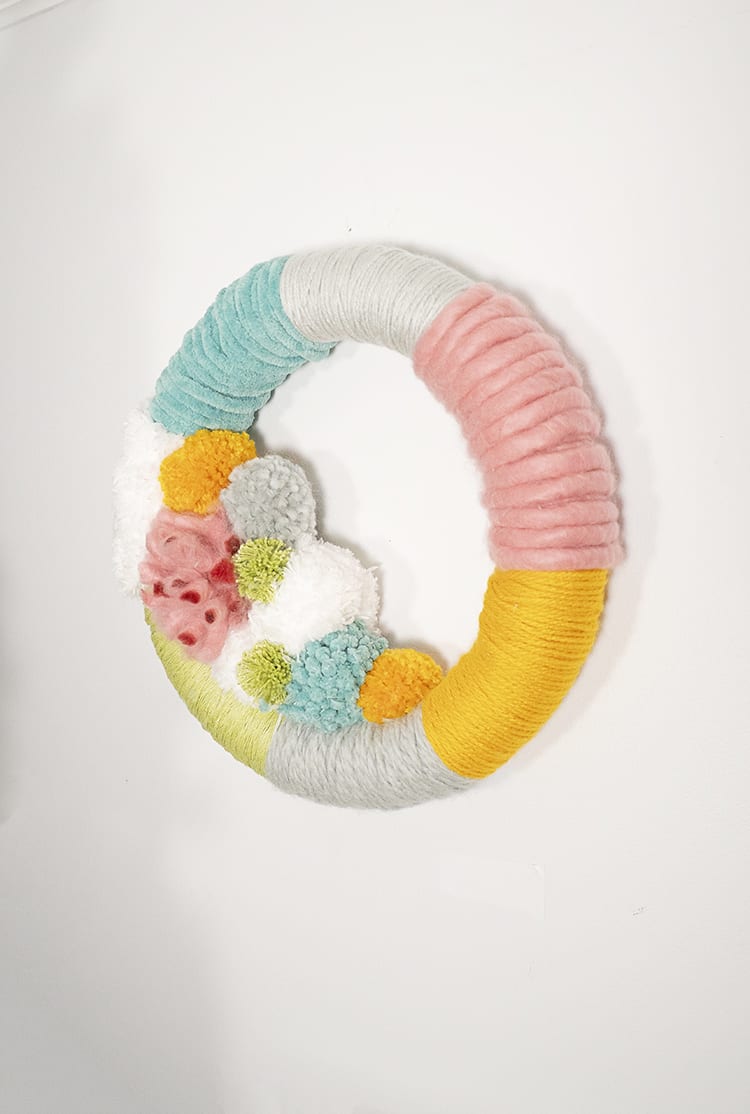 How to Make a Wreath Step by Step

Supplies
Yarn in 5+ colors, textures, and weights
Foam wreath form
Pom pom makers
Scissors
Glue
Crochet hook

1. Start by measuring around the outside of your wreath form.
Divide the measurement by the number of yarn colors you're using. Make marks that far apart. This is how much you'll wrap of each color.

2. Tie on your first yarn color, and add a dot of glue to hold down the knot and tail.
Tip: Start with your thickest, heaviest weight yarn. That way, you can wrap all the others enough times to reach a similar thickness.

3. Wrap the yarn around one full marked off section. Tuck the tail under, and secure it with a dot of glue.

4. Tie on the next color, and wrap it around the next section. Tuck the tail under the previous color, and use a dab of glue to hold down the beginning of the section.
For thinner, lighter-weight yarns, you'll need to wrap several times to get a nice, thick section.

Eventually, you'll have the entire wreath wrapped. This is a good time to go back and see if you want to make any of the sections thicker. I added a few extra wraps of the really fine green thread.

5. Make several pom poms in different sizes and colors. Leave long tails, and trim them a bit to give them a nice, round shape.

6. Tie the tails of the pom poms around the wreath. You can tuck them between strands of yarn to hide the tails. If you tie them nice and tight, you'll be able to stack some on top of the first row without it being floppy.

7. Flip it over, and trim the tails off the back.