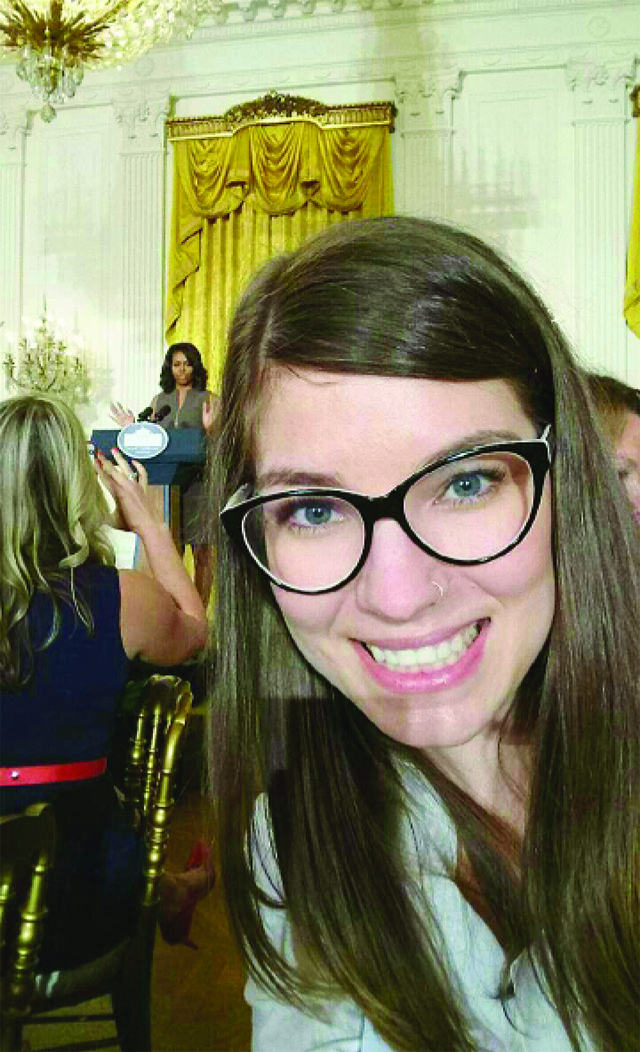 Is this a great picture? Definitely not. It's weird and wonky and maybe a little bit green(?!), and it's the best thing ever. Because that's ME in the foreground, and that's MICHELLE OBAMA in the background! I was close enough to jump for the stage and touch her (but wise enough to stay firmly seated)!
Read on for tons more pictures and find out why I was at the White House last month!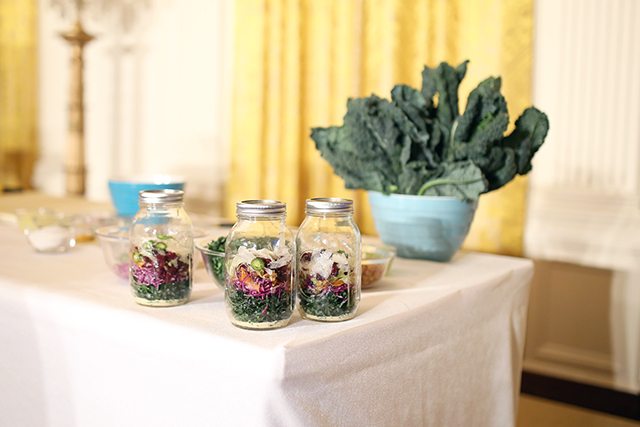 And then there are those moments where the First Lady tells you guys you're powerful. And the entire room swoons a little bit.
And you all are such powerful messengers on this issue. You have such an incredible platform. Just the 150 of you in this room alone reach tens of millions of people. Let's just step back. (Laughter.) Just look at yourselves, all the power that you're wielding right here in this room. -Michelle Obama
But seriously, it really is such a wonderful thing to have this platform to speak out about what's important to me. Most of the time it's creativity and projects and design, but sometimes it's slightly weightier matters.
By the Numbers: Let's Move! Making an Impact
The First Lady invited 150 bloggers from all over the United States to talk about her Let's Move! initiative and get the word out about the incredible impact it's making on childhood obesity and the lives of so many children.
Nearly 1 in 4 Americans – now live in a Let's Move! City, Town or County where kids can walk to school on new sidewalks, participate in a summer meal program, or join a local athletic league.
Over 30 million kids have access to healthier school breakfasts and lunches.
2 million kids now have a Let's Move! Salad Bar in their school.
Over ten million kids attend Let's Move! Active Schools where they strive to get 60 minutes of physical activity a day.
1.6 million kids are now attending healthier daycare centers where fruits and vegetables have replaced cookies and juice.
Thousands of chain restaurants have created healthier kids' menus, and food and beverage companies cut 6.4 trillion calories from their products.
Religious leaders are teaching their congregations about healthy eating through Let's Move! Faith and Communities; families are getting active in our national parks through our Let's Move! Outside initiative; and kids are enjoying healthy eating exhibits at one of the nearly 700 Let's Move! Museums and Gardens.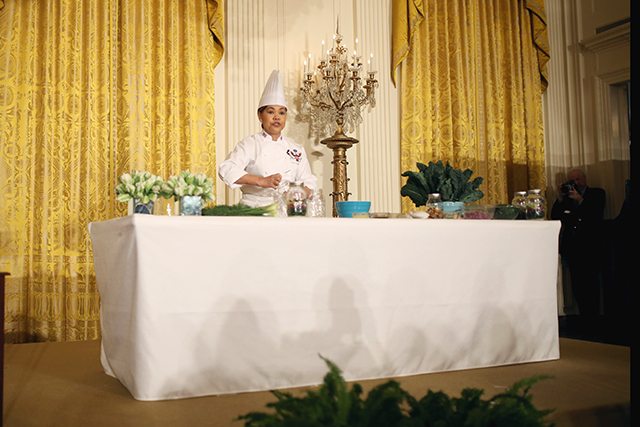 Cristeta Comerford demonstrated a healthy salad in a jar recipe. Comerford is the first woman and the first person of Asian decent to serve as White House Executive Chef, and she was such a great speaker!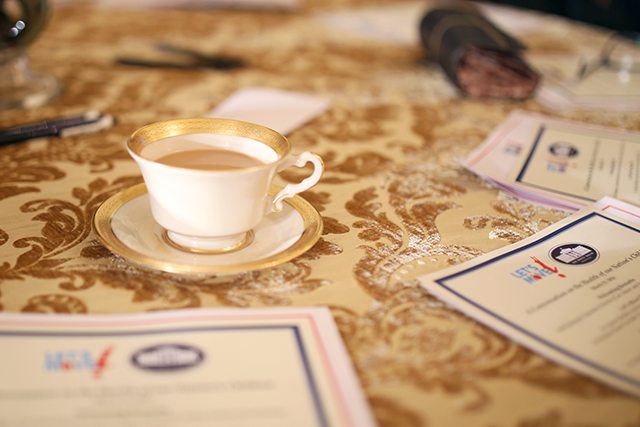 In case you were wondering, the answer is yes. Coffee does taste better at the White House in White House china. I even drank fully-leaded coffee for the first time in ages, because White House coffee…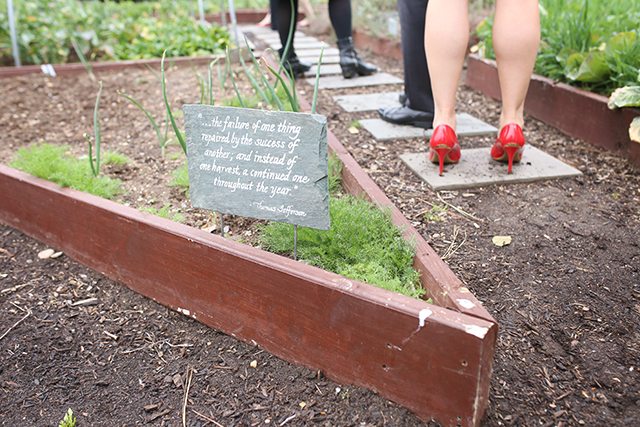 We got to tour the White House kitchen gardens, and it got my green thumb itching. As soon as I have a yard, I'm going to go back to square foot gardening and grow some goodies!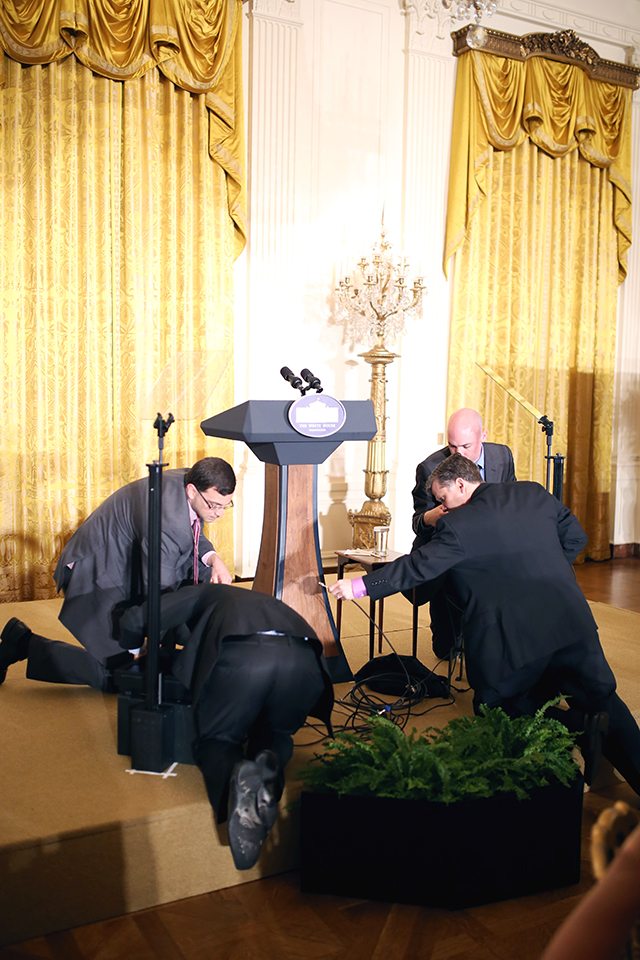 It takes a village to prep the stage for MO…

Dominique Dawes, three-time Olympic gymnast and co-chair of the President's Council on Fitness, Sports & Nutrition, delivered opening remarks and was such a down-to-earth, engaging presence!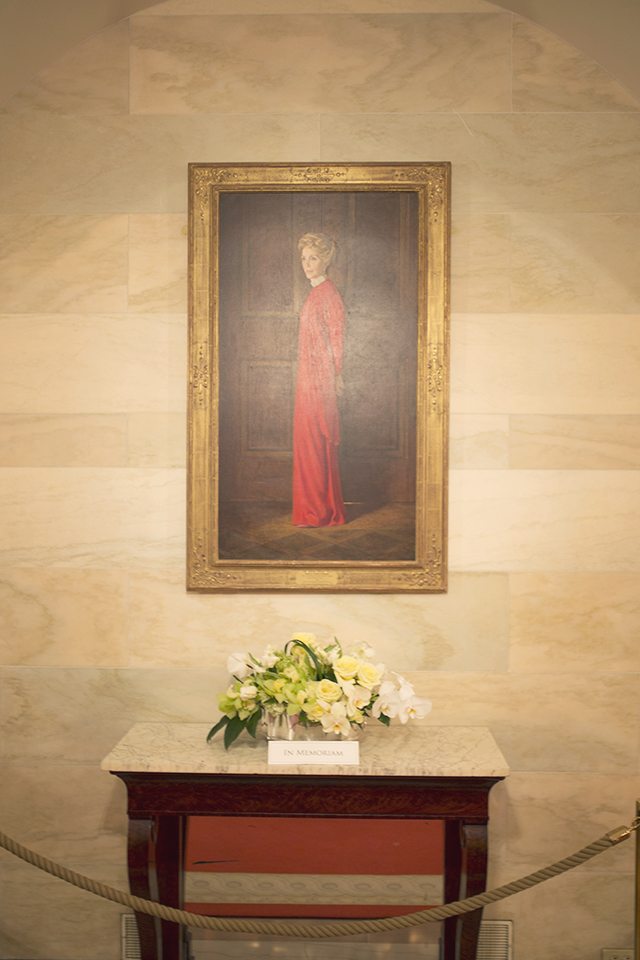 Our visit to the White House was shortly after the passing of Nancy Reagan, so this was the tribute set up in memoriam.