Learn how to sew a super simple skirt with this free and easy elastic waist skirt pattern building tutorial!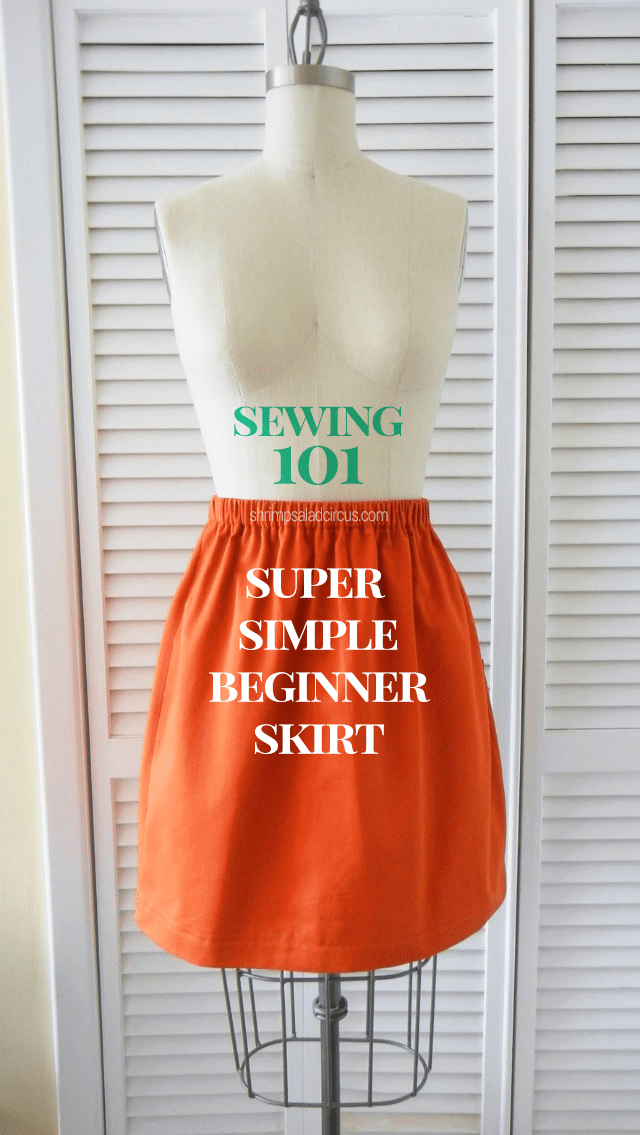 Valerie Bryant is back with another incredibly helpful Sewing 101 post. Now that we've learned the basics, she's showing us how to make a super easy beginner skirt. There are tons of pictures with each step after the jump, so you won't get lost! If you love Sewing 101, be sure to check out Valerie's blog and her shop.
Now that you've gathered your supplies and gotten to know your sewing machine, how about your very first project?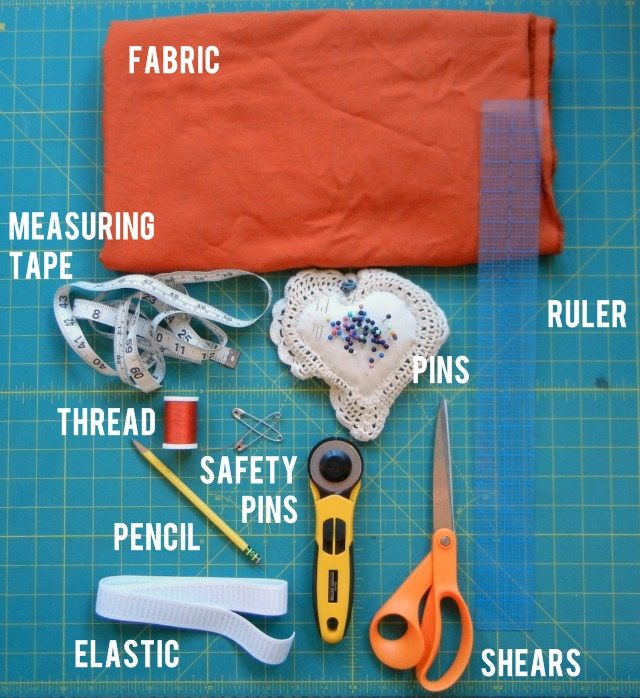 Supplies:
You're going to make your own elastic waist skirt pattern as you go simply by measuring yourself and following these steps. Here are the supplies you'll need. This list contains affiliate links, so I may receive a small commission from purchases.


1 – 1.5 yards of fabric* (amount depending on your size and the length you want your skirt)
Thread (in a matching color to your fabric)
Marking tool (I just used a pencil.)
Cutting utensil (shears or rotary cutter)
1 yard of 1″ elastic (again, depending on your measurements)
Iron/ironing board
Optional: pinking shears
*Make sure you get a fabric that does not stretch. Mine is a cotton twill, and any type of cotton or linen would work well.
How to Measure Yourself for a Skirt/Making Your Own Elastic Waist Skirt Pattern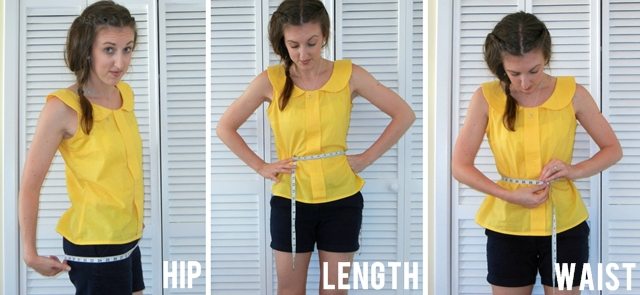 How to Measure Your Body
Hip – With your measuring tape, measure around the largest part of your rear. This is your hip measurement.
Waist – For this skirt, measure around your waist at the point where you would like the skirt to sit.
Length – Now measure the total length you would like the skirt to be. I do this by looking in a mirror, and letting the end of the tape drop down to my desired length. The measurement on the part of the tape that is at my waist is the length.
Converting Your Body Measurement to Fabric Measurements
For the length of your skirt fabric, start by adding 3.5 inches to your length measurement. For example, I want my skirt to be 20 inches long, so my length for the fabric is 20 + 3.5 = 23.5 inches. 
For the width of the fabric, add 10 inches to your hip measurement, and divide by 4. For example, my hip measurement was 39 inches, so my fabric width is (39 + 10)/4 = 49/4 = 12.5 inches.
You can also adjust the number you add to your hip measurement depending on your desired fullness of the skirt. Adding more than 10 will give you a fuller skirt; adding less than 10 will be more fitted, but make sure you leave enough room to move!
Taking a break to gather everything? Pin this for later!

Got your measurements? Let's start sewing!