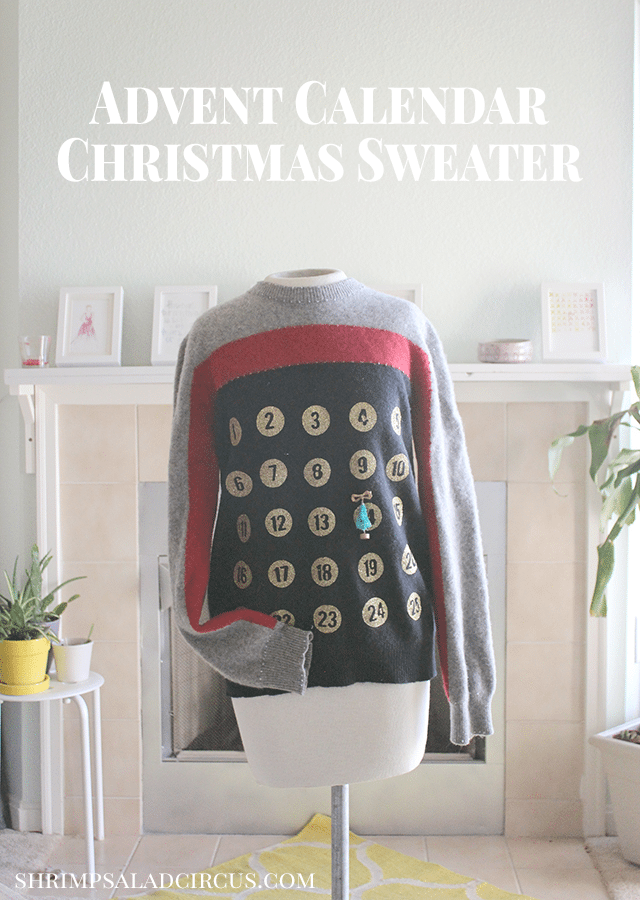 The "ugly Christmas sweater" party thing is pretty much a holiday staple, but I'm putting a fun twist on it this year: the advent calendar Christmas sweater! I've partnered up with iLoveToCreate to share this fun, tacky, and glitzy holiday project with you guys. As a disclosure, I want to let you know that this is part of a paid campaign and that I was provided with free supplies, too. The project is all my idea, and I use this brand all the time, too. Who doesn't love iron-on glittery goodness? I thought this sweater would be a fun spin on the ugly sweater party idea because it's a little bit interactive. There's a cute little Christmas tree pin that you can use to indicate the date. Voila – instant photo staging! Be sure to check out the iLoveToCreate holiday inspiration page for even more ideas!
If you're trying to get a jump start on the holidays, then you might want to use these same supplies to make these sweet little tea towels. And then you can use the towels to wrap up a bottle of wine as a hostess gift! And then there's this actual advent calendar. Not as cool as a wearable one, but it's pretty stinkin' cute nonetheless! Finally, don't forget to add cute little extras to your giftwrap!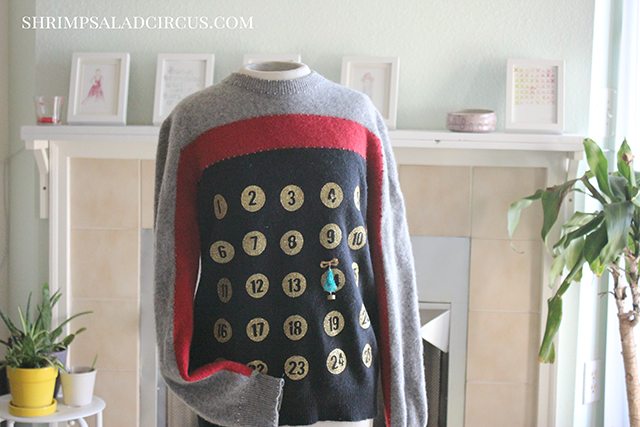 Advent Calendar Christmas Sweater Tutorial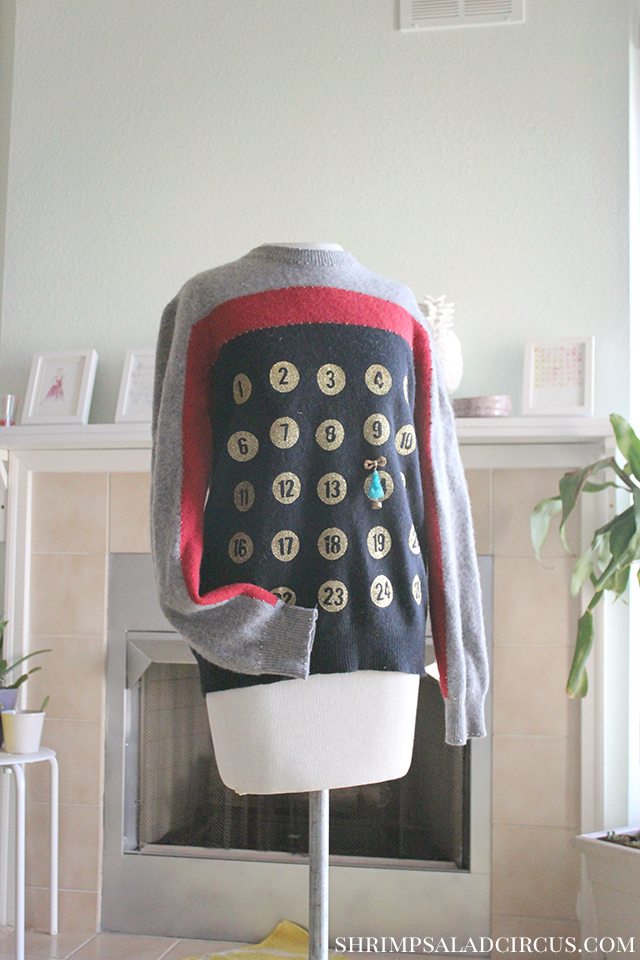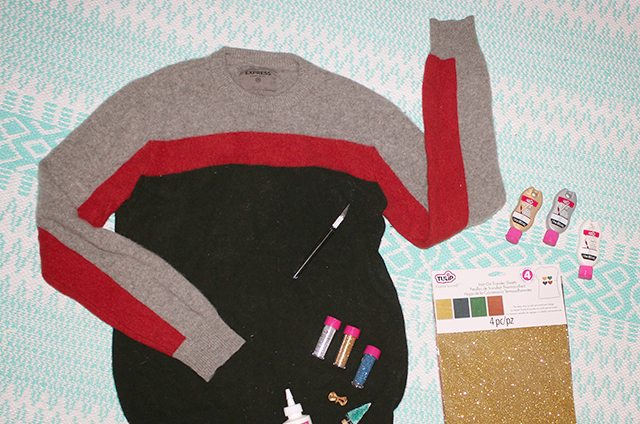 Supplies:
Old sweater – yours or something thrifted
Iron
Exacto knife and cutting mat or craft cutting machine (I used my Silhouette)
Dish towel or thin cloth to iron over
Tulip Fashion Glitter
Tulip Fashion Glitter Bond (fabric glue)
Tulip Shimmer Transfer Sheets
Glitter Tulip Dimensional Fabric Paints
Pin back or decorative pin finding
Mini bottle brush Christmas tree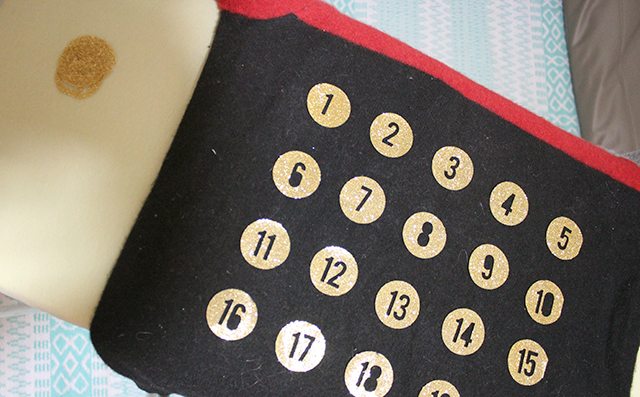 1.   Start off with a clean, dry sweater. This used to be Andrei's, but it got a little shrunken in the wash, so it was the perfect blank slate for this project!
Grab a sheet of gold shimmer transfer material, and either use a craft cutting machine, like the Silhouette or Cricut, or simply use a circle punch and/or Exacto knife to cut out 25 circles of equal size. Within each circle, cut out the numbers 1-25. To give you an idea of sizing for your circles, this sweater fits like a women's medium, and each circle is 1.6 inches in diameter.
Arrange the circles on the front of your sweater at equal distances from one-another in a 5×5 grid pattern.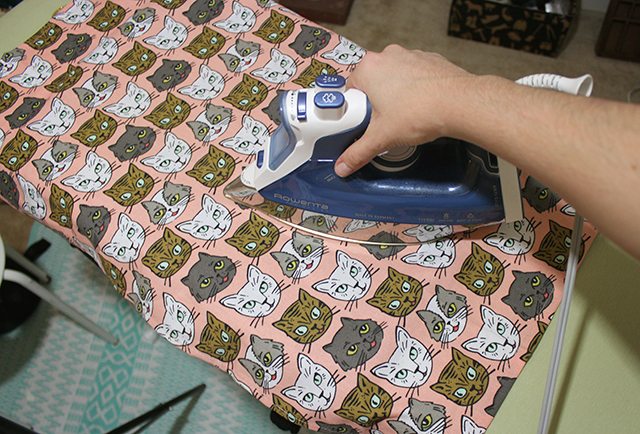 2.   Carefully lay a dish towel or other thin cloth over the sweater and numbers, being careful not to disturb the placement of the designs. If your towel is covered in tons and tons of cats, all the better.
With the iron on a high-heat, no-steam setting, press over the entire front of the sweater, keeping the iron moving constantly. You want to make sure that each piece of transfer material gets ironed for 45-60 seconds. You can peel up a corner of the towel to check on how well the design has attached.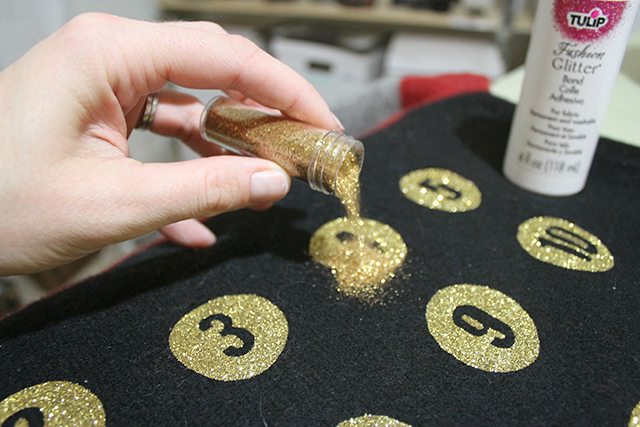 3.   If you were careful when cutting (I wasn't…), then you can go back and iron the middle of the numbers in, like the hole in the number nine in the picture above, for example. If you can't find your pieces or just don't feel like trying to iron these miniscule little scraps, it's time to bust out the glitter! Use the glitter bond to draw the shape inside the number, and then sprinkle a liberal heap of gold glitter over it.
Let it sit for a minute, and then gently shake the excess glitter off onto a piece of paper. You can pour it right back into the jar to use later!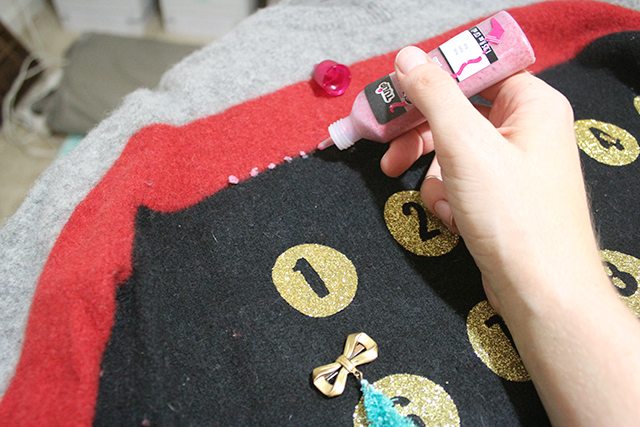 4.   Depending on what other colors your sweater has, you might want to use different paints for this step. Since I have this red stripe running across the sweater, I added fat little dots of red glitter fabric paint along the top and bottom of the stripe. I ended up adding the dots all the way down the sleeve.
Then, to complement the grey, I added silver glitter dots along the collar and sleeves. You can see these a lot better in the first two photos in the post.
Set the sweater aside to dry overnight.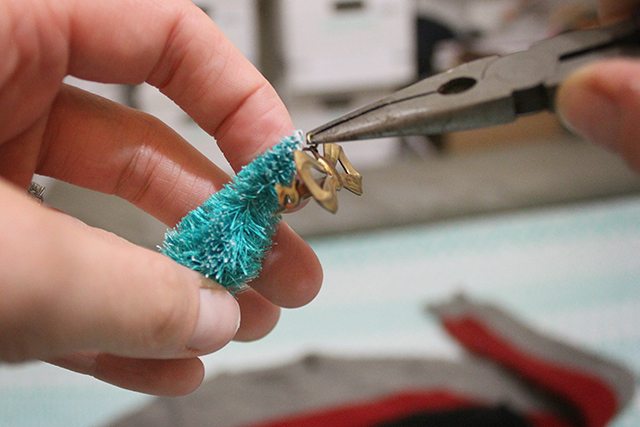 5.   All your "advent calendar" is missing now is a date marker! If you're using a regular old pin back, just glue your little bottle brush tree to it. I had a fun vintage brass bow pin finding, so I wrapped a little piece of wire around the top of the tree to hang it from the brass bow.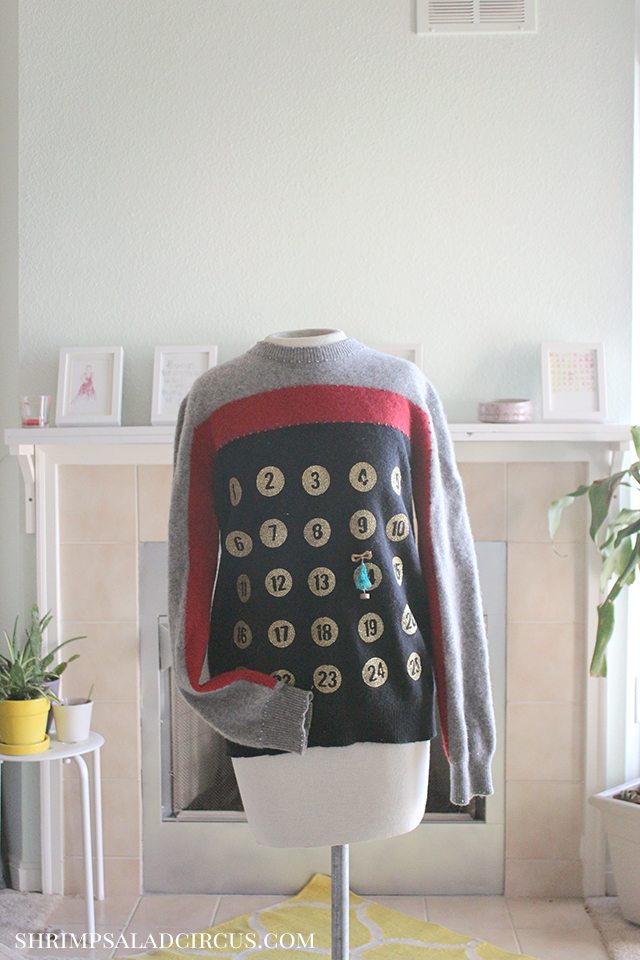 6.   When everything is dry, your sweater is ready to wear! When you're getting all dressed up for your next tacky sweater party, just pin your little Christmas tree over the appropriate date on your sweater!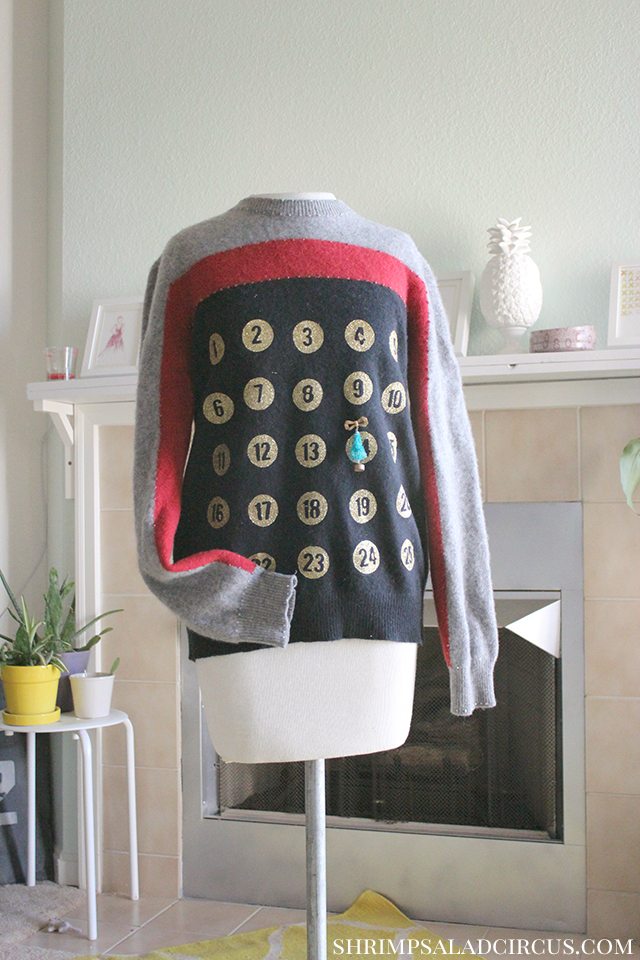 If you make this project, I want to see it! Leave a link to your pictures in the comments, or share it on Instagram or Twitter with the hashtag #MyShrimpSaladCircus so that I can find it. I'll start a gallery of reader projects when I have enough submissions!
iLoveToCreate