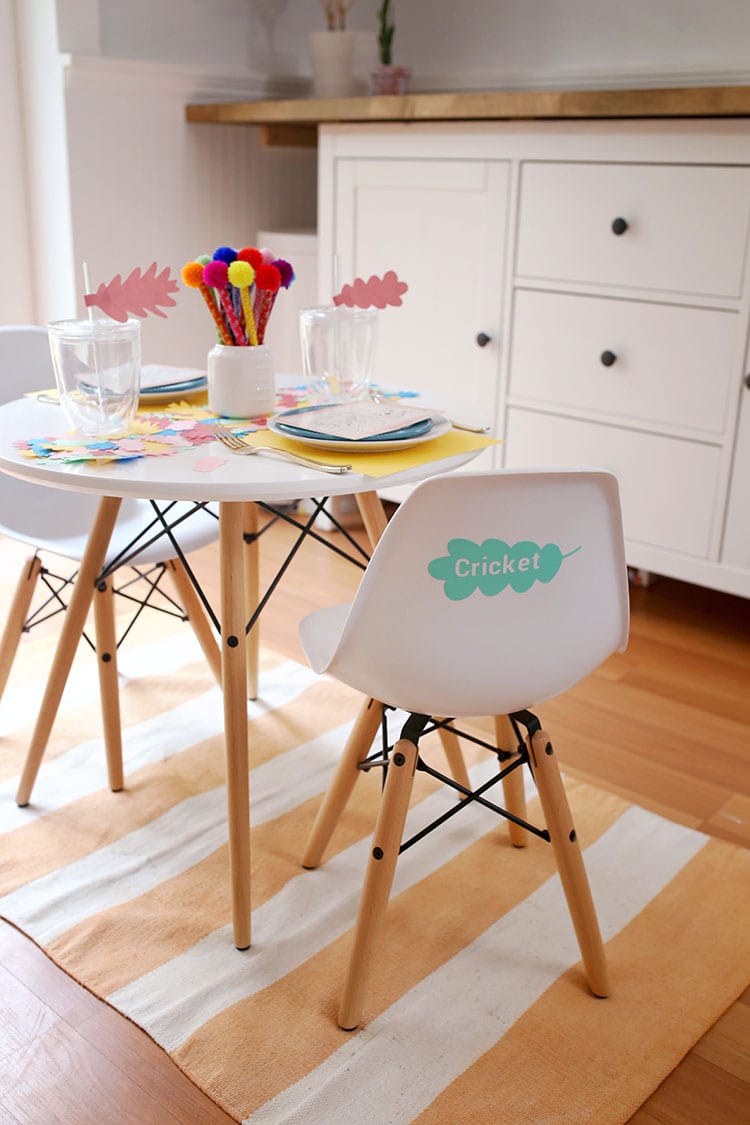 A boring kids Thanksgiving table is so 2017, am I right?
This year I challenge you to do more than just relegate the junior holiday-goers to an unceremonious card table.
Instead, why not make it fun and festive for your littles, and keep them entertained all night?! Head to Michaels Kids to shop for toys and activities by age!
For Michaels Makers this month, the Michaels team asked me to style a kids Thanksgiving table, and I jumped at the chance.
P.S. The table was a birthday gift from my parents for Cricket's first birthday. It's from Amazon, and a few others I love are below.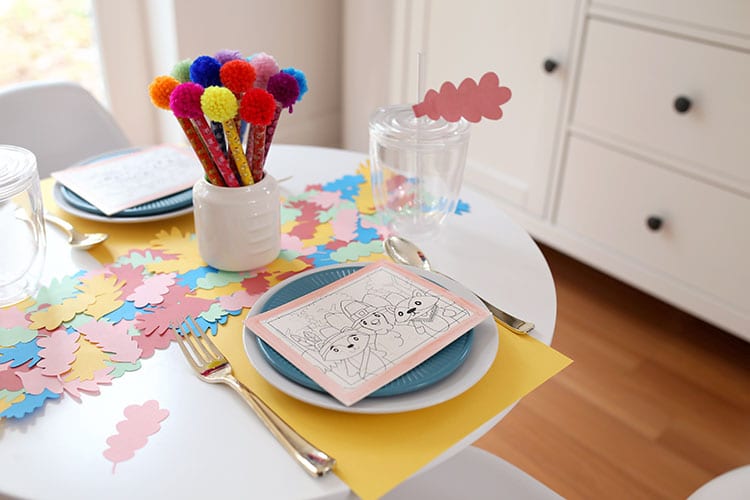 How to Style a Kids Thanksgiving Table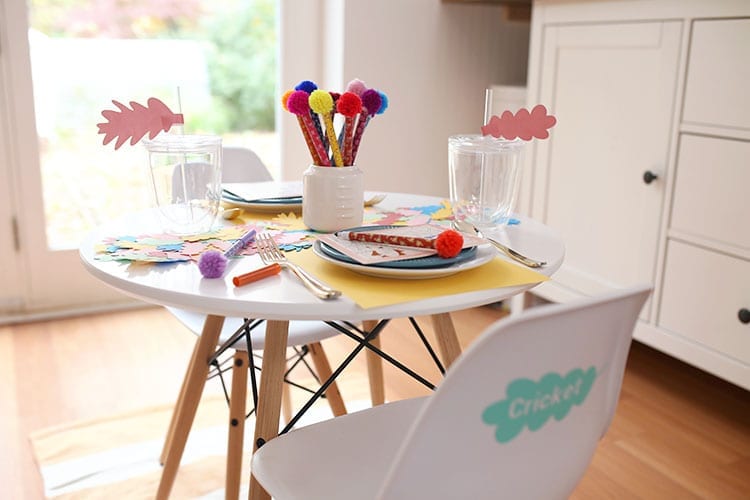 I want the youngest members of our gatherings to feel like special guests instead of feeling like there's just no room for them at the grown up table. So how do I make them feel special, exactly?
Put just as much care — if not more — into their part of the gathering.
Kids love seeing their names on things, so I used a really unique place card idea that will make them excited to sit down!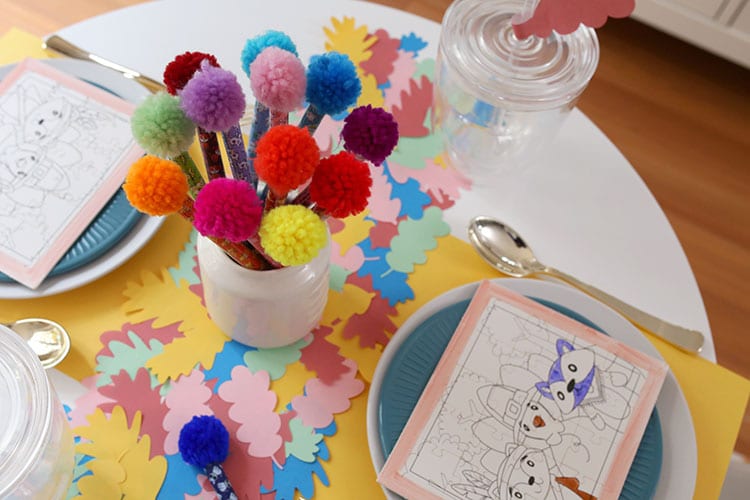 I think it's important to always include some sort of activity. This will keep them busy, but it will also give them something to be proud of and a memento to remember the get together!
Shop the Look
You can use disposable tableware to keep it kid-safe, but I actually used some melamine plates that I had on hand for an extra pop of color. Some of the supplies will vary depending on the ages of your child guests. Please be sure to adjust accordingly!
Decorations
You can use any color scheme you want. You might be drawn to more traditional fall colors, but I love the idea of a bright, unique palette to add a fun touch.
Paper leaf table runner: I created a colorful paper table runner from fall leaves. I cut the leaves with my Cricut using this free fall leaves SVG file. I just glued the leaves together in a random arrangement until they formed a long sheet.
Solid table runner: This is dead simple, you guys. I just tucked a couple sheets of A4 (8.5″ x 11″) paper under the leaf table runner.
Leaf chair place card: I used my Cricut to cut names out of the same leaf shapes from temporary adhesive vinyl.
Leaf straw charms: I cut out an extra set of leaves, slightly bigger and with a rectangle tab on the stem end. I folded the tab around the straw and taped the back. You could put kids' names on these or write Thanksgiving words, like "thankful" or "gobble, gobble."
Activity Ideas
Coloring book puzzles: I picked up some Thanksgiving paper puzzle kits. They have general ones online, but you can find the Thanksgiving-specific version in your local store.
Pom pom markers: The puzzled come with a set of tiny markers, but I found these pom pom markers from Michaels Kids and ended up basing the whole color scheme around using them as a center piece. Aren't they so fun and colorful! Just stick them in a small cup or jar, and you don't need anything else on the table.
Other ideas:

All ages:
Younger kids:
Older kids: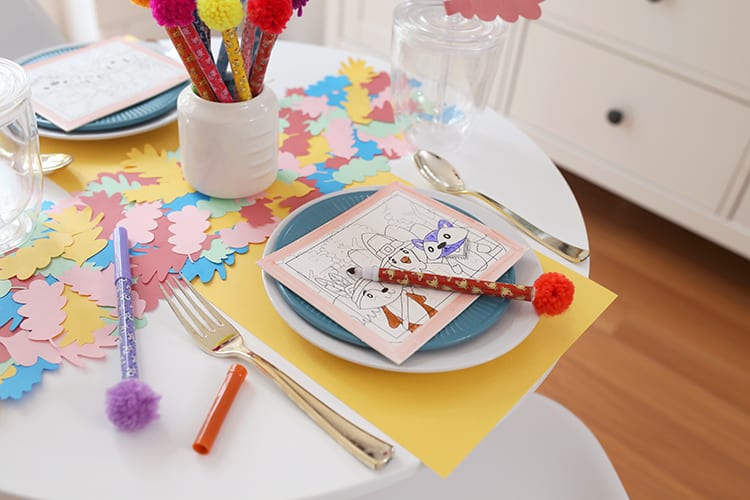 This post is sponsored by Michaels, who I've worked with as a Michaels Maker for several years now. All content, ideas, and opinions are my own.