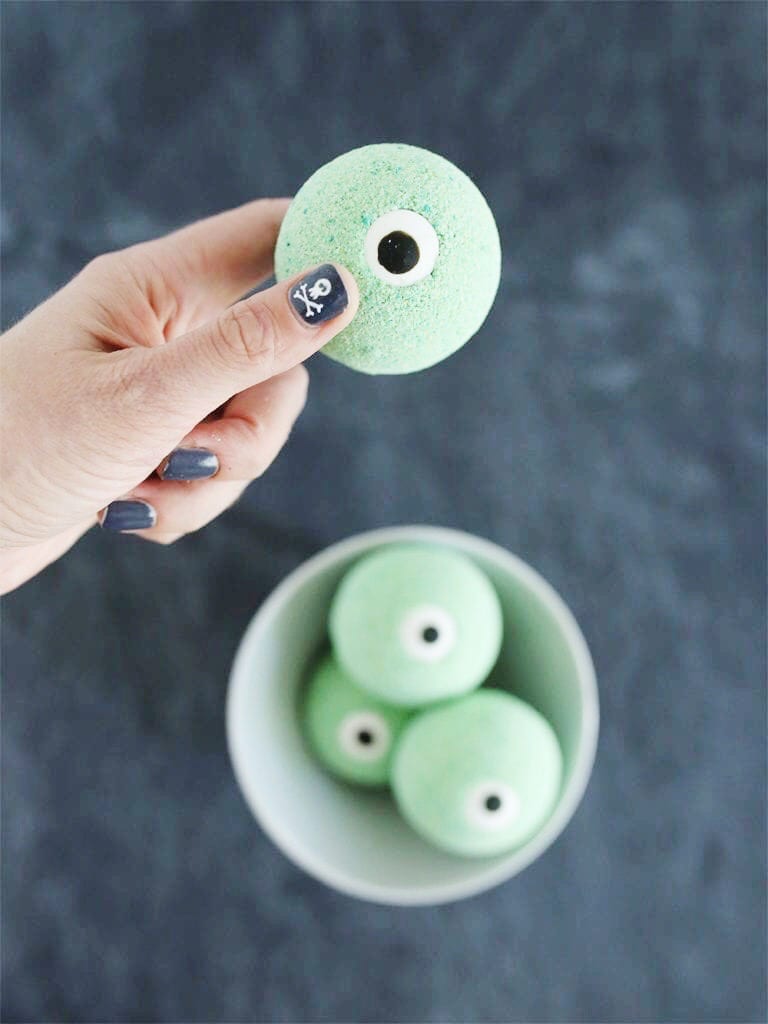 So I have a kid now.
But she's totally not old enough for DIY bath bombs. Especially because she's going through this bizarre phase where she won't sit down in the tub.
Yeah, she stands up the whole time. It's super fun.
But anyway, now that I'm a mom, I get to make kid projects. So naturally, my first DIY bath bomb recipe is for the littles. And for Halloween. Because Halloween is my favorite.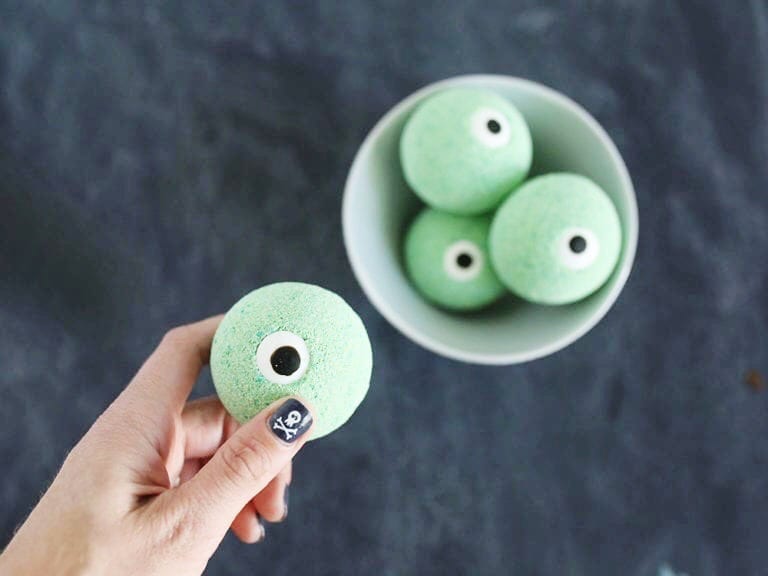 But before we get to that…
If you love DIY bath and body recipes but are looking for something a little more grown-up, check out my DIY matcha green tea sugar scrub cubes or my DIY mint chocolate sugar scrub recipe. And since we're talking about tea, how about this Earl Grey tea soap?
No?
Just here for the DIY Halloween bath bombs?
Well, you're in luck because they make a great Halloween party favor or kids bath time treat. So here you go!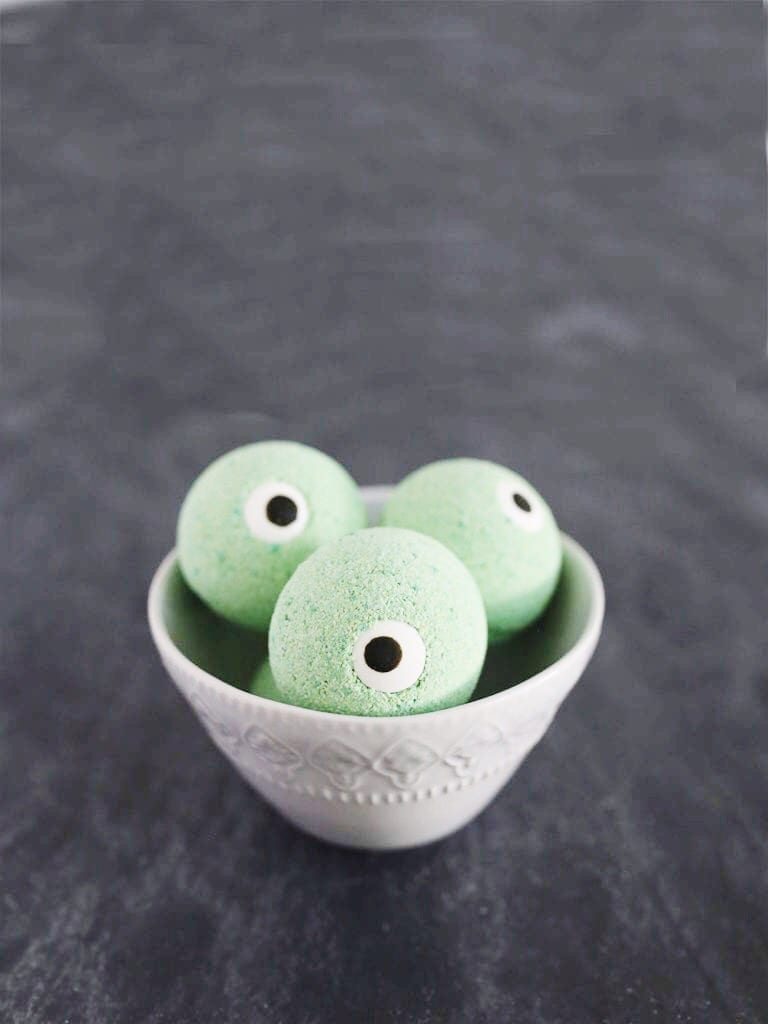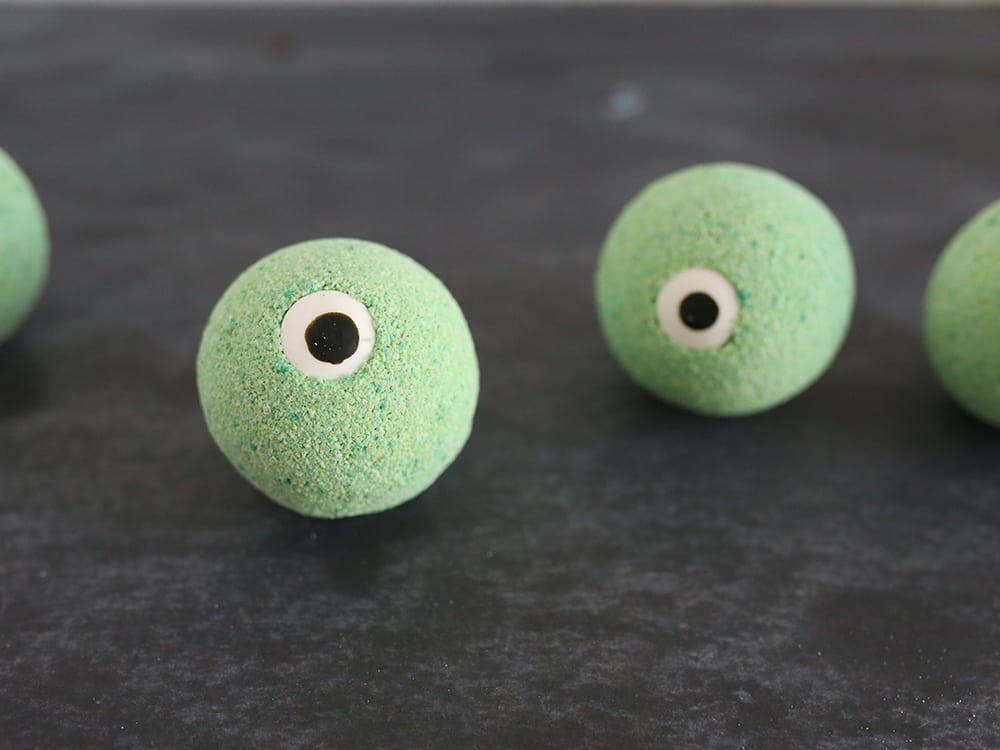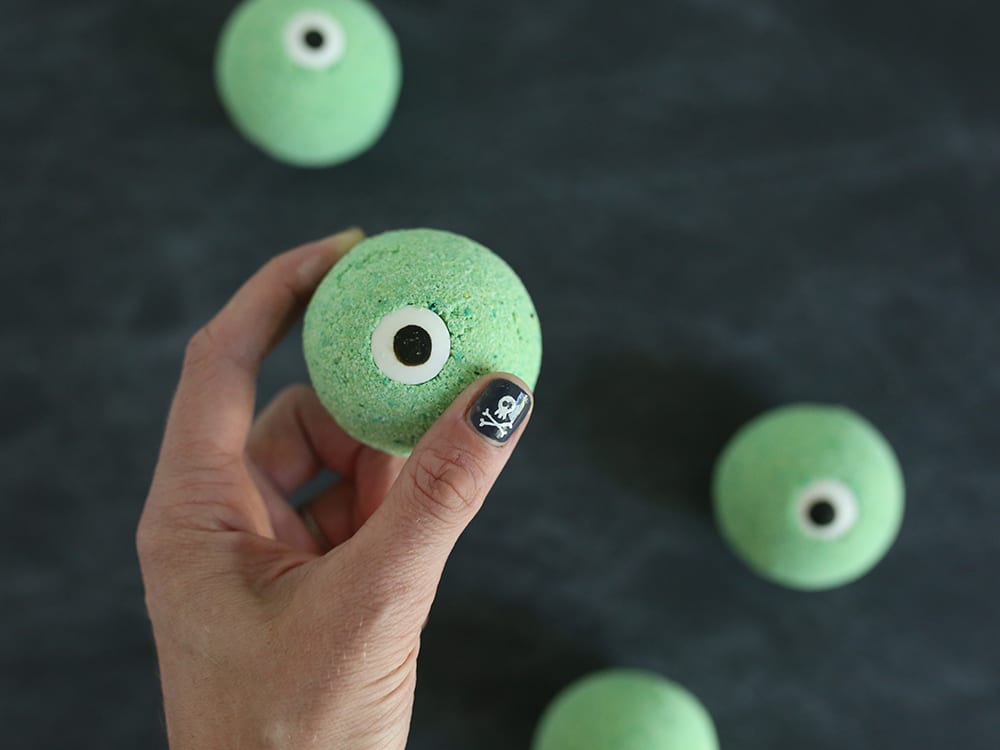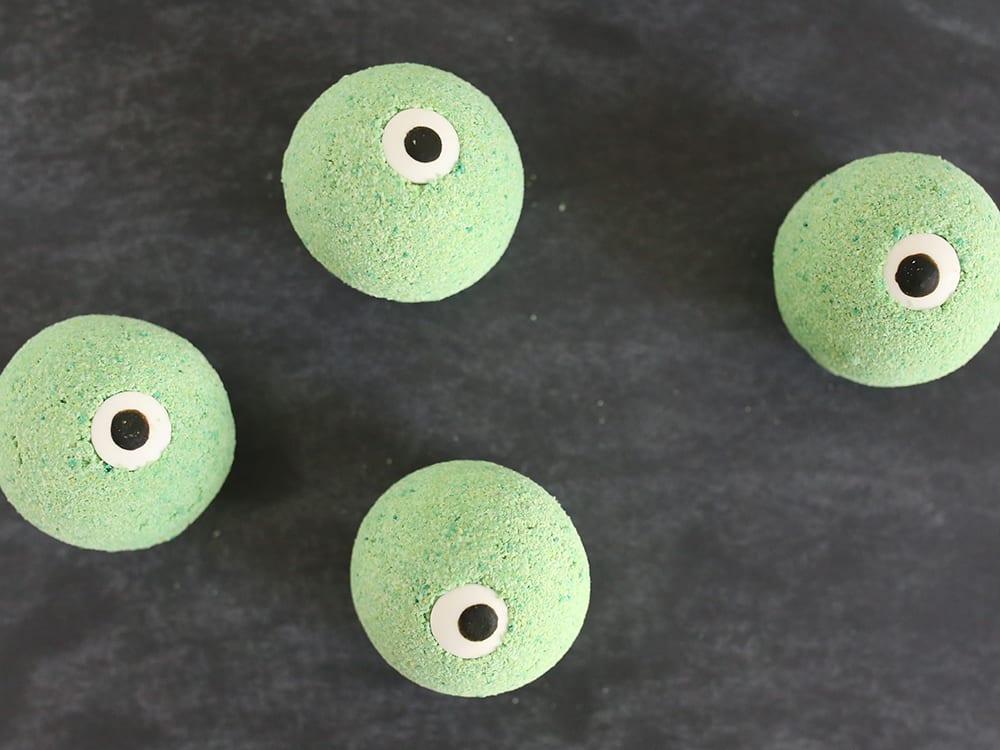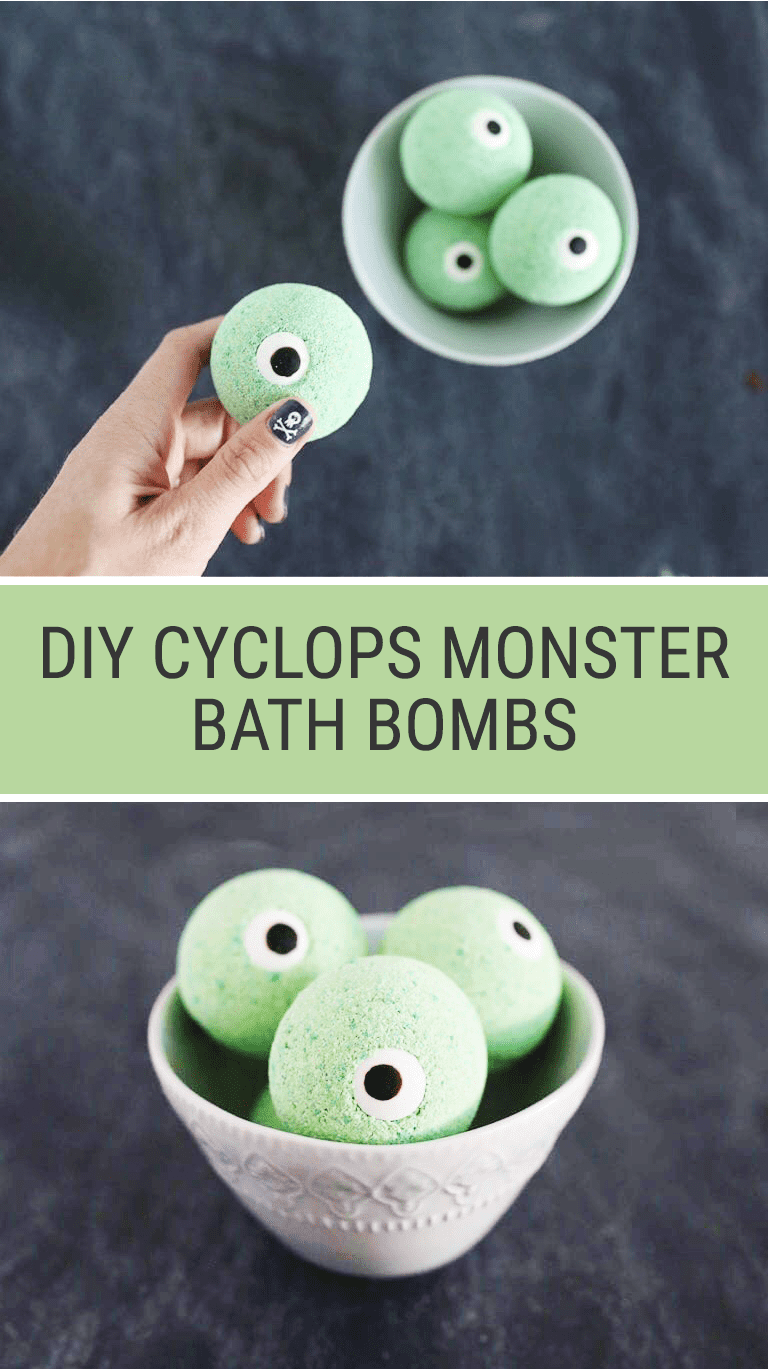 Cyclops Monster DIY Halloween Bath Bombs
Supplies
Whenever possible, I try to link to the exact supplies I used. In this case, I'm recommending metal bath bomb molds instead of the plastic ones I used. My plastic ones came in a kit, and I prefer not to use such "disposable" items when possible. Plus, the metal ones are sturdier and easier to mold with.
I also mixed my own green using Kelly green and yellow because I have a set of gel food coloring. If you don't already have a set of colors, then I'd suggest getting lime green to begin with. These supplies are all available on Amazon Prime *helloooo, free 2-day shipping* for last-minute Halloween party favors! By the way, in the interest of transparency I want to let you know that  this supply list contains affiliate links,  so I could receive a small commission at no additional cost you.


Mixing bowl
Measuring cups
Mixing spoon
How to Make Halloween Bath Bombs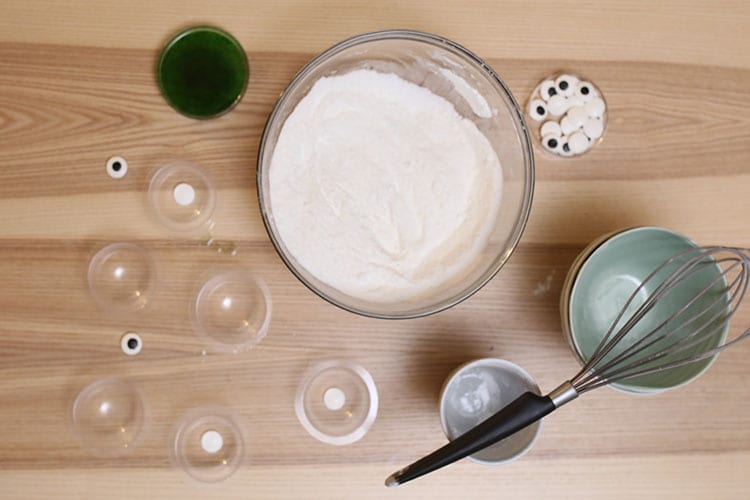 1. Mix together 1.5 cups of baking soda and .75 cups of citric acid in a bowl, breaking up any clumps.
In a separate bowl, mix together approximately a tablespoon of sweet almond oil and several drops of food coloring.
Note: Since the food coloring is water-based, it could set off the fizzing of the dry mixture early, I mixed mine into the oil to dilute it before adding.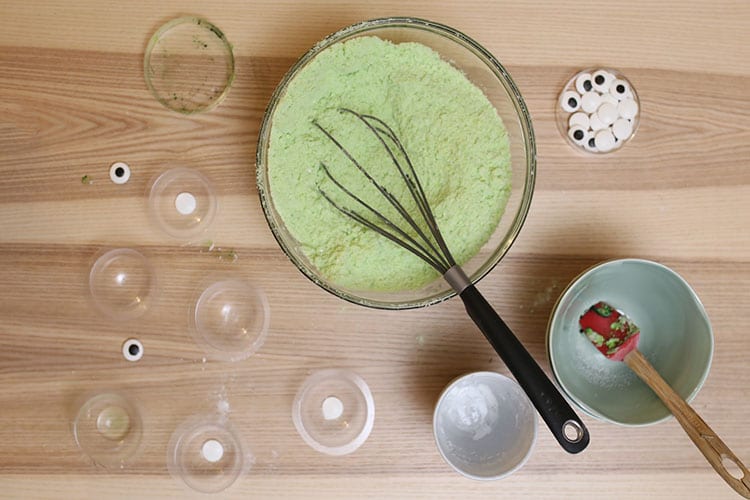 2. Add the oil/food coloring mixture to the dry mixture, and quickly mix it together. It may start to fizz a bit, which is why you want to mix it in as quickly as possible!
The texture of the mixture should be like damp sand. When you squeeze a handful, it should hold its shape, but it should still feel dry.
Too dry? If it doesn't stick together, mix in more oil a tiny bit at a time.
Too wet? If it's too wet, then you can mix in more of the dry ingredients at a ratio of 2 tablespoons of baking soda to 1 tablespoon tablespoon of citric acid.
3. Place a candy eyeball pupil-down in half of the bath bomb molds.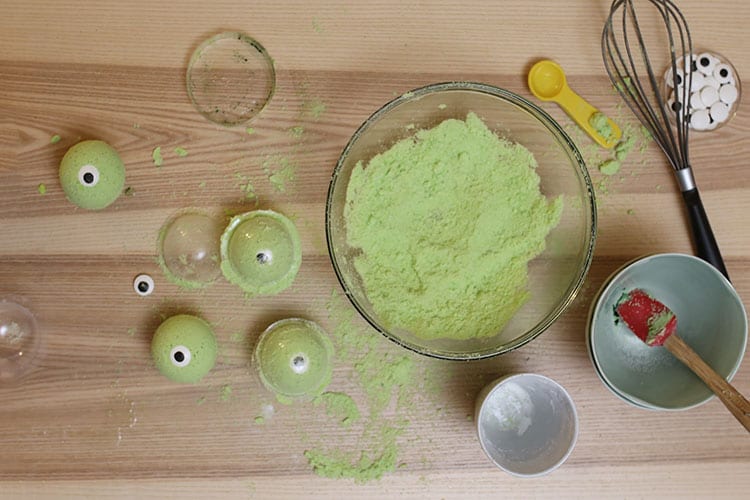 4. Scoop mixture over the candy eyeballs, pressing it down really firmly.
Fill the other half of the mold; press it down firmly; and then scoop some more mixture loosely on top.
Press the two halves together really firmly, and then twist the bottom (non-eyeball) half off. You can leave the other side in the mold for at least a few hours or overnight.
Note: Getting the halves to stick together can be pretty tricky. It didn't work for my first batch, so I had to tweak my recipe for the second one. If you have trouble, don't be afraid to dump it back in the bowl and add a bit more oil if needed.