Still haven't figured out your baby Halloween costume this year?
It's not too late to whip up a last-minute baby costume for Halloween, and you're in luck because I have a super cute one for you!
This idea is totally gender-neutral, so it's perfect for a girl (like my Cricket!) or a boy!
If you make it, please be sure to share it on Instagram and tag me so that I can see it! You can tag @shrimpsaladcircus and #shrimpsaladcircus.
P.S. If you're looking for more ideas, check out this Baby Shark Song costume or this DIY Sophie the Giraffe baby costume. These would all make amazing newborn Halloween costumes, too!

How to Make a Fisher-Price Stacking Toy DIY Baby Costume for Halloween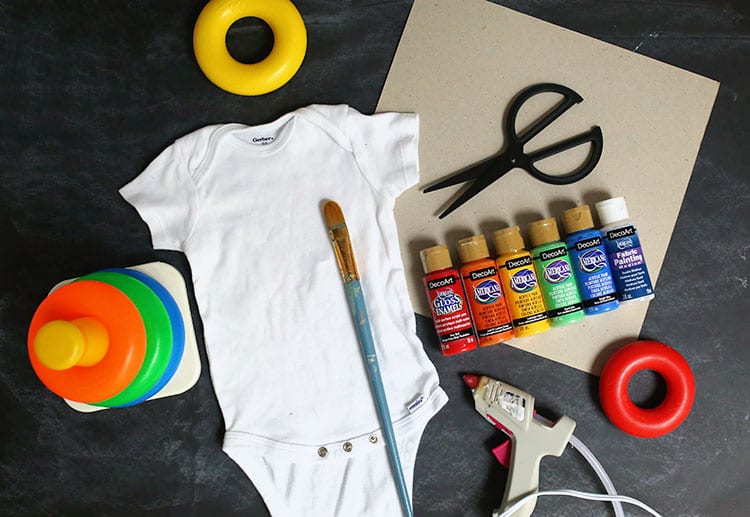 Supplies
Acrylic paint – DecoArt Americana colors I used are listed below.

True Red
Jack-O'-Lantern Orange
Cadmium Yellow
Green Tree
Bright Blue

For the logo: white acrylic paint OR white HTV and a Cricut or Silhouette
Fabric painting medium
Heavy cardstock or lightweight chipboard
Elastic cord or foldover elastic
Scissors
Hot glue gun
Paintbrushes
Instructions for Making a Stacking Toy Baby Halloween Costume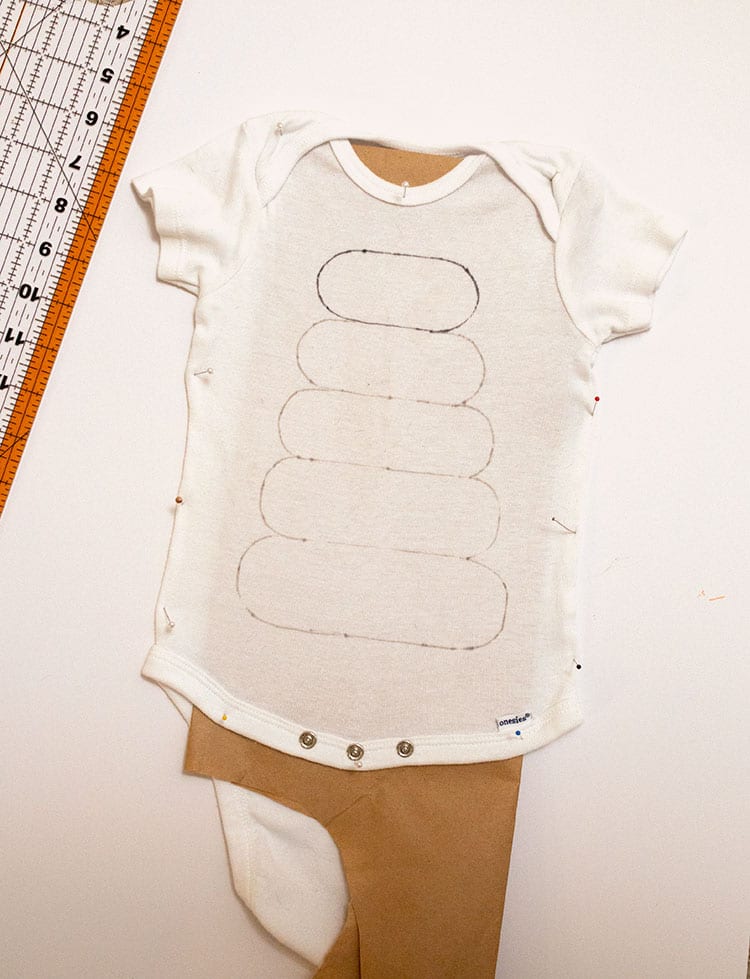 1. Sketch out a template on scrap paper, making it whatever size best fits the onesie. I used an 18-month onesie, so it's a lot bigger than it would be for a newborn, for example.
2. Cut out the shapes you sketched, and trace them onto the onesie with a disappearing ink sewing marker.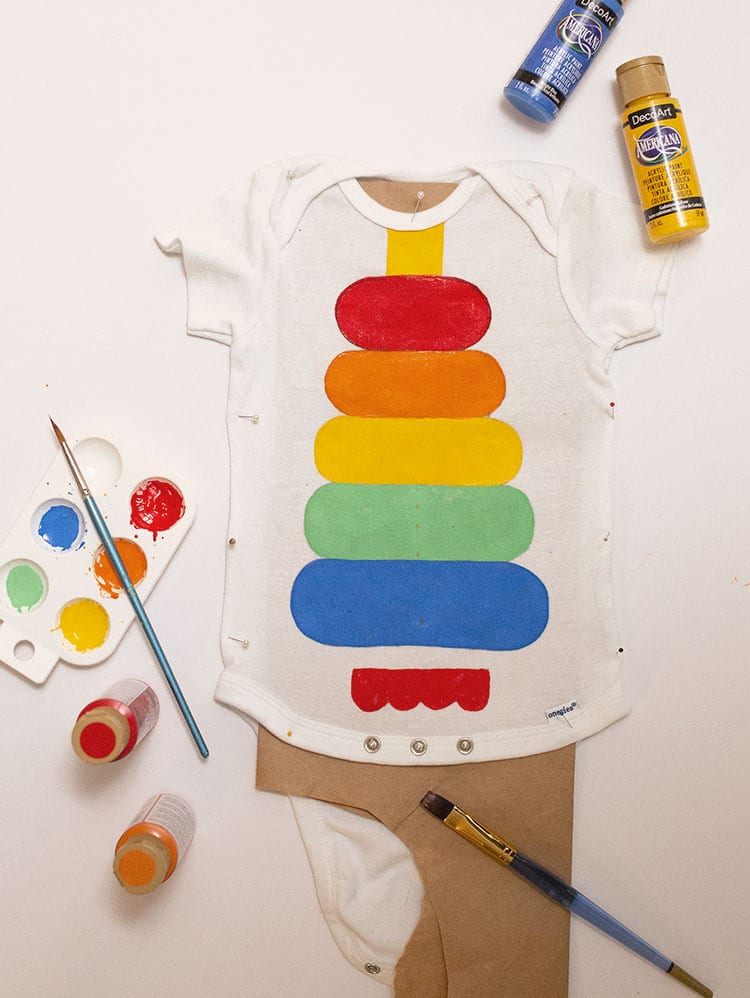 3. Place cardboard or heavy paper inside the onesie to keep paint from bleeding through.
4. Mix paint and fabric painting medium in a 2:1 ratio in a paint palette.
Fill in in the shapes you traced, and let them dry.
If you have white or see-through spaces left when it's dry, add a second coat.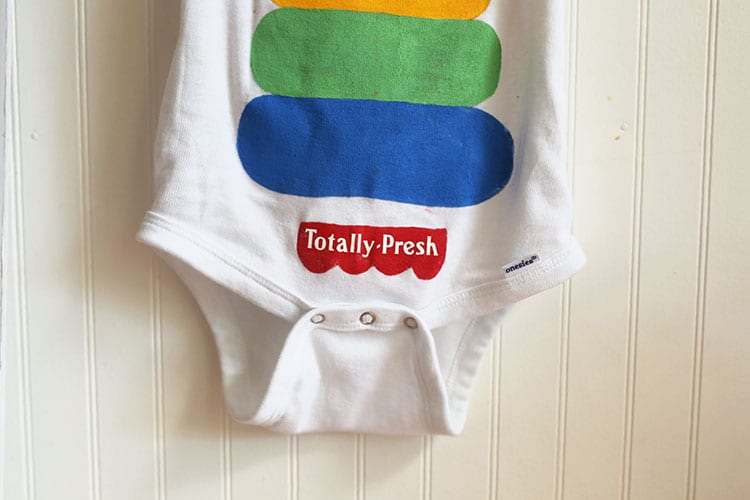 5. Use your Cricut or Silhouette to cut a cute phrase out of white HTV to iron onto the red logo area at the bottom of the onesie. You can download the free Hamburgefontstiv font to match the Fisher-Price logo style.
If you don't have a Cricut or Silhouette, you can paint white letters with a thin round brush instead.
[Sorry I forgot to grab photos of this next part, but hopefully it's relatively self-explanatory.]
6. Cut a little cone out of the heavy cardstock, and cut off the bottom. Hot glue one end so that it stays in the cone shape.
Cut a circle the size of the bigger end of the cone, and hot glue it on top.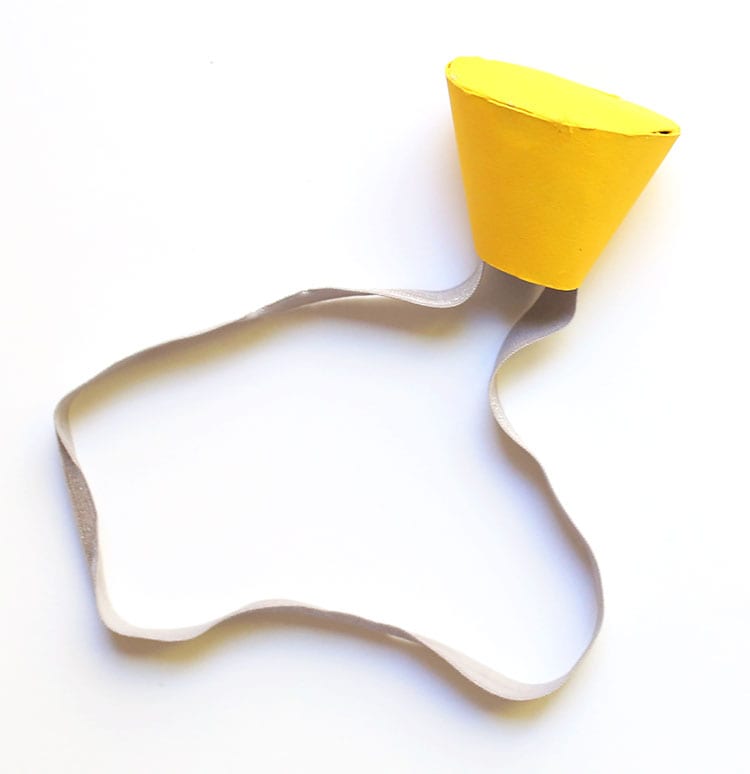 7. Pant the cone with the same yellow that you used on the onesie.
8. Hot glue both ends of a strip of elastic inside two side of the small, open end of the cone so that you can strap it around your baby's head.