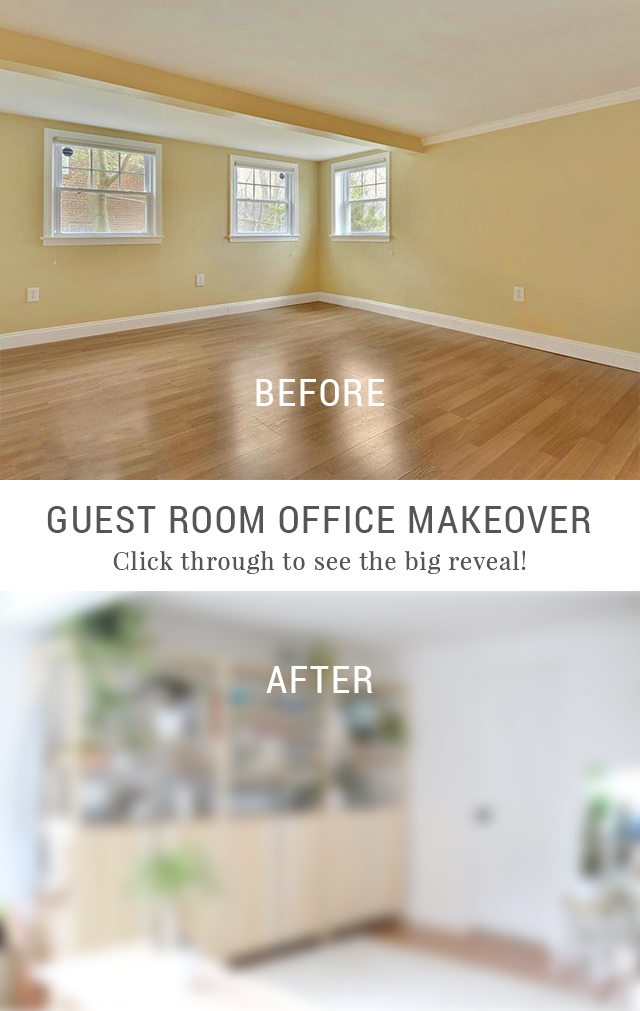 Today's the big day, you guys.
I'm finally sharing the studio makeover I've been working on with IKEA College Park, and I can't wait for you to see it!!!
We moved from a one-bedroom apartment to a house with several more rooms, so we basically only had furniture for our bedroom, upstairs living room, and dining room. Since we were starting from scratch for the rest of the house — including my Shrimp studio/guest suite — we knew we needed to keep affordability in mind to be able to do the whole house.
We were really lucky to be able to partner with IKEA for this, but we did absolutely every aspect with affordability in mind, with the entire room coming in at under $2,500, including painting the walls and finishing the floor molding!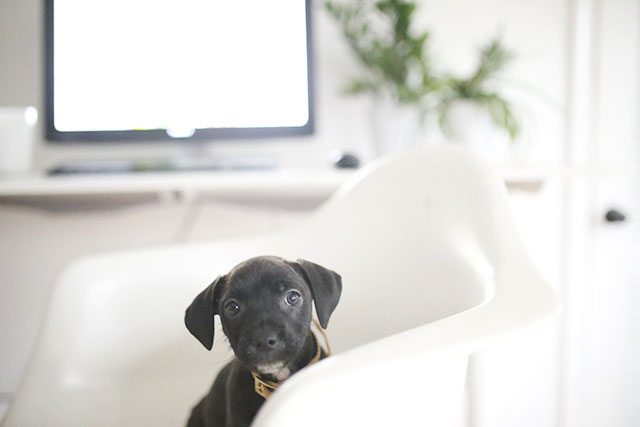 We took on a real challenge with this room in our new house: mustard yellow walls, super low ceilings, limited natural light, and needing to use a relatively small space for multiple purposes. This has been our most satisfying home project so far.
We now have a bright, airy guest room office for me to work; shoot my posts for the blog; and host out-of-town guests.
P.S. No big deal or anything, but WE GOT A PUPPY!!!
Guest Room Office Makeover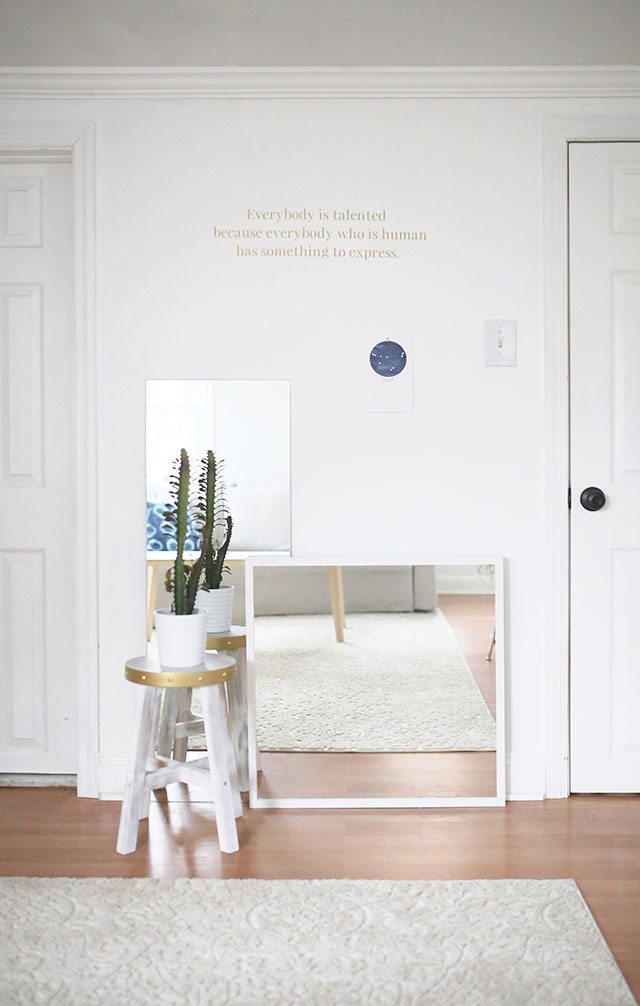 I'm a bit of a quote hoarder, and this one by Brenda Ueland really grabbed me. It's at the core of why I blog — to inspire everyone to realize they're more creative than they think.
Everybody is talented because everybody who is human has something to express.
I used my Cricut to cut the quote out of gold metallic vinyl to make a removable decal. You can find decals on Etsy if you don't have the supplies to cut your own at home.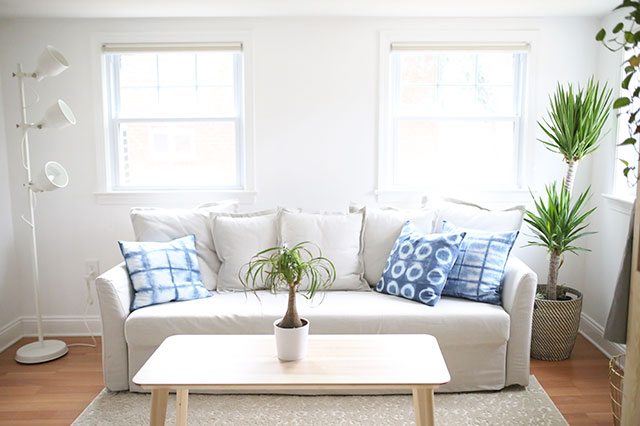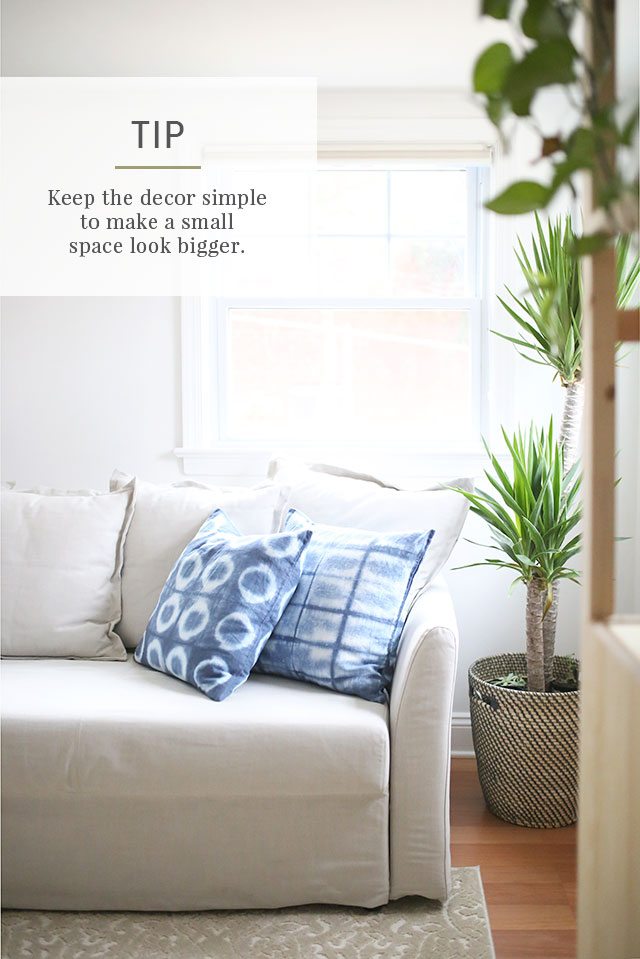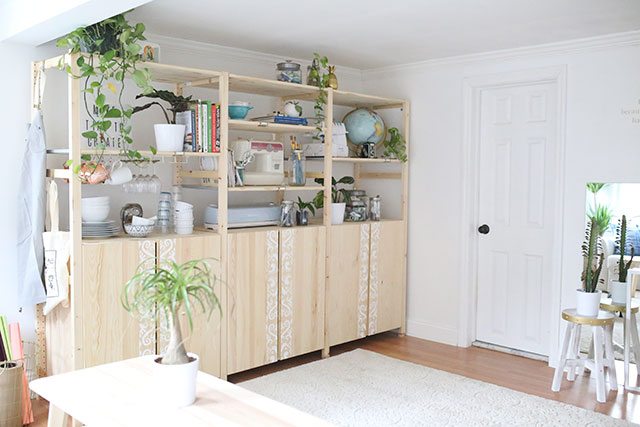 I stenciled my cabinet doors with a ikat pattern to make them feel more unique. But to keep it subtle, I used white and didn't use too heavy a coat.
Other projects featured throughout this room are the "metal" wrapped stools in the picture above, hardware store shibori throw pillows, and a boho block-printed duvet set.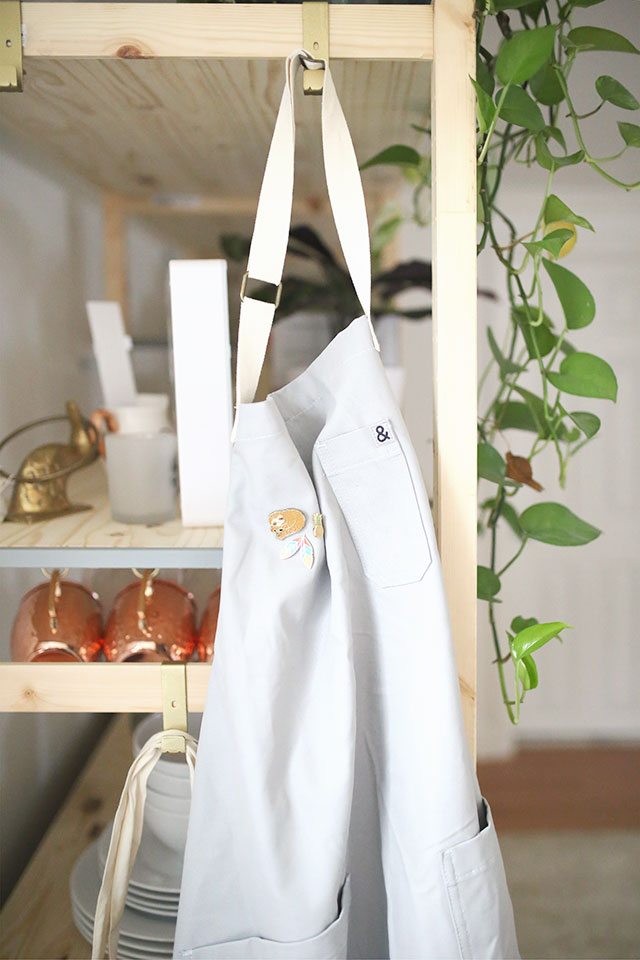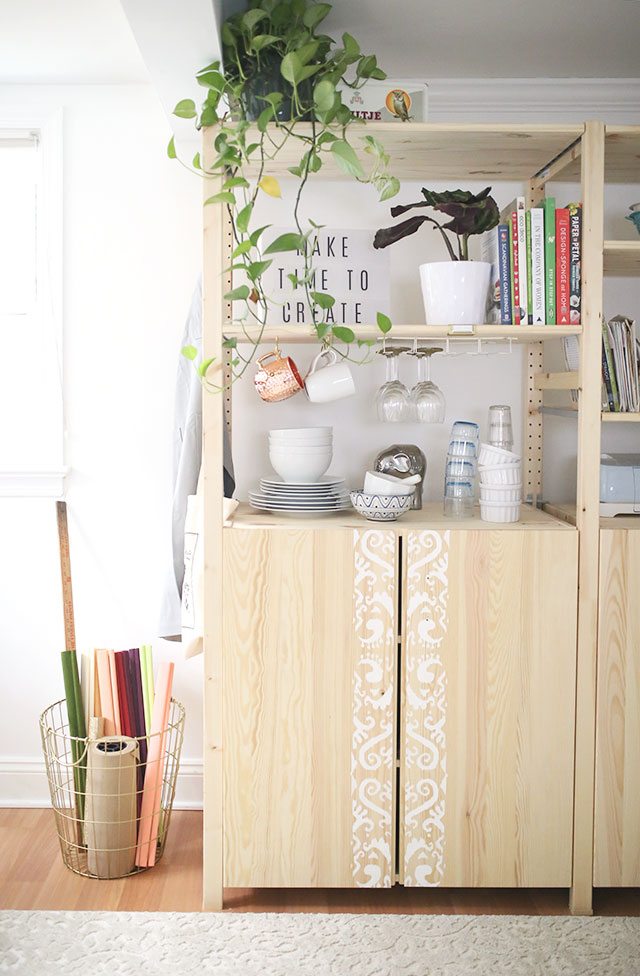 My Shopping List
Shelving and cabinets: IVAR System; sitting/standing desk: BEKANT;  sleeper sofa: HOLMSUND; coffee table: LISABO; area rug: DYNT; planter basket: RÅGKORN; floor lamp: HEKTAR; desk lamp: RANARP; desk mirrors: MALMA; plant pots: KARDEMMUMA;  shelf labels: IVAR Label Holders (spray painted brass); shelf hooks: IVAR Hooks (spray painted brass); throw pillow cases and cushions: VIGDIS and FJÄDRAR; duvet set: ÄNGSLILJA; sheet set: SÖMNIG; mirrors: STAVE and MINDE; stools: SKOGSTA; calendar: Squirrelly Minds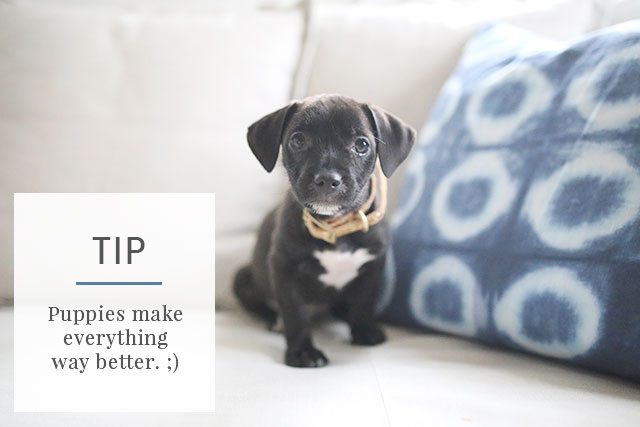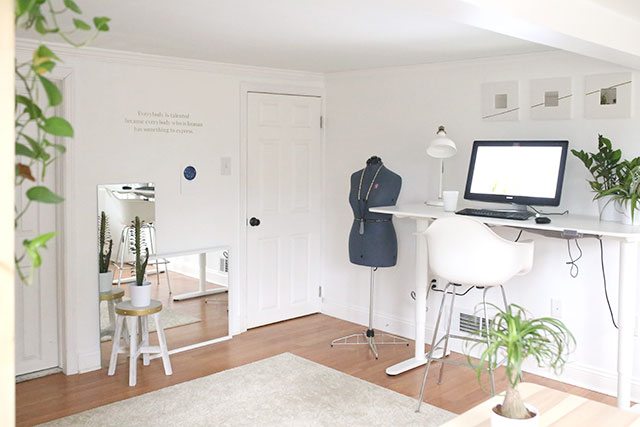 So bear with me while I get really nerdy here, but one of my absolute favorite things about the whole room is THAT DESK!!! It's the BEKANT sit/stand desk, and you can just press a little arrow to electrically raise and lower it from normal desk height all the way up to 48″ for standing.
If it seems weird to be so jazzed about a desk, lemme explain: I had back surgery a few years ago for a herniated disc in my  spine, and I still have a lot of chronic pain from it. If I stay in one position all day, like sitting for eight hours, I end up in a ton of pain and limited mobility.
Before I got the BEKANT, I had rigged up a bar-height table to working standing up because standing desks are crazy expensive. You can get add-ons to convert a traditional desk, but I didn't like the look of them for my home studio, so I was giddy when I found ours at IKEA. It's $499, but if you don't have the budget for it, they have another one that cranks up and down instead of plugging in that only costs $239!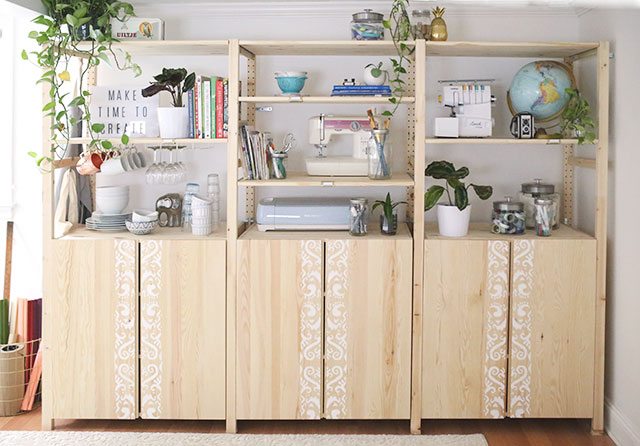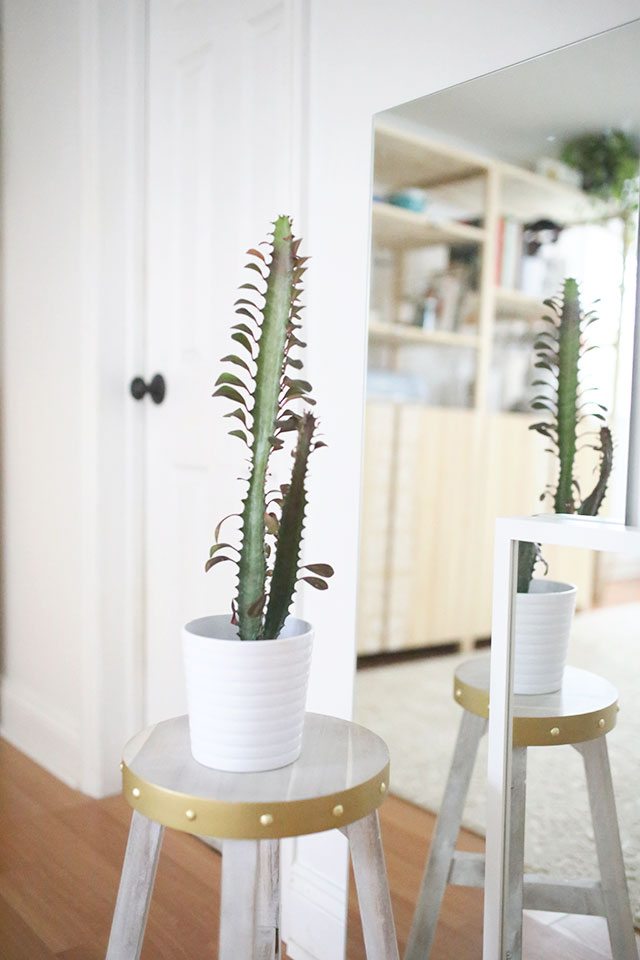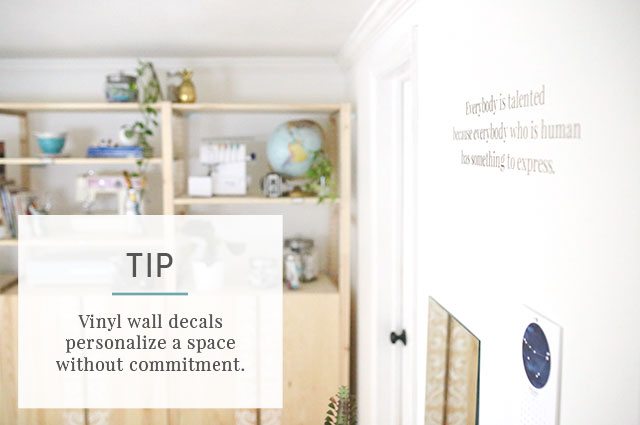 More Quick & Easy IKEA Hacks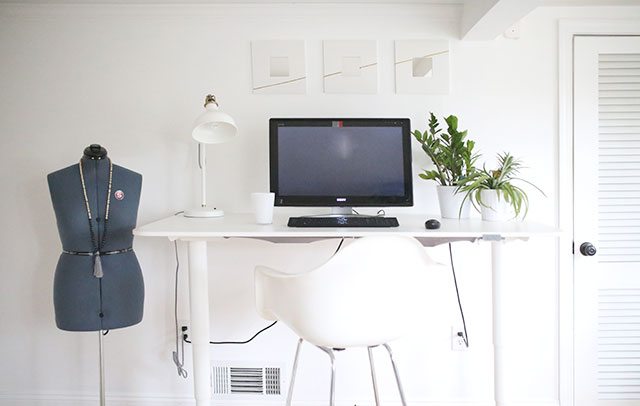 Above: I used vinyl scraps from the quote decal to add a stripe going across the three mirrors above the desk to continue the subtle brass theme.
Below: I already had this blue wire storage basket from the last iteration of my studio at our old apartment, so I just gave it a coat of brass spray paint to make it the perfect fit for its new home.